Satire In The Time Of Fake News: Navbharat Times' Holi Special Goes Viral As Real News
The Hindi daily dedicated an entire page in the March 21 edition to satirical reports. However, screenshots sans the disclaimer are now going viral as real news.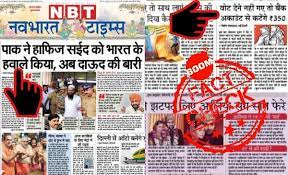 Hindi daily Navbharat Times decision to dedicate an entire page to satire
on Thursday as part of its special edition for the festival of Holi, has had an unintended consequence as screenshots of satirical articles go viral minus the disclaimer.
Navbharat Times added a caveat to each fictitious article with text that said,
'don't mind, its Holi' ( बुरा ना मानो होली है )
A satirical story published on page 5 claimed 'If You Don't Vote, Rs 350 Will Be Deducted From Your Bank Account'. (Hindi text: वोट देने नहीं गए तो बैंक अकाउंट से कटेंगे Rs 350).
But within hours a screenshot of the same story went viral on Facebook and WhatsApp with the disclaimer at the bottom cropped out.
Several readers sent the below screenshot on BOOM's WhatsApp helpline (7700906111) asking us if it was true.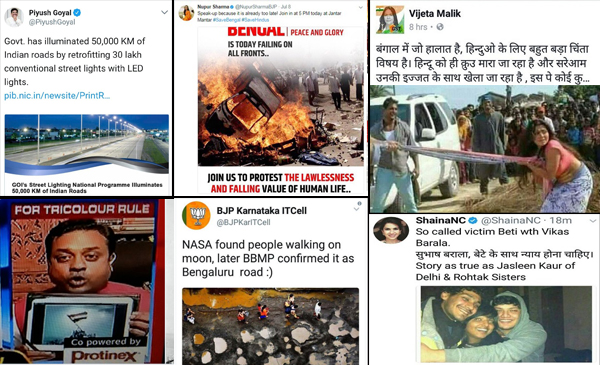 However, the paper maintained that it was only carrying out its tradition of publishing satire on Holi.
"We at Navbharat Times have a history of carrying satirical news on Holi every year, " Deputy News Editor, Naveen Krishnan told BOOM.
"We also carried a disclaimer with every report and also below the anchor story on the page that made it clear that all the stories and advertisements carried on this page are fictitious."
"If somebody crops the disclaimer or erases it with the help of Photoshop, how are we to be blamed for it?" Krishnan said.
Marathi newspaper Lokmat also published a similar story with a disclaimer on Friday though it is not clear how two separate newspapers ran the same satirical piece.
The satirical piece was also viral on Facebook, once again, without the disclaimer.
Bad Timing?
Navbharat Times in its March 21, 2019 edition, dedicated an entire page to what they termed, 'fake news in Hindi'.
For instance, the headline of the lede news on the page reads, 'पाक ने हाफिज सईद को भारत के हवाले किया, अब दाऊद की बारी' (Pakistan Hands Over Hafiz Saeed To India, Its Dawood's Turn Now).
However, with voting beginning April 11, any piece of information regarding polling can be shared without context on social media.
Take for instance NBT's satirical piece on voting.
The article claimed that the Election Commission of India has issued orders to deduct Rs 350 from the accounts of those who don't cast their votes this year. The bogus report further said that the non-voters would be identified through their Aadhaar cards and the amount would be deducted from the accounts linked to Aadhaar numbers. The newspaper even made up a quote attributing it to the spokesperson of the EC.
While, NBT has shared the same article from its official Facebook page, several Facebook users have taken it at face value.
'Hafiz Saeed Extradited'
Another satirical article from the same page that has gone viral is regarding Hafiz Saeed.
The headline claims Pak Hands Over Hafiz Saeed To India, It's Dawood's turn Now (Hindi text: पाक ने हाफिज सईद को भारत के हवाले किया, अब दाऊद की बारी).
Several Facebook users shared a screenshot of the story with a caption that translates to,'What will happen to those who were asking for proof?'
The post can be seen here and its archived version can be accessed here.
The volume of fake news seen in the run-up to Lok Sabha polls has forced the Election Commission of India and social media platforms to agree on a code of ethics in what is going to be India's first social media led general election.
JUST IN: Election Commission & social media platforms agree on a 'Code of Ethics' to be followed by latter during Lok Sabha elections @IndianExpress pic.twitter.com/P3ssTjWsBw

— Ritika Chopra (@KhurafatiChopra) March 20, 2019
(BOOM is now available across social media platforms. For quality fact check stories, subscribe to our Telegram and WhatsApp channels. You can also follow us on Twitter and Facebook.)
Claim Review :
A news article says those who don't vote will be fined Rs 350
Claimed By :
Social media pages
Related Topics:
Dawood Ibrahim, Election Commission, elections, featured, hafiz saeed, India, navbharat times, Pakistan, Pulwama, Satire, viral, Vote, Voting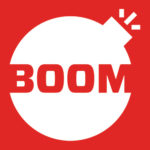 Sumit Usha
Sumit is a fact checker and the News Editor of Boom's Hindi wing. In the six years of his journalistic career, he has worked with the New Indian Express, Times of India and Deccan Chronicle. The dynamic nature of digital media finally made him take the leap from print to online, and don the hat of a digital detective.