Karnataka Poll Dates Fiasco: Times Now Targets BJP's Amit Malviya Ignoring Own Error
Amit Malviya and Times Now spar with each other over the timing shown on the tweet. Here is why Times Now needs a lesson in reading Twitter timestamps.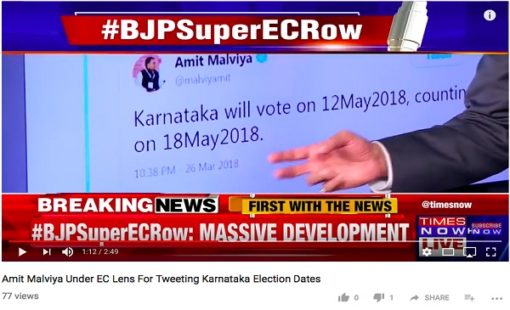 Screenshot of Times Now's show
News channel Times Now came out all guns blazing against BJP IT Cell Head Amit Malviya who had blamed them on Twitter for publishing Karnataka assembly election dates before the Chief Election Commissioner Om Prakash Rawat made the announcement on Tuesday morning. The BJP and the Congress party were left embarassed when its social media heads were caught red-handed tweeting the dates, part of which were also wrong.
While they got the polling date correct, they got the counting date wrong.
भाई चेक कर के बताओ कि दोनों में से पहले किस ने पहले ट्विट किया है

एक दो सिकेंड का फर्क हो तो वह भी बता देना

सब गोल माल है भाई सब गोल माल है pic.twitter.com/tSX1dQh0PX

— Ikram Ilahi (@IkramIlahi7) March 27, 2018
But as journalists started questioning Malviya on where he got his information from, the BJP's IT cell head put out a clarification.
Watch Times Now, Zakka. https://t.co/iJZwGqL50x

— Amit Malviya (@malviyamit) March 27, 2018
SHOCKING

How Does TimesNow know the Election Dates before the Election Commission Announced.

TimesNow BROKE the News at 11 07 AM, much before Election Commission announced. This raises question on EC and how this news got leaked before announcement. pic.twitter.com/0pnRAiz2x5

— AAP Ka Mehta (@DaaruBaazMehta) March 27, 2018
Times Now had put out the dates at 11:06 am attributing to sources. Strangely, ignoring their own error, the channel chose to question Amit Malviya based on a tweet that showed he had tweeted the poll dates information at 10:38 pm on Monday evening. The channel said that it wants to question Malviya on why was he blaming them for a tweet that he had published over 12 hours back.
BOOM spoke to Times Now's Anand Narasimhan who accepted that the channel did put out the info at 11:06 am based on sources. Narasimhan said that they are still waiting for a clarfication on how the timestamp on Malviya's tweet showed 10:38 pm.
The screenshot carrying the 10:38 pm time was put out by a journalist Ankit Tyagi of Aaj Tak. While Times Now failed to explain the timing mystery, it was very obvious that the device that took the screenshot of the tweet was either based in a different time zone or set to a different time zone. We checked the US West coast time and found that 11:08 am IST is equivalent to 10:38 pm

Courtesy: www.timebie.com
Either ways, it is highly unlikely that Amit Malviya's tweet a day before would go unnoticed by journalists and rival politicans till the time the controversy broke out. Here are some tweets from prominent Twitteratis who had taken the screenshot of Malviya's tweet when he put it out at 11:08 am. Amit Malviya has over 1.5 lakh followers on Twitter.
Karnataka Congress social media in-charge also announced poll dates much before EC did. Incidentally, both BJP's Amit Malviya & he tweeted at the same time, got polling date right but results date wrong. pic.twitter.com/vV8C6jZhW6

— Ruhi Tewari (@RuhiTewari) March 27, 2018
How does @malviyamit know about Karnataka state election date even before Election commission announced the date?

What other things does he have access to? Electoral data? pic.twitter.com/b43TxbGY8Y

— Ankit Lal (@AnkitLal) March 27, 2018
Incidentally, Congress' Karnataka social media head Srivatsa also had to hurriedly clarify that he got the dates from news channels.
For those asking me about my tweet on the poll dates, wasn't listening to the EC presser, saw local and national media flashing the dates and thought that it has been announced. Simple as that. https://t.co/6MSaseH65U

— Srivatsa (@srivatsayb) March 27, 2018
Amit Malviya and Srivatsa were not the first ones to put out the poll dates. Apart from Times Now who put out the source-based information at 11:06, several news channels had carried the information on their channel much before the EC announced it around 11:22 am.
Kannada channels are reporting @malviyamit's tweet, but they forgot most of them aired news even before him! pic.twitter.com/kgy64B99VS

— Shreeharsha Perla (@harshaperla) March 27, 2018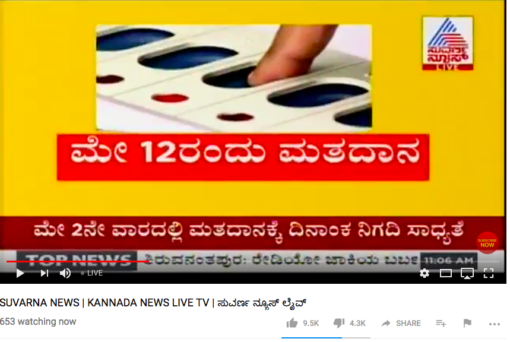 Meanwhile, BJP's Malviya wrote a letter to the Election Commission clarifying that he had tweeted the information after seeing it on Times Now. Ironically, Malviya also pointed out Srivatsa's tweet in a bid to show that he was not alone to follow the reporting of news channels.
Letter submitted to the Election Commission by Shri @malviyamit, National In-charge, Information and Technology, BJP regarding a tweet pertaining to the election dates in Karnataka. https://t.co/0mDUFzOKCH pic.twitter.com/CziIhciO2B

— BJP (@BJP4India) March 27, 2018
If you value our work, we have an ask:
Our journalists work with TruthSeekers like you to publish fact-checks, explainers, ground reports and media literacy content. Much of this work involves using investigative methods and forensic tools. Our work is resource-intensive, and we rely on our readers to fund our work. Support us so we can continue our work of decluttering the information landscape.
BECOME A MEMBER