Images From 2015 Heatwave In Karachi Falsely Shared As Balakot Air Strike Casualties
The old photos are viral as proof of the Indian's Air Force's attack on Balakot.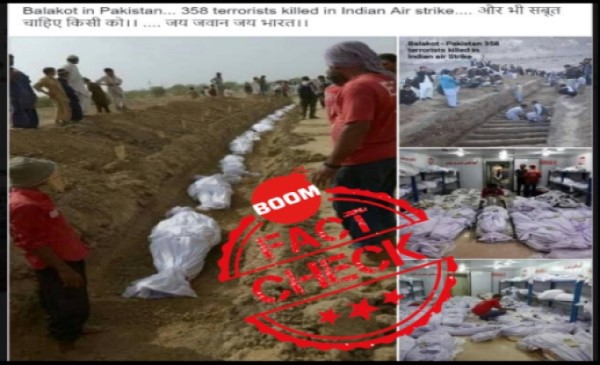 A series of photos from 2015 is viral on WhatsApp with a false caption that claims they show terrorists killed in an air strike by the Indian Air Force on a Jaish-e-Mohammed training camp in Balakot, Pakistan.
The photos which show victims of a deadly heatwave in Karachi in 2015 are misleadingly being shared as "proof of Balakot attack."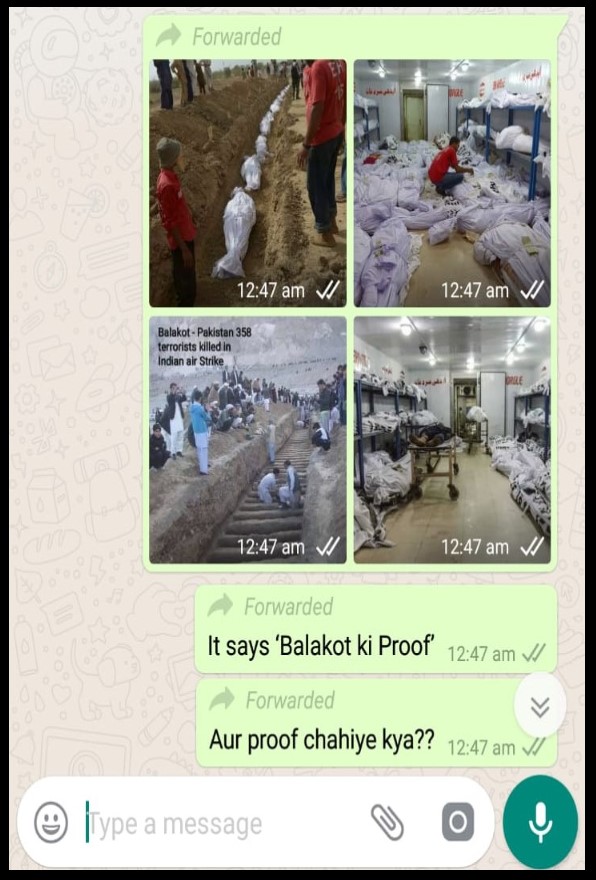 The images are also being shared on Facebook with the caption, "Balakot in Pakistan… 358 terrorists killed in Indian Air strike…. और भी सबूत चाहिए किसी को। जय जवान जय भारत। (Does anybody want more proof? Jai Jawan Jai Bharat!)
In the aftermath of the air strike on February 26, 2019, BOOM has debunked a series of old images and videos purporting to be from or taken after the strike. Read about it here - Old Images Falsely Shared As Terrorists Killed In IAF Air Strikes
Fact-check
BOOM ran a reverse image search for each photo and found that all four of them were old. While three of the viral photos were from 2015, one was from 2013.
The photo of men wearing red t-shirts and standing near a mass grave, was published in photo wire agency Getty Images and various international publication including the New York Times.
According to Getty, the photo was clicked in 2015 when a severe heat wave claimed more than 1000 lives in various parts of Pakistan including Karachi.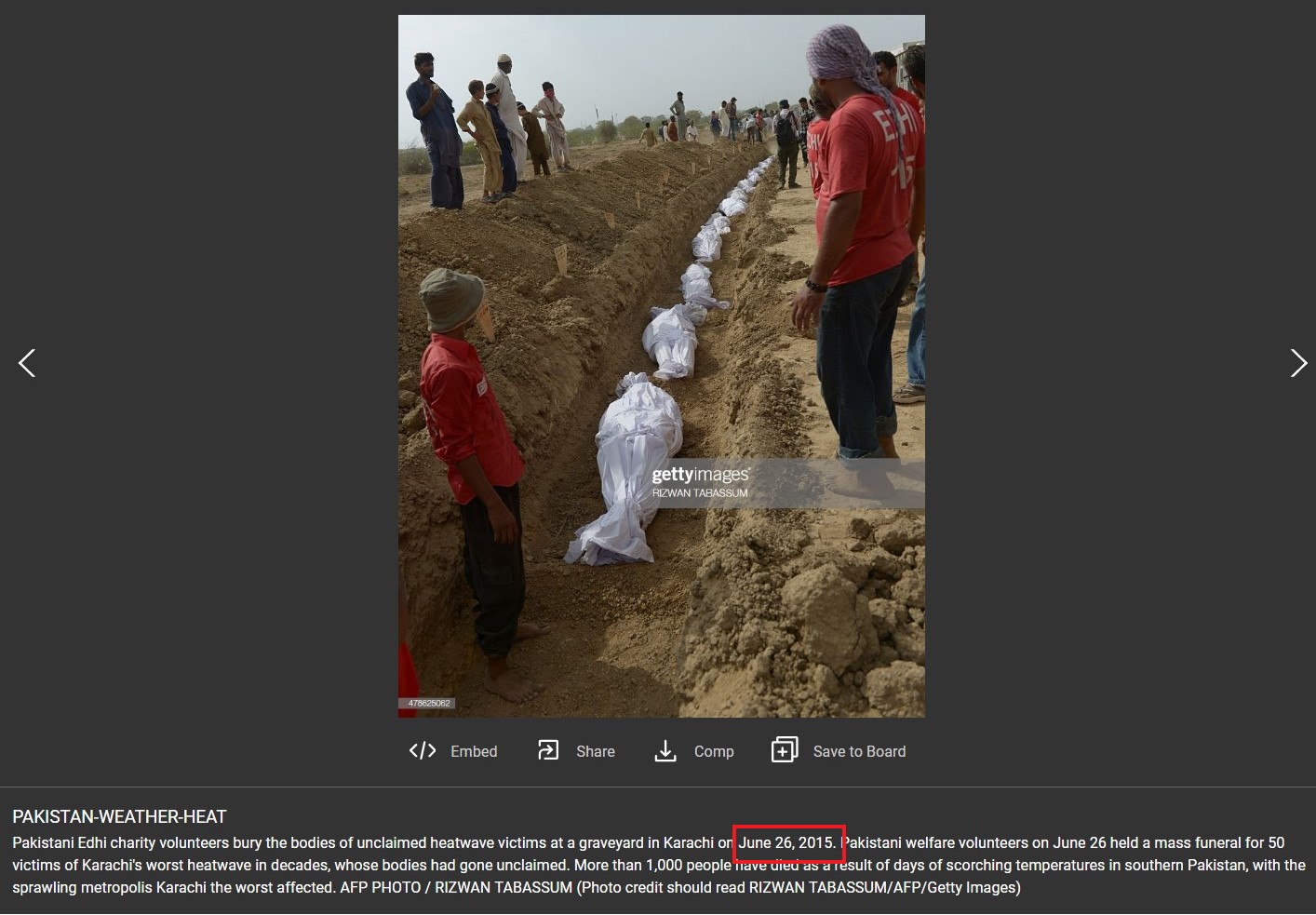 The photo on Getty is captioned, "Pakistani Edhi charity volunteers bury the bodies of unclaimed heatwave victims at a graveyard in Karachi on June 26, 2015. Pakistani welfare volunteers on June 26 held a mass funeral for 50 victims of Karachi's worst heatwave in decades, whose bodies had gone unclaimed. More than 1,000 people have died as a result of days of scorching temperatures in southern Pakistan, with the sprawling metropolis Karachi the worst affected."
A further search on Getty with key words, "Karchi heat wave" showed results which included the second photo. The photo is from the same incident when several people died due to a heat wave and the images show the bodies kept at a morgue in Karachi.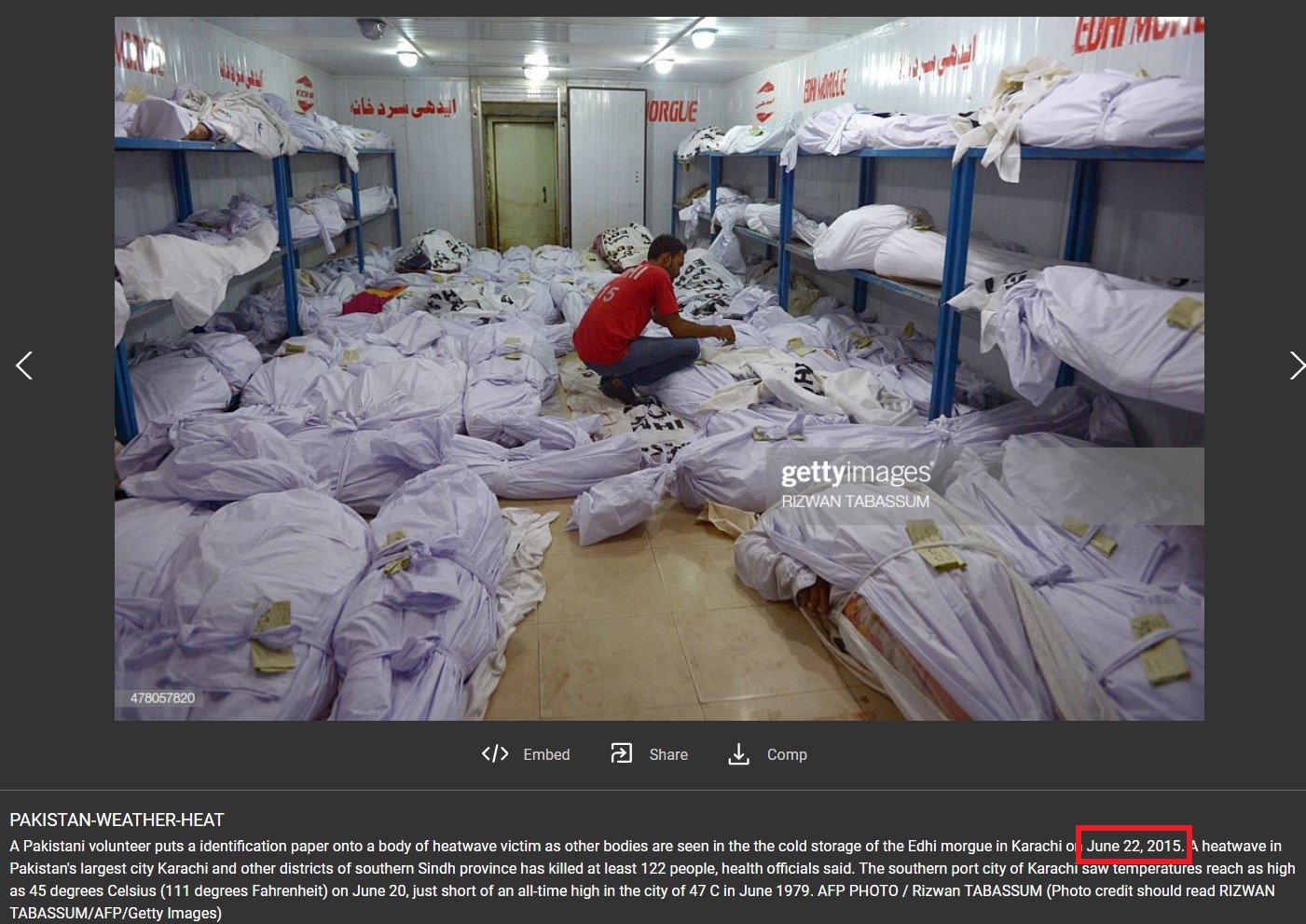 The caption for this photo on Getty reads, "A Pakistani volunteer puts a identification paper onto a body of heatwave victim as other bodies are seen in the the cold storage of the Edhi morgue in Karachi on June 22, 2015. A heatwave in Pakistan's largest city Karachi and other districts of southern Sindh province has killed at least 122 people, health officials said. The southern port city of Karachi saw temperatures reach as high as 45 degrees Celsius (111 degrees Fahrenheit) on June 20, just short of an all-time high in the city of 47 C in June 1979."
The third photo showing a man keeping the body of the deceased in a morgue was used in a Time.com article about the same heat wave. The article credited European Press PhotoAgency for the image.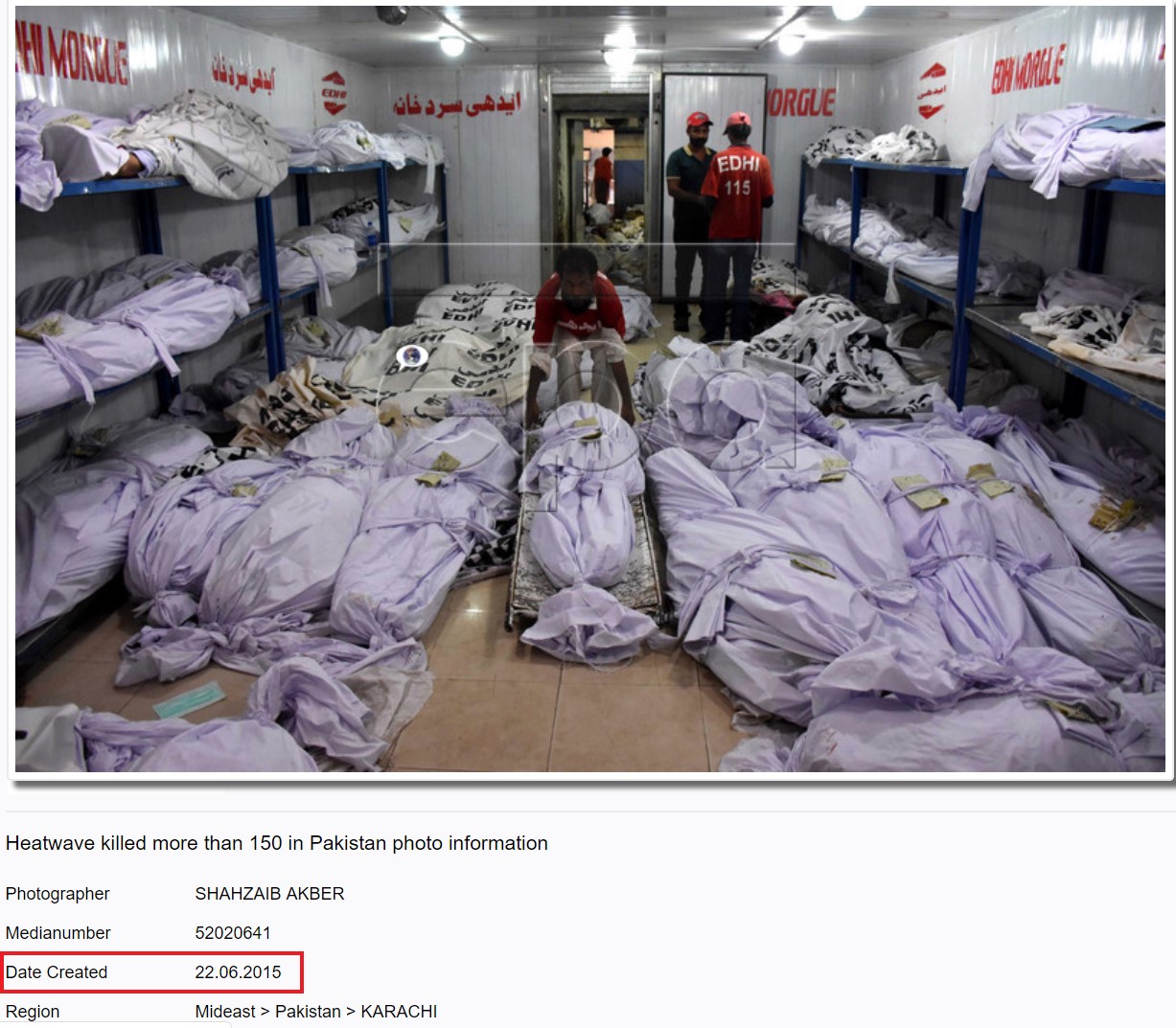 A search on EPA's website, led us to the photo from 2015 captioned, "Rescue workers move the bodies of the victims of heatwave at a mortuary in Karachi, Pakistan, 22 June 2015. The death toll from a heatwave in Pakistan climbed to nearly 150 on 22 June, health officials said. More than 130 people have died in the southern port city of Karachi where the temperature was over 45 degrees Celsius on the weekend and no relief was expected on Monday, health official Ijaz Afzal said."The fourth photo whishowing people surrounding a mass grave is from 2013 and was clicked after the bomb blasts in the city of Quetta in Pakistan. A similar photo was found on the website of Associated Press, a photo wire agency.
The photo was uploaded on February 17, 2013 with the caption, "Pakistani men prepare the graves of Saturday's bombing victims in Quetta, Pakistan, Sunday, Feb. 17, 2013. Angry residents on Sunday demanded government protection from an onslaught of attacks against Shiite Muslims, a day after scores of people were killed in a massive bombing that a local official said was a sign that security agencies were too scared to do their jobs."
Claim Review :
Images show casualties of the Balakot air strike
Claimed By :
Facebook posts, WhatsApp