Fact Check
Video Of Shivraj Singh Chouhan Speaking On Alcohol Is Clipped And Fake
BOOM found that in the original video Shivraj Singh Chouhan was speaking against the liquor policies of then chief minister Kamal Nath.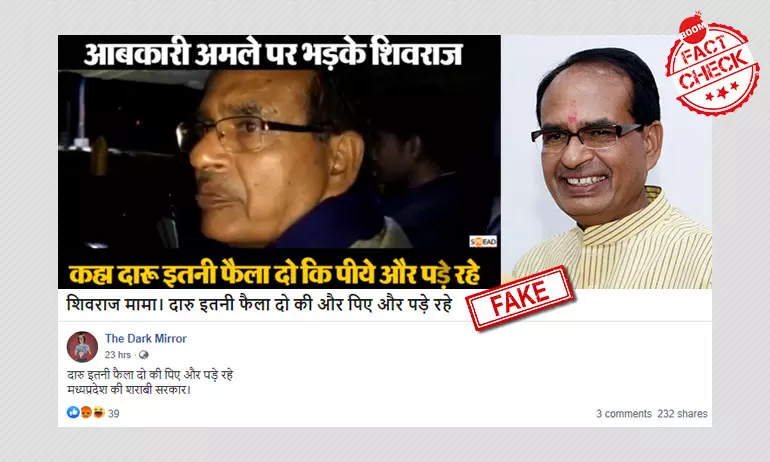 A video clip where Madhya Pradesh Chief Minister Shivraj Singh Chouhan appears to be speaking about promoting the consumption of alcohol in the state, is cropped and is being shared out of context.

BOOM found that the viral clip has been culled out of a longer video Chouhan had tweeted on January 12, 2020 where he can be heard criticizing Kamal Nath (then MP CM) over his liquor policies in the state.

The viral video was also shared, and later deleted, by Congress leader Digvijay Singh from his Twitter handle. Bhopal crime branch has registered an FIR against the Congress leader.
Madhya Pradesh: Bhopal Crime Branch registers FIR against Congress leader Digvijaya Singh, under multiple sections of IPC, in connection with an alleged fake video regarding CM Shivraj Singh Chouhan shared by him on social media. BJP had filed a complaint against him. (file pic) pic.twitter.com/MT3QNoaUyE

— ANI (@ANI) June 15, 2020
In the nine-second-long clip, Chouhan can be heard speaking in Hindi. "What is the excise department doing? Why are they here? Distribute so much liquor in the state that people just drink and lie around," Chouhan appears to be saying in the video.

(Hindi: क्या कर रहा है ये आबकारी अमला? काहे के लिए बैठा है ये? दारु इतनी फ़ैला दो पूरे प्रदेश में की पिए और पड़ें रहें )
Watch the viral post below and check its archived version here.
The same video has been shared from several Twitter handles too including that of Congress leader Digvijay Singh. Singh had later deleted the tweet.

Fact Check
BOOM checked the Twitter handle Office of Shivraj to look for the CM's response on the video. We found the original video from January 12 had been quote-tweeted by the handle accusing Congress of peddling fake news.
Quote-tweeting Chouhan's video from January 12, 2020 with a Hindi caption, the message reads 'Whoever is sharing this fake video peddled by Congress' dirty tricks department will be dealt with strictly'.
कांग्रेस के डर्टी ट्रिक्स डिपार्टमेंट द्वारा जारी किए गए फेक वीडियो जो भी ट्वीट और व्हाट्सएप्प पर शेयर कर रहा है, उसके खिलाफ कड़ी कानूनी कार्रवाई की जायेगी।

यह ओरिजिनल वीडियो है। मध्य प्रदेश में ओछी राजनीति की कोई जगह नहीं! https://t.co/6RIFzi5fGQ pic.twitter.com/76YImjHhxY

— Office of Shivraj (@OfficeofSSC) June 14, 2020
The original video is from January this year when Kamal Nath was the chief minister of Madhya Pradesh. In a longer version of the video, Chouhan can be seen raising questions about the Congress government's liquor policies in the state.
Watch below the original video that had been tweeted by Chouhan on January 12 this year.
The tweet, in Hindi, reads 'Chaos prevails all around. Farmers are unable to sell their produce, loans are not being waived off, youth is not getting unemployment allowance. Developmental works have come to a standstill. In these times, the government is hell bent on ruining the youngsters by opening liquor sub-shops. We will not stay silent, we will fight'.
चारों तरफ त्राहि - त्राहि मची है। किसानों की धान नहीं बिक रही, कर्जा माफ नहीं हो रहा, युवाओं को बेरोजगारी भत्ता नहीं मिल रहा है। विकास के काम भी ठप्प हैं। ऐसे में शराब की उपदुकानें खोलकर सरकार युवा पीढ़ी को बर्बाद करने पर अमादा है। हम चुप नहीं रहेंगे, लड़ेंगे। #MP_मांगे_जवाब pic.twitter.com/eZ863NGY9W

— Shivraj Singh Chouhan (@ChouhanShivraj) January 12, 2020
FIR Registered
According to news reports, the MP police has registered a case against in connection with the circulation of the clipped version of Shivraj Singh Chouhan's old video. Also, leaders of ruling Bharatiya Janta Party demanded that an FIR be registered against senior Congress leader Digvijaya Singh, who had allegedly shared the viral clip. MP police has registered an FIR against Singh.
BJP MLA Rameshwar Sharma shared a screenshot of Digvijaya Singh's tweet calling him out on social media.
Claim :
Video claims that Madhya Pradesh CM Shivraj Singh Chouhan has ordered officials to distribute liquor in the state
Claimed By :
Social media
Do you always want to share the authentic news with your friends?
Subscribed Successfully...
Enter Valid Email Id