Photo Of Protesters Burning Tricolour Is From Pakistan Not India
BOOM found that the image was clicked in June, 2015 in Multan, when protesters were demonstrating against an anti-Pak comment by Narendra Modi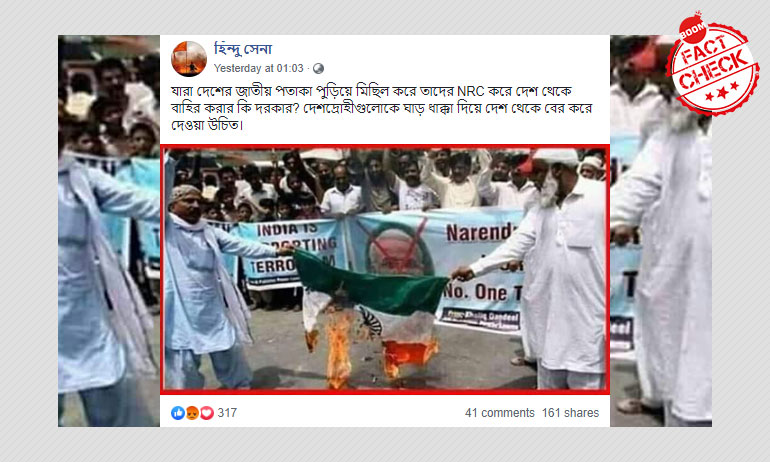 An image of protesters burning an Indian flag in Pakistan has resurfaced with claims that it is from India, and is being falsely linked to the nationwide protests against the Citizenship Amendment Act (CAA) and National Register for Citizens (NRC).
The image shows protesters holding a burning tricolour and banners featuring a photo of Narendra Modi. The protesters have been falsely identified as anti-CAA sloganeers. The caption of the photo, when translated from Bengali reads, "What is the need to oust people who burn the national flag and hold rallies, from the country via the NRC? The anti-nationals should be kicked and exiled from the nation."
(Original text in Bangla: যারা দেশের জাতীয় পতাকা পুড়িয়ে মিছিল করে তাদের NRC করে দেশ থেকে বাহির করার কি দরকার? দেশদ্রোহীগুলোকে ঘাড় ধাক্কা দিয়ে দেশ থেকে বের করে দেওয়া উচিত।)
BOOM found that the photo is from Pakistan's Multan, where people were protesting against the Narendra Modi's anti-Pakistan comments in 2015.
Claim Review :
Image shows protesters in India burning the national flag during protests
Claimed By :
Facebook Post