'Imposter': Abhijit Banerjee On Fake Twitter Account Made In His Name
Abhijit Banerjee confirmed to BOOM that the Twitter accounts in his name were in fact imposters.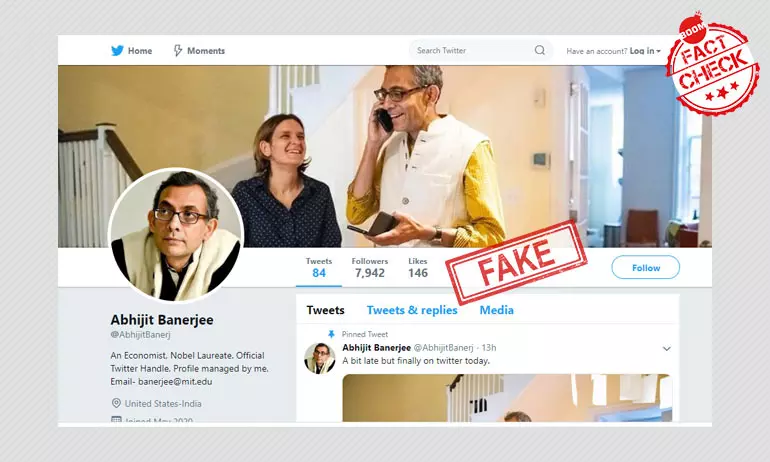 Two imposter Twitter accounts of Nobel laureate Abhijit Banerjee have recently been suspended by Twitter, after posting several tweets as Banerjee on the social media platform.
In an email conversation with BOOM, the real Banerjee confirmed to us that this was indeed an imposter account, and also spoke about another imposter account doing rounds of Twitter.
One of the imposters, going by the handle @AbhijitBanerj had amassed over 25,000 followers in less than a day of creating the account, which included a few prominent journalists and celebrities. The account had Banerjee's official Massachusetts Institute of Technology email address in the Twitter bio, and had added photos of him with his wife, Nobel laureate Esther Duflo.

Viral In A Day

The account became active on May 5, around the same time as Banerjee's conversation with Congress leader Rahul Gandhi about reviving the economy after the pandemic was over. During this time, Google saw a sharp rise in searches with the keywords "abhijit banerjee", as people attempted to look for the video of the conversation.
The account had also posted a tweet stating, "A bit late but finally on twitter today." This led many users to the imposter account, who had claimed that it was Banerjee's "official handle" on the Twitter bio.
Trinamool Congress Member of Parliament Mahua Moitra also posted about the imposter, and added that there was one more going by the handle @AbhijitBanrjee.
BOOM found that the other imposter mentioned by Moitra was also a recently made account (screenshot of profile shot by Moitra shows "joined in May 2020"), and was suspended by Twitter as well.
This is not the first time such imposter accounts were made in Banerjee's name. As soon as his name was announced as a recipient of the Nobel prize in October 2019, an imposter account went viral, which later on changed it's status to "parody account" after several people mistook it for the real Banerjee.
Also Read: Fake Account Impersonating Nobel Laureate In Economics Abhijit Banerjee Crops Up
Updated On:
2020-05-06T13:03:59+05:30
Claim Review :
Nobel laureate Abhijit Banerjees Twitter account is @AbhijitBanerj
Claimed By :
Twitter users