Images Of Violence In Pakistan Shared As WB's Riot Hit Telinipara
BOOM found that the images are from Pakistan's Sindh area, where clashes broke out because of reported land disputes.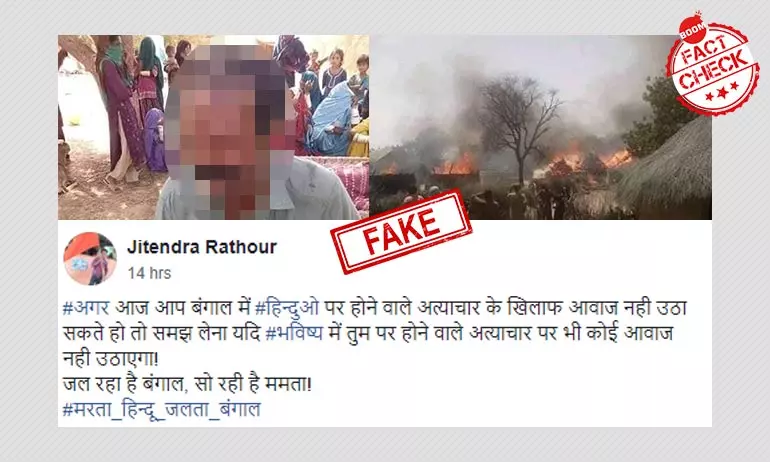 A set of four images of violence over reported land dispute in Pakistan has resurfaced and is being falsely linked to the communal clashes that hit Telinipara in West Bengal earlier this week. The set of images shows a man bleeding from his head, while two others show people rushing to douse flames that have engulfed thatched houses. In another image, an injured woman can be seen lying on a bed as an aftermath of the violence.
The viral Facebook narratives claim that the injured are Hindus and Muslims are setting fire on Hindu localities in Bengal. Major clashes broke out in West Bengal's Telinipara from May 12 when people from Wardibazar, an adjacent area, tried to enter Telinipara. Several people have reportedly tested positive of COVID-19 in Wardibazar. According to a report, when 10 people from the area were headed to Telinipara, to use a public toilet, locals objected and clashes followed.
One such viral caption, when translated to English, reads, "If today you cannot raise your voice against the Hindus of Bengal then please understand that in future if you are attacked, nobody will raise their voice. Bengal is burning. Mamata is sleeping. #Dying_Hindu_Burning_Bengal."
(Original Texts in Hindi: ''#अगर आज आप बंगाल में #हिन्दुओ पर होने वाले अत्याचार के खिलाफ आवाज नही उठा सकते हो तो समझ लेना यदि #भविष्य में तुम पर होने वाले अत्याचार पर भी कोई आवाज नही उठाएगा! जल रहा है बंगाल, सो रही है ममता! #मरता_हिन्दू_जलता_बंगाल")
The images have been widely shared on Facebook with netizens misidentifying the incident as one from Telinipara, and captions claiming that houses of dalit Hindus were burnt in the area.
The images have also been shared in Bangla, with similar claims as proof of atrocities against Hindus in Telinipara. One such post reads, "Traitors have burnt the houses of innocent Hindus, besides the honour of Hindu mothers and sisters have been ruined. And begum abolished the living rights of Hindus."

(Original text in Bangla: হুগলীর তেলেনি পাড়ায় জিহাদীরা জ্বালিয়ে দিলো অবলা হিন্দুদের ঘরবাড়ি তার সঙ্গে চলছে হিন্দু মা বোনের ইজ্জত হরণের পালা আর বেগম কেড়ে নিয়েছে হিন্দুদের বাচার অধিকার, এরজন্য দায়ী একমাত্র হাওয়াইচটি)
You can click here to see the post and here for archived link.
Fact Check
BOOM was able to ascertain that the images are not from West Bengal's Telinipara as the terrain of the area is starkly different from what is seen in the images. Upon reverse searching the images, we found a Twitter account @voice_minority that tweeted the images of the injured man and woman. They were identified as Gulab and his wife who were attacked by neighbourhood goons in Rahimar Khan, Punjab, Pakistan. Gulab's wife was sexually assaulted. The images were tweeted on May 11.
The incident was also reported on Gulf News on May 12 but the identity of the injured couple was not verified by the publication. The article was headlined as, "Pakistan: Hindu couple in rural Punjab brutally attacked, reason unclear."

Additionally, we found a reply by the Pakistan Punjab police's Twitter handle that stated that the couple was injured because of a property dispute and was not an incident of hate crime.
یہ بنیادی طور پر زمین کی ملکیت کا تنازع ہے جس کے ہندو اور مسلم دونوں خاندان دعویدار ہیں جس پر فریقین باہم دست و گریبان ہوئے دونوں طرف سے زخمی ہونے والے افراد کی میڈیکل رپورٹ پر کاروائی جاری ہے جس کے بعد مزید قانونی کاروائی کی جائے گی.

— Punjab Police Official (@OfficialDPRPP) May 11, 2020
At the same time while Kabul and Ningarhar is burning because of the Taliban terrorists attacks sponsored by Pakistan, Pakistan Army burned a whole village in Baluchistan!

The whole region must stand against Pakistan and its terrorist activities! pic.twitter.com/4mQ0279y7G

— Col Rahman Rahmani (@rahmanrahmanee) May 12, 2020
BOOM could not independently verify the photos of the houses burning but was able to ascertain that they are not from Hooghly's Telinipara.
Updated On:
2020-05-14T19:10:06+05:30
Claim :
Images show Hindus being attacked in Telinipara, West Bengal
Claimed By :
Facebook Posts
If you value our work, we have an ask:
Our journalists work with TruthSeekers like you to publish fact-checks, explainers, ground reports and media literacy content. Much of this work involves using investigative methods and forensic tools. Our work is resource-intensive, and we rely on our readers to fund our work. Support us so we can continue our work of decluttering the information landscape.
BECOME A MEMBER