Photo Of Rohingya Muslims Shared As Plight Of Migrants In Lockdown
BOOM found that the photo is from 2017 and shows a Rohingya Muslim man fleeing from Myanmar to Bangladesh.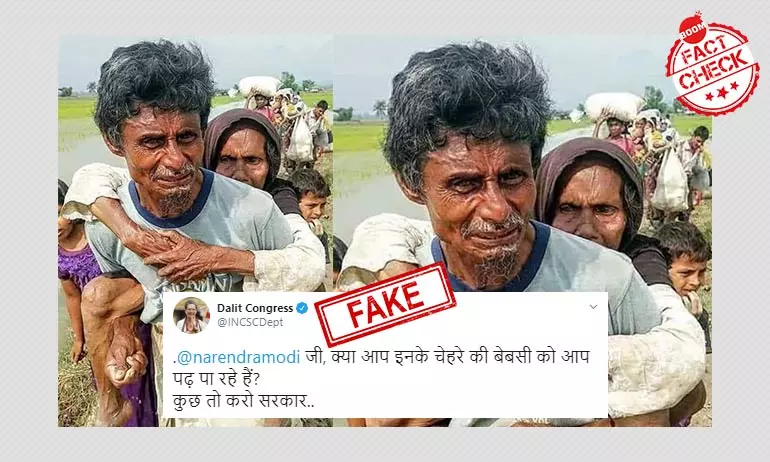 A photo of a Rohingya Muslim man carrying his mother on his back as he enters Bangladesh is being shared with false claims that it shows the plight of migrant workers during India's coronavirus driven lockdown. BOOM found that the photo is from 2017 when a man identified as Osiur Rehman, a Rohingya Muslim walked for days, carrying his mother on his back, from Myanmar to Bangladesh.
The photo is being shared in India at a time when hundreds of migrants workers in the country are walking back to their home states. Workers are walking thousands of kilometres from Karnataka, Maharashtra, Tamil Nadu to their homes mostly in Uttar Pradesh, Bihar and Orissa. The Union and the state governments have received heavy criticism for not providing timely assitance and transport arrangement to the workers. In a shocking incident in Aurangabad in Maharashtra, a freight train ran over 15 migrant workers who reportedly fell asleep on the tracks, exhausted after having walked for days. Recently, the central government announced special trains from major states to ferry migrant workers.
The viral image of an old man walking with his mother on his back and weeping while he does so, was shared on Twitter with captions claiming the photo is of migrants workers from India who have been ignored by the governments.
The Indian National Congress' Scheduled Caste wing tweeted the photo with a caption asking Prime Minister Narendra Modi whether he could see their 'helplessness'

Economist Rupa Subramanya and journalist Swati Chaturvedi shared a collage of three photos with two pictures of migrants from India and the third being the photo of the Rohingya Muslim.
FACT CHECK

BOOM found that the photo is of a Rohingya Muslim man carrying his mother, having fled from Myanmar to Bangladesh during the crisis in 2017.
A reverse image search showed results from a story published on Pressenza, an international news site on November 8, 2017 titled about Rohingya Muslims. The story titled 'Rohingya Refugees at Cox's Bazar, Bangladesh' describes the situation for Rohingyas and carries photos from Bangladesh.
The site credited a photographer Mobarak Hossain for the pictures.

We then ran a search for the words 'Mobarak Hossain' in Bengali text and found a news story on a Bangladesh news site, Ukhiya news about a man Osiur who walked for four days carrying his mother on his back.
Read the news story here
In the same story we found a Facebook video uploaded by the media outlet interviewing Osiur who describes how he walked for nearly four days carrying his mother through forests, to escape Myanmar and enter Bangladesh. The video was uploaded on Facebook on September 6, 2017. Watch below:
Updated On:
2020-05-12T22:44:58+05:30