Fact Check
IANS Publishes Satire Article On Imran Khan As News
The article, claiming that Khan read the coronavirus curve upside down, was first published by Pakistani satire website The Dependent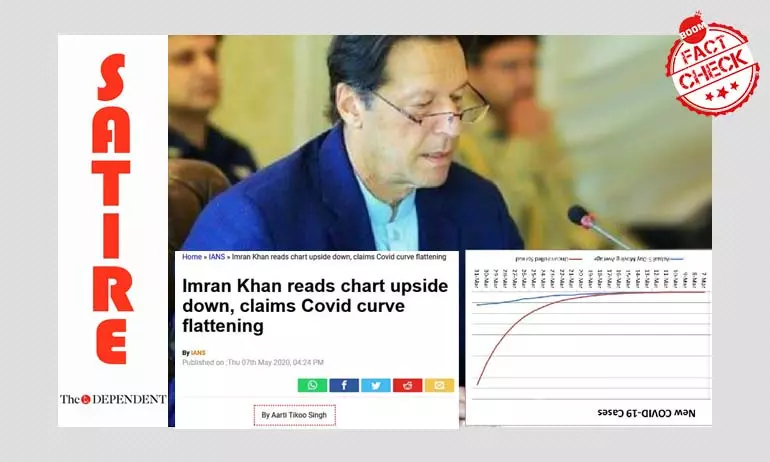 News agency IANS (Indo-Asian News Service) recently published a news report, claiming that Pakistan Prime Minister Imran Khan said the coronavirus curve was flattening, after he erroneously read the curve upside down.
We found that the claim originated from a Pakistani satire website called The Dependent, and had no link to reality.
From Satire To News

Twitter handle 'Not The Dependent' (@DependentNot) posted a screenshot of the IANS article, while insinuating that it was originally satire piece.The byline in the screenshot mentioned Aarti Tikoo Singh as the author, who is the Foreign and Strategic Affairs Editor at IANS.

According to its bio, the handle was described as an official parody account of Pakistani satire website The Dependent (@dependent_the_).
Learn to differentiate between satire and actual news reports @ians_india

And hands off our PM. He may be a petty, facile, undemocratically imposed lackey without principles, but he's OUR petty, facile, undemocratically imposed lackey without principles! pic.twitter.com/mrTIeS4SBl

— Not The Dependent (@DependentNot) May 7, 2020
Looking through The Dependent's tweets, we found the original article posted on May 6, article which ran with a 'satire' disclaimer.
The article on The Dependent's website also carried a disclaimer at the bottom saying, "The above piece is a work of satire and does not present itself as the truth."
However, IANS ran the story through the wire without any mention of it being a work of satire. The article was eventually syndicated by other news portals like Newsd and Outlook as well. While Outlook attributed the story to IANS, the Newsd article mentioned Aarti Tikoo Singh's name in the byline.
Claim :
Imran Khan said the curve was flattening, after he read the chart upside down.
Do you always want to share the authentic news with your friends?
Subscribed Successfully...
Enter Valid Email Id