Hyderabad Vet Rape: Inactive Numbers Shared As Emergency Helpline For Women
BOOM found that some numbers have been deactivated and others are specific to certain cities.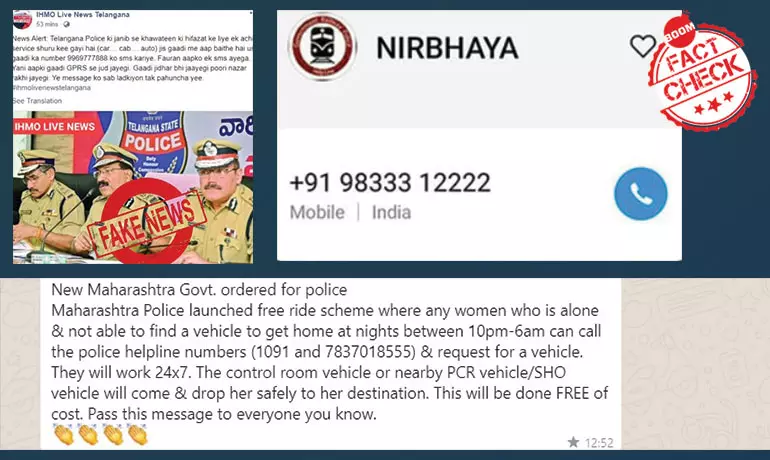 The disturbing gang rape and murder of a young veterinary doctor in Telangana has led to a series of online posts with helpline numbers for women to call in cases of emergencies. BOOM found that while many of these number are old and no longer active, others are specific only to certain cities in the country.
We looked at several such posts falsely viral as helpline numbers for women:

Inactive Mumbai Railway Helpline Passed Off As Nirbhaya Helpline
A currently deactivated helpline number is being shared as the Nirbhaya helpline (9833312222) and urges people to leave messages on this number in the case of any emergencies.

The helpline was originally activated by the Mumbai Railways Police in 2015 and was extensively covered in the media. This number is defunct and out of service from 2018. This service was meant for the women using the suburban railway system across the city and not available across the country as the WhatsApp message indicates. Read our story here.
Old Nirbhaya Helpline Claimed To Be From Telangana

Social media was abuzz with claims that the Telangana police had initiated a new helpline (9969777888) for assisting women in the state. This helpline was claimed to track mobile phones and the vehicles of the women. The Hyderabad police took to Twitter to debunk these claims. They insisted that they had not come up with such a helpline and urged citizens to not believe these claims.
#FakeNews Circulating on #SocialMedia Regarding #Telangana Police Introduced a New Mobile Tracking Number (9969777888) While Travelling in Cabs & Autos it is is Fake News Don't Circulate it. pic.twitter.com/tPkqzuR1eX

— Hyderabad City Police (@hydcitypolice) December 3, 2019
The said number was also a Mumbai based initiative albeit by the police and was active between 2014 and 2017. This number has been circulating as a helpline number for quite a few years and both Delhi police and Bengaluru police have debunked this in the past.
(1/3) Messages on Social Media regarding launch of Delhi Police Women Helpline SMS # 9969777888 for GPS tracking of Auto/Taxi are not true.

— Delhi Police (@DelhiPolice) March 31, 2016
Fake message is floating on Whatsapp regarding this number as BCP's Women Helpline. The number does not belong to BCP

People are requested not to believe or share this fake message. Stringent action will be taken against those who create and spread fake messages on social media pic.twitter.com/cG7Ky81dqd

— BengaluruCityPolice (@BlrCityPolice) June 1, 2018
BOOM debunked this claim in June 2019.

Ludhiana Helpline Claimed To Be For Maharashtra
Another WhatsApp forward stating that the Maharashtra government and police launched a free ride scheme for women to avail free rides between 10 pm and 6 am by calling the numbers 1091 and 7837018555. BOOM received this message on its Whatsapp helpline (+91-7700906111) for checking the veracity of the news.

BOOM found that the service is exclusively for Ludhiana and that the Ludhiana police had initiated this on the 1st of December. This service is currently only applicable for Ludhiana.

On November 28, a 26-year-old doctor from Telangana was found murdered and gangraped and her body charred to death. The incident which caused to outrage in the country led to the arrests of four people - Mohammed alias Areef, Jollu Shiva, Jollu Naveen and Chintakunta Chennakeshavulu.
In a turn of events, all the four accused were killed in an encounter by the Cyberabad police on December 6, when they were taken to the scene of crime for a reconstruction of the incident.
The helpline number 1091 is a pan- India helpline commissioned by the National Commission for Women.
Updated On:
2019-12-06T19:29:39+05:30