Nirbhaya Helpline Number Deactivated In 2018; Viral Message False
The number 9833312222 was launched by Mumbai Railway in 2015 but deactivated in 2018.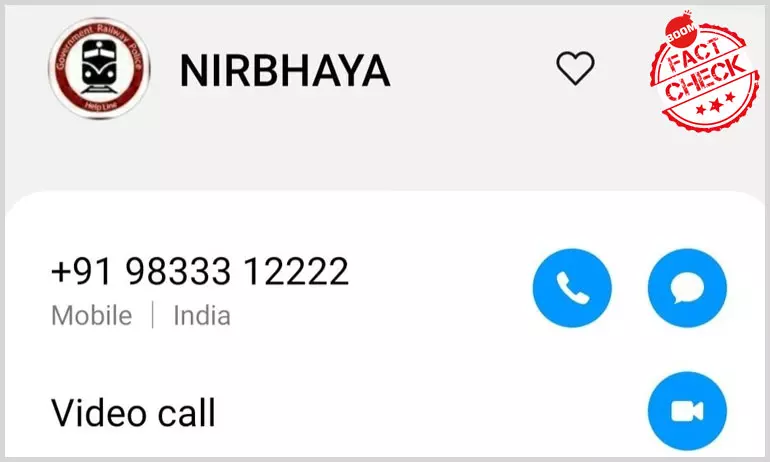 A inactive helpline number for women is being shared on social media asking women to contact the same in case of an emergency. The viral message asks women to call the number 9833312222 calling it the Nirbhaya number.
The viral message says, 'Send this Nirbhaya number to your wife, daughters, sisters, mothers, friends, and all the ladies you know..ask them to save it.. all the men please share with all the ladies you know. In case of emergency. Ladies can send blank msg or can give missed call..so that police will find your location and help u'
The message is being shared in light of the gruesome gang rape and murder of a veterinary doctor in Telangana where the victim's body was found charred to death. The Cyberabad police have arrested four people Shiva Jollu, Naveen Jollu, Mohammed alias Areef and Chintakunta Chennakeshavulu.
BOOM received the viral message on its helpline number.
The same message is being shared on Twitter.
Fact check
BOOM found that the number was launched in 2015 by Mumbai railway police, it was deactived and the service shut down in 2018. The number was also not a pan-India helpline number but was an exclusive WhatsApp messaging helpline number for women commuters using the suburban railway services in the city.
A keyword search using the number mentioned in the viral message - 9833312222 - led us to news articles from 2015 about the Mumbai railway police launching a helpline number for women which would work exclusively on WhatsApp. A MumbaiMirror report informed that the number was to be used by female commuters to send complaints and alerts about safety threats.
.
The Mumbai police in 2017, confirmed that the number was active from their official Twitter handle.
NUMBER DEACTIVATED IN 2018


BOOM was able to ascertain that the number was deactivated in 2018 by the Mumbai railway police department. While we didn't find an official notification, we found several websites carrying an alert from the railways that stated. 'Nirbhaya helpline no.9833312222 has been officially closed with effect from 1st Feb 2018....'
BOOM also spoke to a senior Mumbai police officer who said that the number 9833312222 is no longer active and said that in case of an emergency, one can dial 100 and it will connect to the control room of the local police. "This applies to all states and cities. Dialling 100 will connect to the control room plus each city and state has its own helpline number which should be saved and used for emergency situations," he said.
Updated On:
2019-12-03T11:51:02+05:30
Claim Review :
Nirbhaya Helpline Number For Women 9833312222
Claimed By :
Social media posts