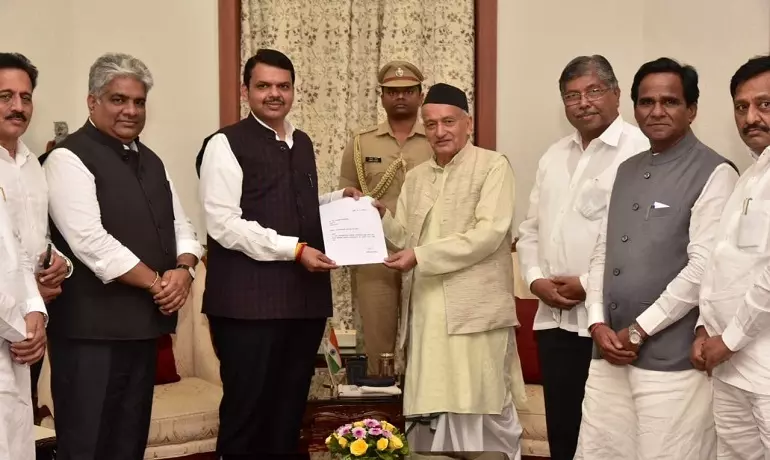 Former Maharashtra Chief Minister and current leader of the opposition Devendra Fadnavis has rubbished fellow party leader and Karnataka MP Ananth Hegde for claiming that the party's short stint in power last week was led by the need to transfer a sum of ₹40,000 crores to the central government. These rumours that first went viral on WhatsApp, became public when Hegde spoke about it at a gathering in Karnataka on Saturday.
Strongly refuting Hegde's claims, Fadnavis said that the role of the Maharashtra government in the bullet train project was only of land acquisition, and does not include transfer of funds. He also stated that those acquainted with inter-governmental accounting systems know that transfer of funds do not work the way it has been claimed.
#WATCH Former Maharashtra CM & BJP leader Devendra Fadnavis on Ananth K Hegde (BJP) remark, 'Devendra Fadnavis became CM & in 15 hours he moved Rs 40,000 crores back to Centre': No such major policy decision has been taken by me as CM. All such allegations are false. pic.twitter.com/wSEDOMGF4N

— ANI (@ANI) December 2, 2019
Interestingly, BOOM first received the viral message on its helpline (7700906111) on November 27, a day after Fadnavis resigned. The BJP found itself stranded post rebel NCP leader Ajit Pawar's resignation as the deputy chief minister.
The message claimed that Fadnavis' three-day stint as CM may have seemed like a political blunder, but it was, in fact, a calculated move. During this short tenure, Fadnavis saved the bullet-train project by allegedly transferring the bullet train's funds to the central government, after he realised he did not have the numbers to keep the government steady. Therefore, his brief stint was to secure these funds, which would have otherwise been embezzled by the Congress and its allies in the name of farm loan waivers, when they would have eventually formed the government, the message claimed.
While the viral message did not mention the quantum of the funds transferred, Hegde went a step ahead. The member of parliament made the same claim in line with the now viral WhatsApp message, but also quantified the magnitude of this transfer at ₹40,000 crore, which he claimed Fadnavis implemented within 15 hours of taking oath on November 23, 2019.
Ananth K Hegde,BJP: A CM has access to around Rs 40,000 Cr from Centre.He knew if Congress-NCP-Shiv Sena govt comes to power it would misuse funds meant for development. So it was decided that there should be a drama.Fadnavis became CM&in 15hrs he moved Rs40,000 Cr back to Centre pic.twitter.com/3SNymN1eMQ

— ANI (@ANI) December 2, 2019
BOOM also reached out to Fadnavis's office and will update the story upon receiving a reply.
The planned bullet train project connecting Mumbai and Ahmadabad is one of the defining projects of the erstwhile government, and is a matter of prestige for the central government and for the government of Gujarat. This is due to the involvement of Japanese investors, with access to low-cost funds. Its known estimated cost is ₹1.08 lakh crores. But the project has faced several hurdles with farmers opposing the land acquisition process initiated by the state government.
These messages and claims are coming at the heels of the new Uddhav-Thackeray led Maharashtra government reviewing many Fadnavis-era plans.

In its most high-profile statement, the new government has decided to review the bullet-train project altogether. In a press conference after the two-day special session of the Maharashtra assembly, CM Thackeray said:

"We have asked for an update on development works currently underway, cost estimates, hurdles and deadlines. We will then decide on what needs to be done on priority and also if some works that are being done on priority are really needed."

Thackeray also stayed the work on car shed of the metro-3 underground line, scheduled to be built by cutting down trees in Mumbai's Aarey vegetative area, which the former government supported. Along with staying the construction of the shed, Thackeray also ordered that cases slapped against agitators, who opposed the move during the tenure of the former government, be withdrawn. Thackeray, however, did not stay the construction of the metro, and promised to not work in a "vindictive manner."

Claim :
Fadnavis transferred ₹40,000 crores to the central government during his 3-day tenure
Claimed By :
Ananth Hegde and WhatsApp forward
Do you always want to share the authentic news with your friends?
Subscribed Successfully...
Enter Valid Email Id