Fact Check
Delhi's Sir Ganga Ram Hospital Says Viral COVID-19 Prescription Is Fake
The hospital denied that the prescription was issued by one of their doctors and said that the signature on the letter was forged.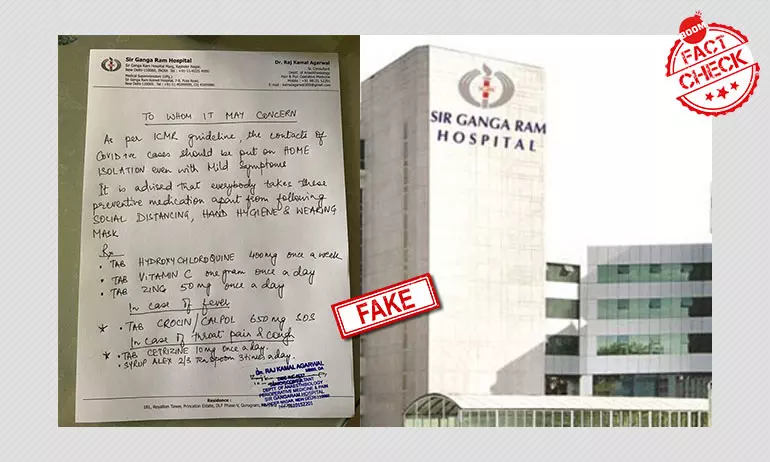 Delhi based Sir Ganga Ram Hospital has distanced itself from a viral letter prescribing medication for high-risk contacts of COVID-19 patients on a document that appears to be the letterhead of one of its doctors and also appears to carry his stamp.
BOOM contacted Ajoy Sehgal, public relations manager at the hospital who denied that the prescription was genuine.
"This prescription is fake and the doctor's signature has been forged," Sehga told BOOM.
The hospital also took to social media to deny that the letter was issued by the doctor whose name is mentioned in the letter.

It has been brought to our notice that someone has circulated a fake image and forged the doctor's signature. #SGRHIndia strongly dissociates it self from such messages. pic.twitter.com/2obOptXxhp

— Sir Ganga Ram Hospital (@sgrhindia) June 11, 2020
The prescription lists medicines such as Hydroxychloroquine, vitamin C, Zinc, Crocin, Calpol, Cetrizine, and a cough syrup for high-risk contacts of COVID-19 patients with the letterhead of Dr. Raj Kamal Agarwal, a consulting anaesthesiologist at the hospital.
The prescription with Dr. Agarwal's letter head reads: "To Whom It May Concern, As Per ICMR Guidelines, the contacts of COVID +ve cases should be put on home isolation even with mild symptoms. It is advised that everybody takes these preventive medication apart from following social distancing, hand hygiene and wearing mask. Tab Hydroxychloroquine, tab vitamin C, tab zinc, crocin calpol, cetrizine, syrup alex.
BOOM also reached out to Dr Agarwal and is awaiting a response. The story will be updated if we receive a response from the doctor.

BOOM received the picture on its WhatsApp helpline with a request for checking its authenticity.
The image is also circulating on Facebook and Twitter. View archive here.
Earlier, another message was falsely attributed to Sir Ganga Ram Hospital that included a list of 'do's and don'ts' that people should follow as precautionary measures against COVID-19.
Also Read: Viral COVID-19 Advisory Not Published By ICMR, Sir Ganga Ram Hospital
Medications For High Risk Contacts
Although, the hospital has called the prescription fake, the medicines that have been prescribed are given to high-risk contacts.
These medicines are prescribed by healthcare workers to the high-risk contacts of patients who have tested positive for COVID-19 and some of these such as hydroxychloroquine, and zinc tablets require a doctor's prescription.
Hydroxychloroquine (HCQ) is prescribed only after understanding a patient's history as studies have shown that the drug could have minor side effects and the ICMR also requested for an ECG before prescribing HCQ for prophylaxis.
Also Read: Lancet Retracts Hydroxychloroquine Paper As Data Questioned
The image comes at a time when the Delhi government has permitted the hospital to restart collecting and testing COVID-19 samples.
Earlier, on June 5, the Delhi government filed an FIR against the hospital and asked them to stop collecting and testing COVID-19 samples. The hospital was allegedly not updating testing details on the RT-PCR app as per the Indian Council of Medical Research's advisory.

The main as well as the subsidiary hospitals of the hospital chain were declared as dedicated COVID-19 facilities on June 4. Delhi has so far reported 34,687 cases and 1085 deaths.

Meanwhile, over 300 health workers associated with the hospital have tested positive for COVID-19.
(Note: The story has been updated with Sir Ganga Ram Hospital's latest tweet declaring their permission to restart testing for COVID-19)
Claim :
Sir Ganga Ram Hospital doctor prescribed COVID-19 medicines for high risk contacts
Claimed By :
Social Media
Do you always want to share the authentic news with your friends?
Subscribed Successfully...
Enter Valid Email Id