Fact Check
Congress Tweets Dated Video Of Man Eating Leftovers From Railway Tracks
BOOM traced the video to August 2019 when it was uploaded on YouTube. The video was shared again on Twitter on March 1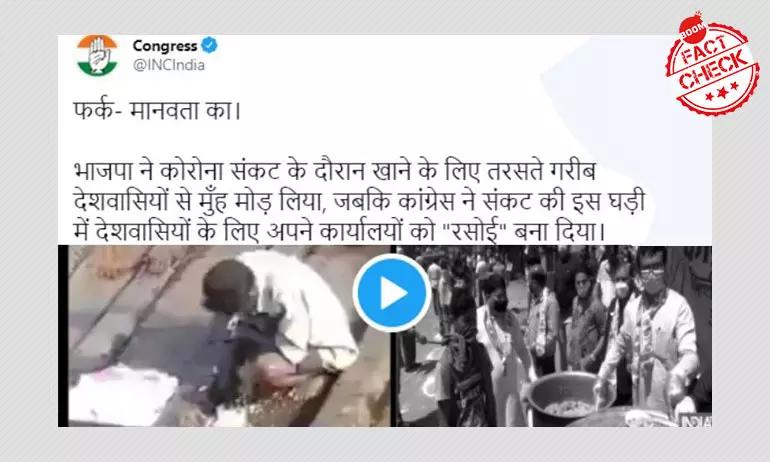 The Indian National Congress party has shared an old video of a man eating leftovers thrown on a railway track as recent. In a tweet from its official Twitter handle, the Congress party has tweeted a set of two videos, one of which is old and not related to the lockdown period. BOOM traced the clip showing the man eating leftover food from the railway track to August 2019.
The video has been shared at a time when migrant labourers who are returning to their hometowns on foot, by special trains or through other means of transport are facing pangs of hunger.
The two videos have been shared with different captions. While the heart-rending video of a man eating leftovers thrown on the railway track is shared with a Hindi caption 'BJP: Makes poor people yearn for single grain of food' (भाजपा: गरीबों को दाने दाने के लिए तरसाती है), another recent video of Congress workers providing food to the needy has been shared with the Hindi caption 'Congress: Feeds the poor' (कांग्रेस: गरीबों को खाना खिलाती है).
The tweet, in Hindi, reads 'Difference of Humanity. BJP turned its back on poor countrymen yearning for food during Corona crisis but Congress converted its headquarters into kitchens for countrymen during these trying times'.
(Hindi: फर्क- मानवता का। भाजपा ने कोरोना संकट के दौरान खाने के लिए तरसते गरीब देशवासियों से मुँह मोड़ लिया, जबकि कांग्रेस ने संकट की इस घड़ी में देशवासियों के लिए अपने कार्यालयों को "रसोई" बना दिया।)
The tweet can be seen below and its archived version can be checked here.
फर्क- मानवता का।

भाजपा ने कोरोना संकट के दौरान खाने के लिए तरसते गरीब देशवासियों से मुँह मोड़ लिया, जबकि कांग्रेस ने संकट की इस घड़ी में देशवासियों के लिए अपने कार्यालयों को "रसोई" बना दिया। pic.twitter.com/w2OuKvZW8D

— Congress (@INCIndia) May 16, 2020
Also read TV9 Bharatvarsh Falsely Links Mystery Virus In Tomatoes To Coronavirus
The Congress party has converted its office at ITO, Delhi into a shelter home for migrant workers. The party is providing the workers shelter and three meals a day. Read more about it here.
The video has also been shared on Facebook with similar claim.

Also read Video Of Robbery Shared As Migrants Attacking For Money In Delhi
Fact Check
BOOM was able to track the viral video to August 2019. The video had been uploaded on YouTube channel O.M.G Page 2 on August 21 last year with a caption 'Please don't waste your food. Really heart touching'.
The video uploaded on YouTube is a compilation of clips showing people eating food from waste bins and dumping trucks. The same video was shared from O.M.G. Page 2's Facebook profile on August 21 last year.
The video had been shared again in March this year by Twitter users.
Ravi Nair had tweeted the same video on March 1 this year with the caption, 'What is his religion'?
Also read No, This Video Does Not Show Migrants Gathered At Uttar Pradesh Border
BOOM, however, was not independently able to verify when and where the video was recorded. However, as it is present on the internet since August last year, it is not related to the ongoing lockdown in the country.
The video showing Congress workers distributing food to the needy in Delhi had been uploaded on wire agency ANI's YouTube channel on March 31, 2020.
The description with the video reads 'New Delhi, Mar 31 (ANI): Congress workers started a kitchen to feed needy in Delhi amid coronavirus outbreak. All necessary precautions were taken by the workers during the food distribution process. Congress workers made sure social distance was maintained among people while collecting food. The weaker section of society is facing major hardships during nationwide lockdown'.
Claim :
Congress Twitter handle shares old video of a man eating from railways tracks as recent
Claimed By :
Social media
Do you always want to share the authentic news with your friends?
Subscribed Successfully...
Enter Valid Email Id