Aircraft Simulation Video From 2016 Passed Off As Pakistan Plane Crash
A video from 2016 generated through a video game aircraft simulator is being peddled as the recent PIA crash.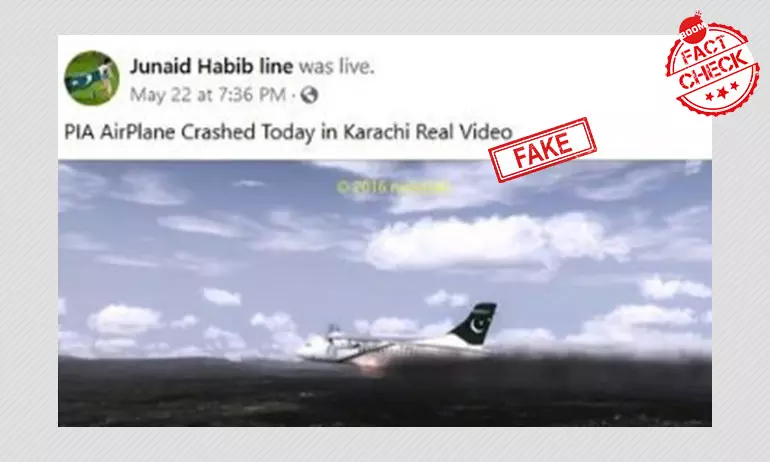 An aircraft video game simulation from 2016 is being passed off on Facebook with a false claim that it shows actual footage of the Pakistan International Airlines (PIA) flight PK 8303 that crashed in Karachi on May 22, 2020 killing 97 people.
The videos show a plane with clear PIA branding flying with a portion of the aircraft on fire. One can also hear radio conversation in the background. The videos shows various angles of the planes crashing into an open field playing on loop.

The video is being shared on widely on Facebook with the claim that it is real footage of the PIA aircraft crashing in Karachi. However, BOOM found that this video is being shared after by splicing various crash simulation videos of an ATR aircraft with PIA branding made by gaming software 'Flight Simulation X', published by Microsoft Corporation.
Another giveaway that the video is fake is that the aircraft that crashed was an Airbus A320; with the video showing an aircraft manufactured by ATR.

The video is being shared by Facebook users in Pakistan. The 34 minute long video has more than 3,000 shares, and it has been viewed almost 3,00,000 times. It carries the caption, "PIA Airplane Crashed Today In Karachi Real Video".

Another Facebook users also seemingly based in Pakistan, has shared this video. It has more than 8,000 shares, and it has been viewed more than 9 lakh times. It carries the same caption as above.
Other similar videos can be seen here.

PIA aircraft PK 8303, carrying 91 passengers and 8 crew members from Lahore to Karachi, crashed only a few hundred feet away from the runway on May 22. According to local media, 97 are confirmed dead, and both survivors are in stable condition.
FactCheck
A closer look at both these videos shows that the videos carries a watermark stating "©2016 runsame" in yellow in these videos.
This led BOOM to a YouTube channel of 'runsame', and the channel states that it is based in Germany and the channel makes content around aviation and video games, among others.
BOOM also found that the videos being shared are actually a number of videos from runsame's channel being combined together and being played on loop.
For example, the first 50 seconds of the videos being shared have been culled from the video below. It ends with the simulated plane crashing for the first time.
The video is titled 'Extreme Crash PIA ATR 42 Flight 661 Islamabad', and was uploaded on December 10, 2016. The video in the description states, "All crashes are no real plane crashs, real one are terrible.This here is just for entertainment."
The channel also confirms that it was built using a software called Flight Simulator X. "Flight Simulator X © Microsoft Corporation. [Above "Flight Simulator X" Video] was created under Microsoft's "Game Content Usage Rules" using assets from Flight Simulator X, and it is not endorsed by or affiliated with Microsoft".
The next part of these videos have been taken from here. It carries the same notifications and attributions as highlighted above, and was uploaded on the same day.
All of these video clearly show an ATR aircraft crashing, and not one of Airbus A320, which actually did crash.
Further, the Karachi accident happened in a residential area, and these videos show the planes crashing in a field.
Updated On:
2020-05-26T12:32:32+05:30
Claim Review :
Video shows real footage of the PIA crash in Karachi
Claimed By :
Users of Facebook