Delhi Riots : A Long Night Vigil For Residents Of North East Delhi
BOOM spoke to residents of Karawal Nagar and Mustafabad who have started night time patrolling outside their homes.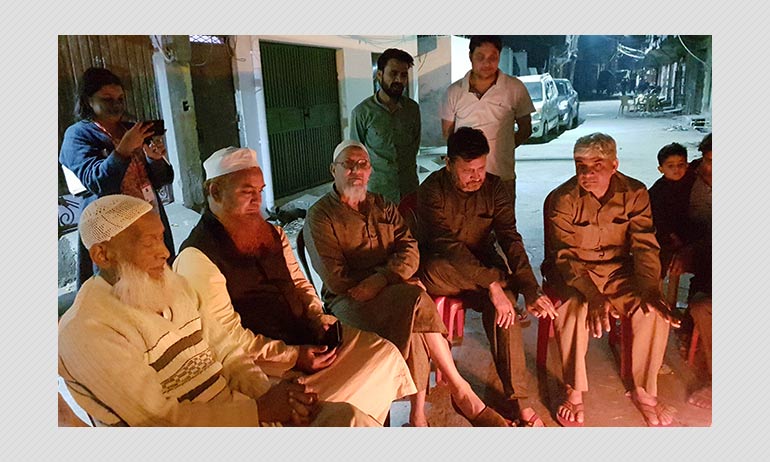 Its 12.30 am on a cold night in old Mustafad and Shahid Ali is alert and wide awake. "Darr se neend bhaag jaati hai" Ali says sitting outside his one storey apartment in old Mustafabad. Ali with his other neighbours sit outside their homes in the narrow lanes of North East Delhi, keeping an eye out for trouble or a rioting mob.
"There is a sense of fear in these lanes that doesn't let us sleep. What if we sleep and are woken up staring at a violent mob?" continues Ali, while warming his hands on the bonfire lit for the group.
The scene is common in most residential areas of Old Mustafabad - groups of five to six men stand guard in the lanes - some with bonfires - others just talking over cups of chai and Facebook posts.
BOOM spent a night in Karawal Nagar and Old Mustafabad areas of North East Delhi which recently saw violent riots that left at least 42 dead, several houses burnt looted and the residents panicked and fearing for their lives. We spoke to residents who post the riots have started self patrolling in groups in small groups - staying awake till sunrise, armed with lathis and alert eyes.
ALSO READ : Old Image of Wounded Syrian Kid Resurfaces As Delhi Riots' Victim

67-year-old Qamruddin sits in a red chair with his friends around a bonfire in Galli Number 4 of Old Mustafabad. "The day after the riots we all met and were talking about what happened when one of us said, 'What if they come back?'. We then decided to patrol and stay awake the whole night and that's what we have been doing since a week now," he says. His friend Islamuddin chips in, "We anyway wouldn't have been able to sleep at home. Being with everybody gives us a sense of safety."

The residents told BOOM that they stay awake till the first azaan of the morning at 5.30 am. Our wives, daughters and mothers are also awake. "They supply the much needed fuel - not petrol bombs - chai, cups and cups of chai," says Qamruddin. "See the state we have reached - I can't even say fuel without people misunderstanding it," he continues with a smile on his face.
In Karawal Nagar, 76-year-old Tarachand Mogha walks around - a solitary figure with a lathi - in partially lit lanes. "I just need to shout and everybody will step out. Everyone in the lane is awake in their house," he says confidently. Mogha patrols Galli Number 1 in Karawal Nagar. Its the constituency of Bharatiya Janata Party leader Kapil Mishra, who has been accused of instigating crowds to take action against those protesting the Citizenship Amendment Bill (CAA).
Mogha dressed in white a pant and shirt and a blue cloth tied like a turban around his head meets us at the starting of the lane. "Why are you here? Do you relatives here?" he asks kindly with a hint of wary. "Nobody can enter the lane without my permission,"he says. His daughter-in-law Meena walks towards him with her son and says, "Only his grandson can defy him. Everybody in the lane respects him and is scared of him"
Mogha explained that post the riots, all the elders and residents of the lane held a meeting and decided they needed a patrolling system in place. "We start patrolling from 11 pm and are there till 5 am -till the break of dawn. If I see any crowd, I just shout "aajao aajao (Come come) and everybody is out of their houses in an instant."

LANES UPON LANES AND SECURITY OFFICIALS STUCK TO THE TOWN SQUARE
The areas of Karawal Nagar and Old Mustafabad are a like a labyrinth, each main road surrounded by tiny narrow lanes, and tinier roads jutting out of lanes. The houses are all stuck to each other, most of two three storied. All houses have at least one light burning the full night. Since the riots, there is heavy paramilitary and police presence but only at the main junctions and roads, they don't enter the lanes.
"We see them - looking at us scared. Like we are the culprits and not the victims,"says Hakim Rashid ironically. "We are guarding our houses because they refuse to do so. If they don't protect us, we have to," he says.

The notion is different in areas of Karawal Nagar. Youngsters distribute chai to policemen and laugh with them - shouting and creating a ruckus at midnight. "We have them and their guns. Why should we be scared!" exclaims 21-year-old Deepak, patting a smiling policemen on his back.
"The police and CRPF have patrolled the internal roads of old Mustafabad once since the riots - that too during the day. At night, they refuse to even stand at the entry point of the lane,"says a teenager not wanting to be named. "Or are we not citizens of this country anymore. Hindustan hai kya yeh?"
"WOH BORDER AREA HAI, DON'T GO THERE!"
"Woh border area hai, khatra wahan hai...." a bunch of youngsters in Karawal Nagar told this reporter while distributing tea and biscuits to security forces posted in the area following the riots.
"If you take a right, you will get the border. We cannot guarantee your safety after that," says Vivek Kumar, urging us to take a cup of chai. "Not the UP border, madam. That's where they stay,"he whispers.

Since the riots, the areas of Karawal Nagar and Old Mustafabad have become two separate areas for residents - with religion the point of separation.
"I have seen the tensions of 1984 and during the Babri Masjid, but this is different, very different,"says Mogha. When asked how is it different, he says, "Those instigating speeches - all of us listen to them. There were no instigating speeches then, but this time they are fuelling anger among people - asking them to retaliate. Till the speeches don't end, this won't end."
Updated On:
2020-03-05T12:45:31+05:30