Read It Before You Retweet It: Twitter Tests New Feature
Twitter's new test feature prompts users to read an article before they retweet it if they have not clicked on the link.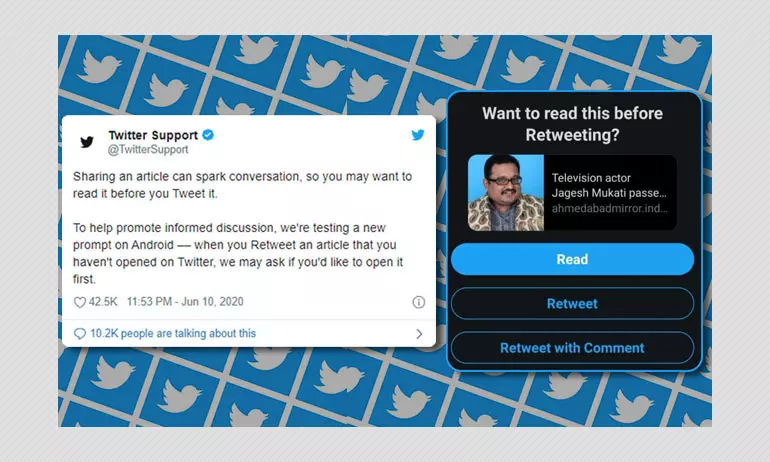 Twitter said on Wednesday it was testing a new feature that will prompt users to read an article before retweeting it. Twitter's new test feature prompts users to read an article before they retweet it if they have not clicked on the link. However, the test is currently limited to Android users in English, and Twitter has not announced plans to bring the feature to additional operating systems.
Kayvon Beykpour, Product Manager for Twitter, said that the feature was rolled out to make sure users are reading the content they are retweeting because 'It's easy for links/articles that are to go viral on Twitter. Elon Musk, CEO of Tesla, welcomed the move saying it will be a helpful tool since many headlines do not match the content of the articles.
The company's spokesperson told Buzzfeed News that the prompt is triggered based on whether the person has clicked on a link, and is not based on how much time the person has spent on a page. The announcement also stated that the test will last a few weeks "to get enough data to make an informed decision on next steps."

The feature has not been rolled out to all android users. The prompt only works for a few users on a few selective news handles only. It is not clear how Twitter determines whether a user should receive a prompt or not. An employee at BOOM who had the featured enabled did not see the prompt when they tried to retweet other articles.
Twitter has also specified that these prompts will only apply to news outlet domains.
Other Twitter users asked if those viewing the retweet would be notified
This feature is one of the many steps Twitter is taking to curb the spread of misinformation. Twitter has also added a 'fact-checking' label to potentially misleading tweets. This came into the spotlight when a fact check label was applied to one of President Trump's tweets about mail-in ballots. Twitter's plug-in directed users to verified information about mail-in ballots in the US.

Also Read: Trump's Social Media Executive Order: 5 Things You Need To Know
The micro-blogging website also rolled out another test feature that allows users to control whom they want to get replies from when they're composing a tweet. You can either allow replies from everyone, your followers or the people whom you've tagged.

The company has also introduced Fleets, which are basically Twitter's version of the very popular Instagram stories. These Twitter status stories disappear after 24 hours but other options like likes and retweets are not available for fleets.
Updated On:
2020-06-11T21:09:03+05:30