Explainers
Trump's Social Media Executive Order: 5 Things You Need To Know
Trump has signed an order targeting the legal immunity social media companies enjoy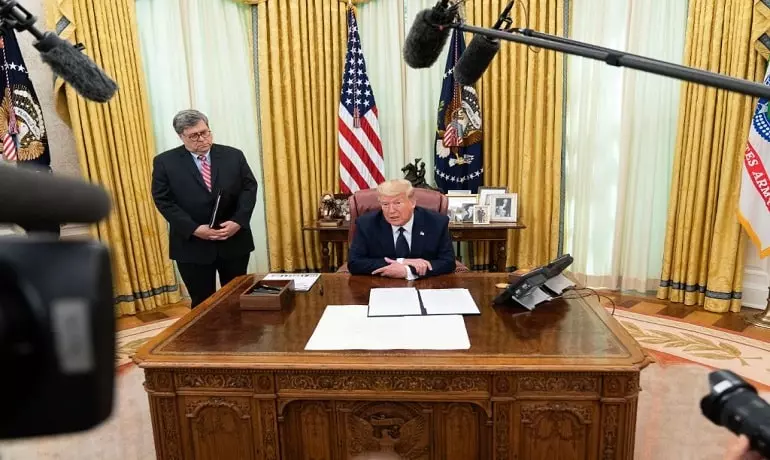 US President Donald Trump on May 28 signed an executive order that target some legal protections that big social media companies enjoy, according to information provided by the White House. Trump has given these orders in an attempt to pressure the Federal Communication Commission (FCC) to formally lay down the scope of these protections within the next 60 days.
These protections treat social media companies as "platforms", and grant them broad immunity from prosecution arising out of the content posted on them.

Trump's actions come as Twitter, for the first time, appended a fact-check to one of the president's tweets. Following this, the administration led by Trump accused Twitter of political bias and going against the right to free speech through an act of censorship; guaranteed under First Amendment in the US.
An executive order is a directive issued by a US president to manage the operations of the federal government. According to the American Bar Association, it is not legislation, needs no approval, and cannot be overturned by the US Congress.
Trump has given these orders in an attempt to pressure the Federal Communication Commission (FCC) to formally lay down the scope of these protections within the next 60 days.
Here's 5 things you need to know about Trump's recent actions.
1. Twitter fact-check label sparks backlash

The Trump administration has accused Twitter of censoring information put on its platform by conservatives and Trump, and not extending the same restrictions to Trump's political and ideological opposition.

This came to the forefront when on May 26, Twitter for the first time applied a fact-check plugin to one of his tweets. On clicking on this plugin, the platform redirected users to a consolidated list of information around mail-in ballots in the US.
According to a briefing by White House Press Secretary Kayleigh McEnany on May 28 (before the order was signed), this is not the first time that Twitter targeted the administration. A "manipulated media" label was previously put on a video shared by Deputy Chief of Staff Dan Scavino. She further called the actions a "false fact check, and incorrect fact check".
2. Order targets social media platforms' immunity

The executive order is primarily built around targeting section 203(c) under the Communication Decency Act.
This Act regards social media products to be "platforms" of the content it holds, and not is publisher or its speaker, and thus protects these companies from a wide range of lawsuits arising out of content hosted by them. It lets platforms moderate their content without held for everything they host. These provisions do not extend to the hosting of subjects such as child pornography, intellectual property violations and some criminal acts.

3. FCC asked to spell out rules

The order states that section 203(c)'s provision only extend to good faith blocking of harmful content on social media.
The order throws light on the what is says is the reasoning behind section 203(c)

"In particular, the Congress sought to provide protections for online platforms that attempted to protect minors from harmful content and intended to ensure that such providers would not be discouraged from taking down harmful material. The provision was also intended to further the express vision of the Congress that the internet is a "forum for a true diversity of political discourse"
The order asks the FCC to know lay down the scope of these provision and to spell out everything not covered as good faith intervention, so that the protections provided by section 203(c) may not be extended to them in such cases.
Trump, however, has called for an outright scrapping of section 203(c).
Twitter is doing nothing about all of the lies & propaganda being put out by China or the Radical Left Democrat Party. They have targeted Republicans, Conservatives & the President of the United States. Section 230 should be revoked by Congress. Until then, it will be regulated!

— Donald J. Trump (@realDonaldTrump) May 29, 2020
4. Republicans welcome move

Those close to the Republican establishment have welcomed the move, adding that it is fair that social media is regulated for its content just like any newspaper, while others have said that it will backfire.
Donald Trump's campaign manager for 2020, Brad Parscale, said that for too long, social media has been unchecked while being allowed protection under federal law. Senator Ted Cruz from Texas said that social media has targeted political opinions it disagrees with under the guise of section 203(c).
Matt Schruers, the president of the Computer and Communications Industry Association, told the Associated Press that these moves would actually inhibit free speech, as social media would be even more aggressive in moderating and terminating accounts. Law Professor at Rutgers University, Ellen Goodman, told the New York Times that the courts are skeptical if the order is under the FCC's jurisdiction in the first place. "This is just noise," she said, adding: "It's not a hard question. It's not a tossup. It's obvious that the F.C.C. doesn't have jurisdiction."
5. Twitter says executive order will threaten future of online speech

Twitter called the move reactionary and politicised.
This EO is a reactionary and politicized approach to a landmark law. #Section230 protects American innovation and freedom of expression, and it's underpinned by democratic values. Attempts to unilaterally erode it threaten the future of online speech and Internet freedoms.

— Twitter Public Policy (@Policy) May 29, 2020
Twitter's CEO Jack Dorsey said that company would continue to point out incorrect information, and correct their mistakes.
Fact check: there is someone ultimately accountable for our actions as a company, and that's me. Please leave our employees out of this. We'll continue to point out incorrect or disputed information about elections globally. And we will admit to and own any mistakes we make.

— jack (@jack) May 28, 2020
In a statement to BBC, Google which owns YouTube, said that it empowered a wide range a people from across the political spectrum.
Facebook's Mark Zuckerberg, in an interview with Fox News, said, "I just believe strongly that Facebook shouldn't be the arbiter of truth of everything that people say online".
Do you always want to share the authentic news with your friends?
Subscribed Successfully...
Enter Valid Email Id