Politics
No, AK Antony Did Not Buy His Wife's Paintings Using Public Funds
Elizabeth Antony refuted the viral claim in a 2012 Facebook post where she stated that the painting in the photo was sold to an art collector for 95,000 rupees.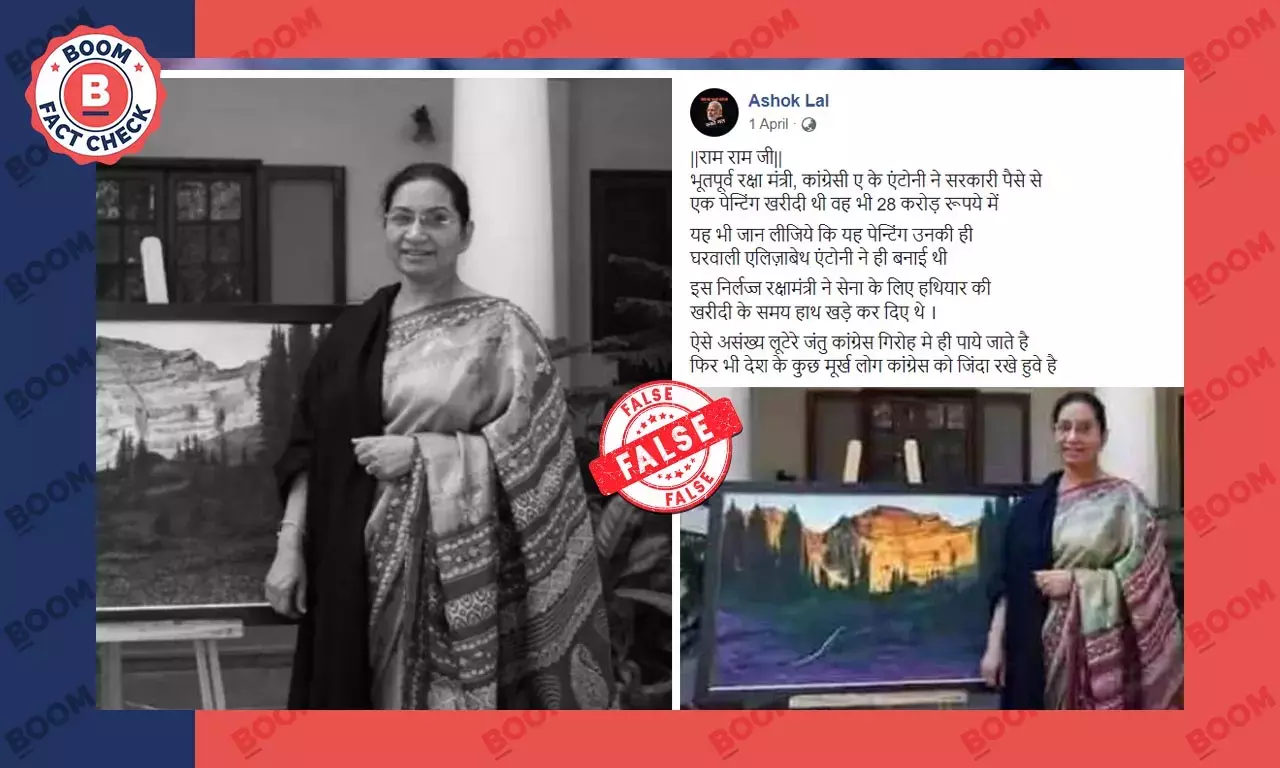 A photo of Elizabeth Antony, wife of former Defence Minister and veteran Congress leader AK Antony standing beside a painting, is being shared on social media. The photo is being shared with the claim that AK Anthony bought his wife's painting for 28 crore rupees using government funds while he was the country's defence minister.
However, BOOM found that the viral claim is false. In a 2012 Facebook post, Elizabeth Antony refuted the viral claim and clarified that the painting in the photo was sold to an art collector for 95,000 rupees.
Elizabeth Antony, a retired former banking professional, turned to painting landscapes to raise funds for her NGO, Navoothan Charitable Foundation, which helps women caring for family members suffering from cancer. Her husband AK Antony served as the defence minister from 2006 to 2014.
Former Congress leader Anil Antony, the son of AK Antony was recently in the news after he joined the Bharatiya Janata Party (BJP). AK Antony had even expressed his anguish and disappointment over his son's decision.
The viral photo is being shared widely on Facebook with the false claim.
We also received this picture on our WhatsApp tipline number 7700906588.
Also Read:ABP News Opinion Poll Edited To Falsely Claim BJP Victory In Karnataka

FACT-CHECK
BOOM debunked the same claim back in August 2018 when India Today and Mail Today falsely claimed in their reports that the Airports Authority of India (AAI) had bought paintings from Elizabeth Antony for Rs 28 crores. The same viral photo was used in both these reports to support the false claim.
BOOM had back then contacted Elizabeth Antony, who dismissed the viral claim. "One of my team members filed an RTI at the time when the rumours started. The RTI was replied to by the Airports Authority of India who even mentioned the cost of the paintings in their reply," Antony had told BOOM.
When asked whether Air India bought any of her paintings, she had denied the same. "Air India has never bought anything from me. Not even a brochure." Antony had added that the story about eight paintings being bought was in itself cooked up to malign her. "That is why we filed the RTI so that the details could be in the public domain. I have no further clarifications to offer."
In 2016 a Facebook page managed by Elizabeth Antony's staff posted a reply from Airports Authority of India to an RTI query raised by Supreme Court Advocate MS Vishnu Sankar.
The RTI reply date July 4, 2016, from Trivandrum International Airport stated that two paintings were purchased from Antony's Navoothan Charitable Foundation for Rs. 1.25 lakh each to display in the departure and arrival lounges of the new international terminal building. The RTI response was reported by Deccan Chronicle in its story RTI clean chit to AK Antony's wife on August 19, 2016.
Click here to view
Antony also refuted the allegation in 2012, where she had clarified that a total of 16 lakh rupees was collected from all the paintings and the painting in the viral photo was sold for around 95,000 rupees.
Claim :
Congress leader AK Antony bought his wife's paintings for 28 crores with government money when he was Defence Minister
Claimed By :
Social Media
Do you always want to share the authentic news with your friends?
Subscribed Successfully...
Enter Valid Email Id