Did Air India Buy Paintings From Former Defence Minister's Wife For Rs 28 Crore?
An RTI reply does not support journalist Abhijit Majumder's claim that Air India paid 28 crore rupees to AK Antony's wife for eight paintings.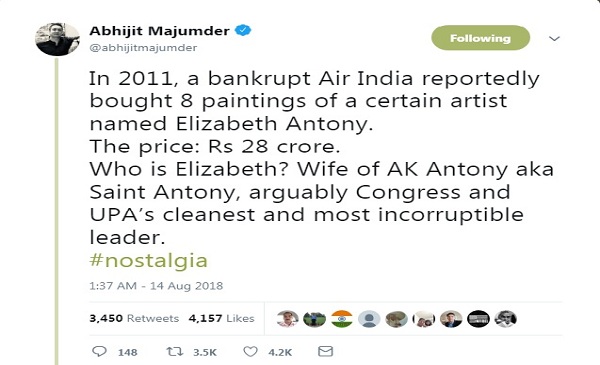 Did ailing national carrier Air India in 2011 pay Rs. 28 crore to Elizabeth Antony, wife of former Defence Minister AK Antony?
Abhijit Majumder, editor of Asianet News Network owned digital news website MyNation.com, on August 14 tweeted that in 2011 Air India purchased 8 paintings for Rs 28 crore from Elizabeth Antony.
In 2011, a bankrupt Air India reportedly bought 8 paintings of a certain artist named Elizabeth Antony.

The price: Rs 28 crore.

Who is Elizabeth? Wife of AK Antony aka Saint Antony, arguably Congress and UPA's cleanest and most incorruptible leader.#nostalgia

— Abhijit Majumder (@abhijitmajumder) August 13, 2018
His tweet got over 4000 Likes and over 3,400 retweets at the time of writing this story. It also attracted nearly 150 replies many of which called it false citing a news article about a Right To Information (RTI) reply that contradicted the claim.
subsequent RTI revealed that TWO (not eight) paintings were bought for 2.5 LAKHS (not 28 crores) by Airports Authority of India (not Air India) which is far from bankrupt. You are circulating old and fake news

— Ratan Malli (@RatanMalli) August 14, 2018
The issue, which created a stir six years ago, was dredged up this year in late July by a few Twitter users.
AK Antony forced Air India to buy his wife Elizabeth's 8 bullshit painting for Rs 28 crore the paintings should be dumped in his house and ask for a refund pic.twitter.com/dAKzxaCGQ7

— Chayan Chatterjee (@Satyanewshi) July 24, 2018
It was Abhijit Majumder's former employer the India Today Group that first reported Elizabeth Antony sold her paintings to Air India and Airports Authority of India (AAI), respectively, through two separate stories published by India Today in 2011 and Mail Today in 2012. Majumder was the managing editor of the newspaper Mail Today before exiting earlier this year.
Elizabeth Antony, a retired former banking professional, turned to painting landscapes to raise funds for her NGO, Navoothan Charitable Foundation, which helps women taking care of family members suffering from cancer. Her husband AK Antony served as the defence minister from 2006 to 2014.
In December 2011 India Today reported that Air India bought two landscape paintings from Elizabeth Antony for Thiruvananthapuram International Airport's Terminal 3, in its story 'Bankrupt Air India buys canvases painted by AK Antony's wife'. The story published on December 3rd, 2011 did not cite the source of the information. (Click here to view an archived version)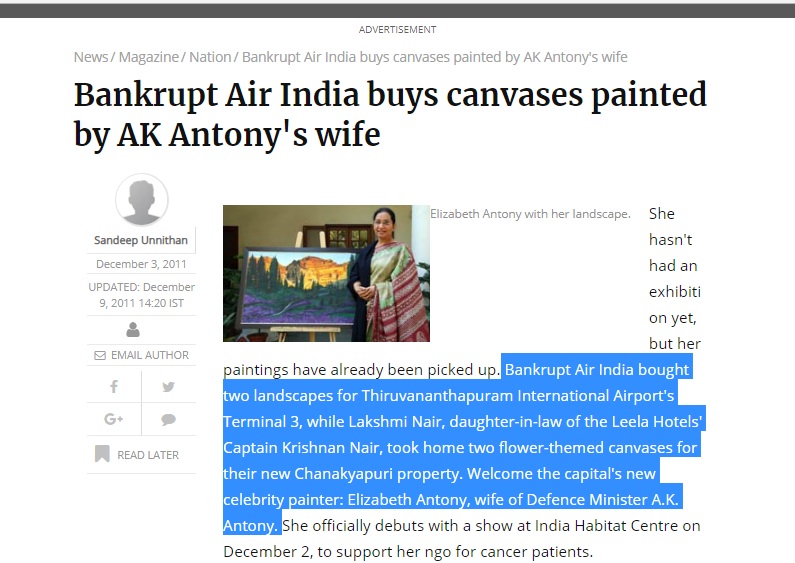 In June 2012, Mail Today reported that Airports Authority of India bought eight paintings from Elizabeth Antony for an undisclosed sum. The article cited sources to claim that the paintings were bought at 28 crore rupees.
Mail Today's story is no longer accessible online and was last visible on August 13, 2018.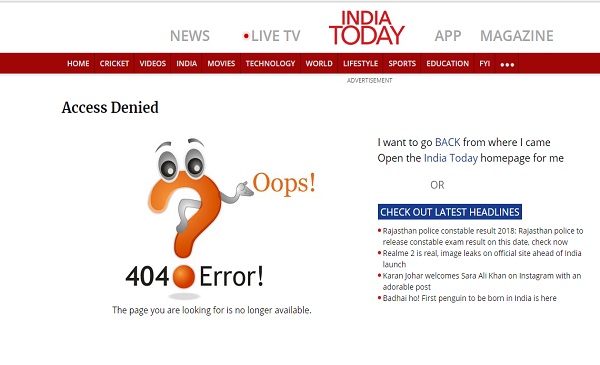 BOOM was able to retrieve a cached version of the story. (Rs 28 cr for paintings made by Defence Minister's wife! Now that's a stroke of genius)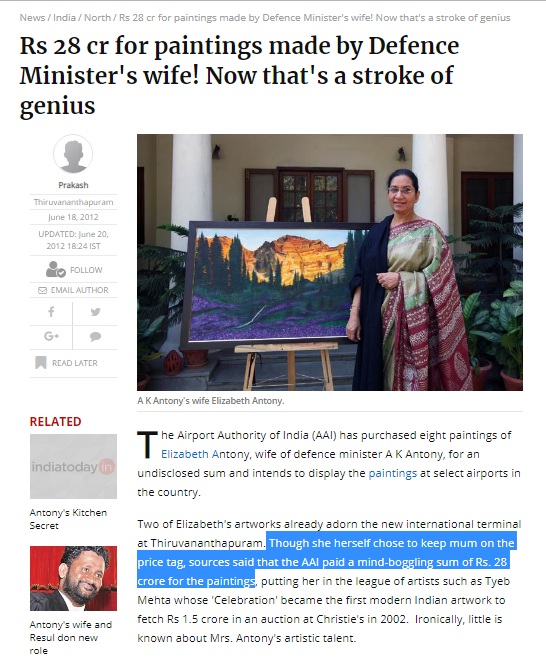 A spokesman for Air India and the chairman of Airports Authority of India declined to comment when contacted by BOOM. Emails sent to India Today and Mail Today went unanswered at the time of publishing this story.
BOOM also contacted Elizabeth Antony who was surprised to learn that the issue has resurfaced. "One of my team members filed an RTI at the time when the rumours started. The RTI was replied to by the Airports Authority of India who even mentioned the cost of the paintings in their reply," Antony told BOOM.
When asked whether Air India bought any of of her paintings, she denied the same. "Air India has never bought anything from me. Not even a brochure." Antony added that the story about eight paintings being bought was in itself cooked up to malign her. "That is why we filed the RTI so that the details could be in the public domain. I have no further clarifications to offer."
In 2016 a Facebook page managed by Elizabeth Antony's staff posted a reply from Airports Authority of India to a RTI query raised by Supreme Court Advocate MS Vishnu Sankar.
Antony had also refuted the allegation in 2012.
The RTI reply date July 4, 2016 from Trivandrum International Airport stated that two paintings were purchased from Antony's Navoothan Charitable Foundation for Rs. 1.25 lakh each to display in the departure and arrival lounges of the new international terminal building. The RTI response was reported by Deccan Chronicle in its story RTI clean chit to A K Antony's wife on August 19, 2016.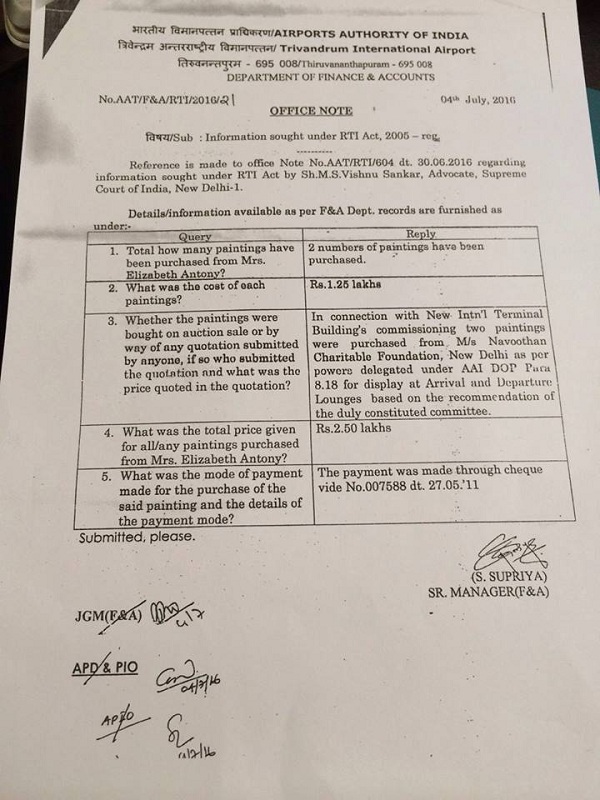 As the government looks for a buyer for the debt-ridden airline, Air India's art collection curated over the years since its hey days could fetch a neat sum. But neglect of artworks, paintings lent to executives to display in their homes and forgotten and absence of meticulous records make it difficult to put a value on what is thought to be a formidable modern art collection.
(ALSO READ The sorry state of a multimillion-dollar art collection reveals deeper troubles at India's national airline)
https://www.sharethefacts.co/share/4ec6d793-1cb2-4ec7-a87f-6545b22ebe4a
Claim Review :
In 2011 Air India Purchased 8 Paintings For 28 Crore From Former Defence Minister A.K Antonys Wife
Claimed By :
Social Media