Politics
Did Akshay Kumar Back The Army Welfare Battle Casualty Fund? A FactCheck
A viral WhatsApp message conflates two different funds: one by the MoD and one by the MHA, for their respective forces.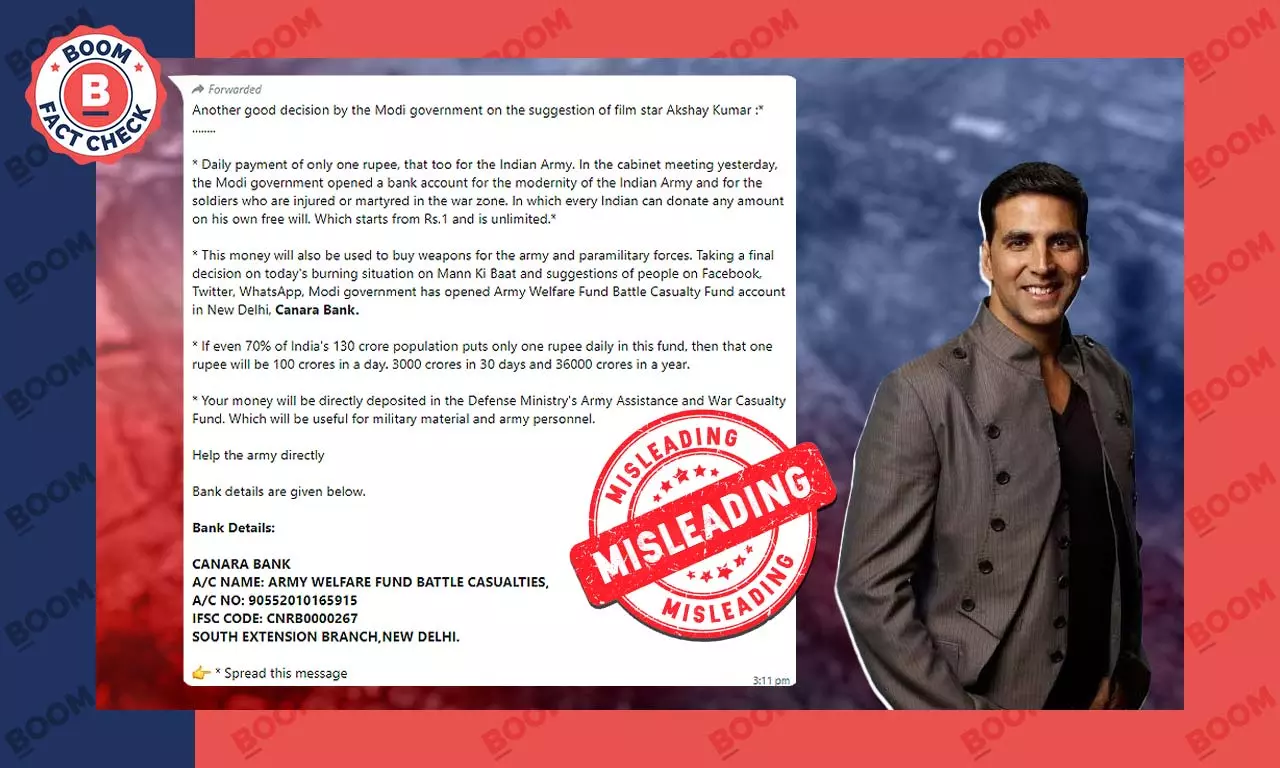 A message is going viral on WhatsApp and social media, soliciting donations for the Army Welfare Battle Casualty Fund. According to the message, the fund has been promoted by Bollywood actor Akshay Kumar, and is used to purchase weapons for the army and paramilitary forces.
BOOM found this message to be misleading. While Kumar did in fact promote a Home Ministry fund called 'Bharat Ke Veer', we found no reported instance of him promoting the Army Welfare Battle Casualty Fund. Furthermore, both of these funds are meant for welfare of the army and paramilitary forces, and are not meant for the purchase of weapons, as the message claims.
The message, which BOOM received on its helpline number (7700906588), can be seen below.
It reads as following:
*Another good decision by Modi Govt with suggestion of Superstar Akshay Kumar 🙏🙏🙏:*
*Pay only one rupee per day, that too to the Indian Army. In yesterday's cabinet meeting, Modi government opened a bank account for modernization of Indian Army and modernization of soldiers injured or killed in war zone.* *In which every Indian can donate any amount of his free will.* *It starts from Rs.1* *in unlimited* * *
*This money will also be used to purchase arms for army and paramilitary forces.* *Modi government considering today's burning situation in Mann Ki Baat and suggestions from people on Facebook,* *Twitter and WhatsApp* *Finally Army Welfare Fund Battle Casual Fund in Syndicate Bank, New Delhi Account opened.*
*This is the master stroke of movie star Akshay Kumar. From where no one can stop India from becoming a superpower.* *If 70% of India's 130 crore population invests just one rupee a day in this fund, it will be 100 crores in 1 day. 3,000 crores in 30 days, 36,000 crores in a year. 36,000 crores is not even Pakistan's annual defense budget. We spend 100 or 1000 rupees everyday on unnecessary work, but if we give even one rupee to the army, India will definitely become a super power.*
*Your money will be deposited directly into the Military Assistance and War Casualty Fund of the Ministry of Defence. It is useful for deployment of military equipment and troops*
*So, join Modiji's campaign and help the army directly.*
*Pakistan will do nothing to block the road and create rowdyism. Implement the ideas of Modi and country people and strengthen your country army. So that countries like Pakistan and China can assert their status without the help of any country. Bank details are given below.* Bank Details:*
Syndicate Bank*
*Name of A/C: Army Welfare Fund War Cases,*
*A / C Number: 90552010165915*
*IFSC Code: SYNB0009055*
*Southern Extension Branch, New Delhi.*
*Spread this message everywhere so that 1 crore Indians know their duties. All group and individual no. Also send.*
🙏 *Jai Hind, Vande Mataram.*
The same message is also viral on social media.
Fact Check
BOOM found the message conflates two different funds - Army Welfare Battle Casualty Fund, and another one called 'Bharat Ke Veer', which indeed did involve Akshay Kumar. The latter comes under the ambit of the Ministry of Home Affairs for India's paramilitary and central police forces, while the former is provided by the Ministry of Defence for the armed forces.
1.Army Welfare Battle Casualty Fund
The Army Welfare Battle Casualty Fund is maintained by the Indian Army for the Ministry of Defence, with the purpose of providing for next of kin and dependents of those slain in the Indian Army, Navy and Air Force. "The donations received in the fund are utilized to pay financial assistance to Battle Casualties of Army, Navy and Air Force, their next of kins and dependents", the information section of the fund says.

These donations are fully tax deductable.
A 2016 information bulletin put out by the Indian Army can be seen below.
While the bank details in the viral message (of Canara Bank) does not match the bank details of the fund given in the post above(Syndicate Bank), BOOM was able to verify that the Canara Bank details in the viral message is genuine, and can be found on Indian Army's official website.
In December 2022, the Ministry of Defence also announced that it was launching a special portal called 'Maa Bharati Ke Sapoot' to donate towards this fund, which also consists of the bank information of the fund with Canara Bank.
2. Bharat Ke Veer
While we could not find any instance of Akshay Kumar promoting the Army Welfare Battle Casualty Fund, we did find him being associated with the launch and formation of the 'Bharat Ke Veer' fund in 2017, which catered monetary assistance to the families of the deceased in the eight central police services (officially the Central Armed Police Forces) under the Ministry of Home Affairs.
These include the Assam Rifles, the Central Reserve Police Force (CRPF), the Border Security Force (BSF) and the National Security Guard (NSG).
Here is a post by the actor, where is is seen soliciting funds for the benefit of the armed forces. The actor made an appeal to the government to assist him in the endeavor as he offered to manage the technical aspects of the initiative.
In 2017, he also accompanied the then-Union Minister of Home Affairs Rajnath Singh in launching the app and the website for Bharat Ke Veer.
The Bharat Ke Veer platform lets donors contribute either to a central corpus, or directly to the benefit of the next of kin of a specific martyr.
In 2018, Bharat Ke Veer was launched as a trust. In a clarification, the trust said that all its office holders are public servants. P. Gopichand, a Padma Bhushan awardee and former badminton player and Kumar were special invitees to its board meetings.
This fund also offers tax deductions on its donations. Bharat Ke Veer's website can be found here.
BOOM has previously debunked a Hindi version of this message.
Also Read: Did Akshay Kumar Ask People To Donate To An Army Welfare Fund?: A FactCheck
Claim :
Message says Akshay Kumar is backing the Army Welfare Battle Casualties Fund, which will be used to purchase weapons.
Claimed By :
Users of social media
Do you always want to share the authentic news with your friends?
Subscribed Successfully...
Enter Valid Email Id