Fact Check
Video Of Ajit Doval's 2013 Speech On Afghanistan Shared As Recent
The video has been taken from a 2013 speech by Doval where he spoke about several scenarios about Afghanistan's future post US troop withdrawal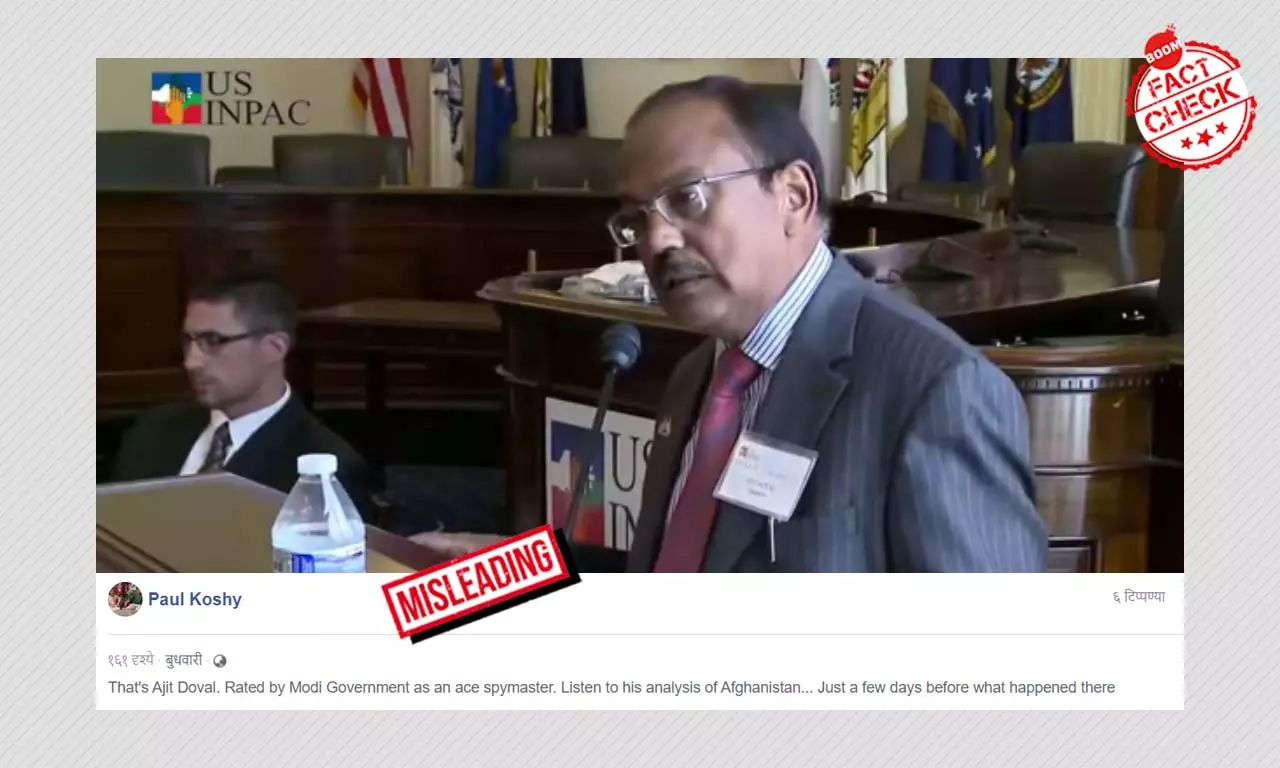 A video taken from a 2013 speech made by India's current National Security Advisor - Ajit Doval where he talks about four assumptions about possible scenarios in Afghanistan post the withdrawal of US troops, is being shared with a misleading claim that it was days before Taliban's takeover of Afghanistan.

BOOM found that the 1-minute 28 seconds long video has been cut out from a 22 minutes speech by Doval in 2013

In the video Doval can be heard saying, "...that 3,25,000 Afghan national army and police will deliver. It will hold together, it has been equipped, it has been trained. It has got officers who are sufficiently motivated. And it is felt that irrespective of what happens, at the political level in Afghanistan, the strong military and the police will remain a disciplined force upholding the constitution and democratic values of the Afghan state; it's an assumption. In last 12 months, I have met at least 15-20 top Pakistani security officials to the rank of Lt.Gen and above in different places and other - not one of them has subscribed to this view that this army will be able to hold back, irrespective of the fact - what is their weapons, what is their training level...they say there is a mismatch between officers levels at the cadres and once the ethnic loyalties come up, once there the transition of power and again this things, this will get (probably) to create a national army, is a time consuming process. It does not happen overnight. But I don't believe them, as I have never believed many Pakistanis. But this is a question mark."
The video is being shared with the caption on Facebook, "That's Ajit Doval. Rated by Modi Government as an ace spymaster. Listen to his analysis of Afghanistan... Just a few days before what happened there"
Click here to view
Also Read: Fake Quote Attributed To Former Bangladesh PM Khaleda Zia Goes Viral
FACT-CHECK
BOOM found that the video is culled from a speech given by Ajit Doval at the US India Political Action Committee (US-INPAC) on July 23, 2013.

The original video which is 22 minutes long and was uploaded by USINPAC on YouTube, where Doval as former Intelligence Bureau chief was
invited to speak at a conference
on Afghanistan at Capitol Hill in Washington DC, United States. This speech was much before Doval was appointed as India's 15th National Security Advisor on May 30, 2014.
The topic of the session Doval spoke at was titled 'Moderate and Balanced Afghanistan- Imperative for Regional Security'
In his speech Doval laid out four assumptions of how the situation in Afghanistan would unfold. These assumptions were on the future of a democratic process in Afghanistan, whether the Taliban would change, whether the Afghan Army would hold up and whether Pakistan would change and play an active role in the rebuilding process.
Throughout the speech Doval sounds distrustful of Pakistan and said that Pakistan would benefit from keeping Afghanistan in turmoil.

One can view the full speech below. The portion in the viral video can be seen at 6.06 timestamp.

The same claim was previously fact-checked by India Today.
BOOM has been debunking viral misinformation and disinformation since the Taliban's takeover of Afghanistan. You can view our fact-check articles in the thread below.
Claim :
Recent video shows Ajit Doval's analysis on Afghanistan Army days before Taliban takeover in August 2021
Claimed By :
Facebook Posts
Do you always want to share the authentic news with your friends?
Subscribed Successfully...
Enter Valid Email Id