Explainers
Amul Vs Nandini: Is Politics The Fly In Karnataka's Milk Row?
Amul's announcement that it would soon be supplying milk and curd in Bengaluru, Karnataka stirred up a controversy pitting it against the state owned brand Nandini.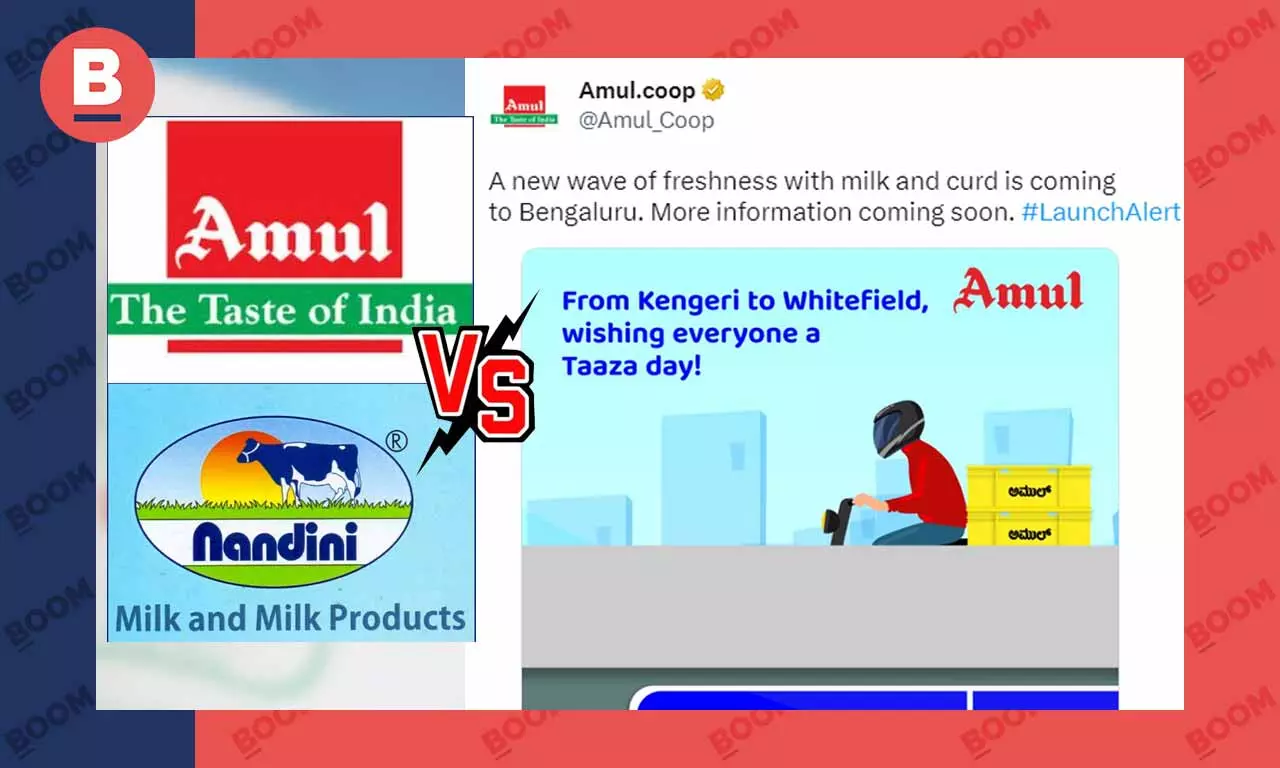 The Gujarat Cooperative Milk Marketing Federation, which sells its dairy products under the brand name Amul, announced earlier this month that it would soon enter the Bengaluru fresh milk market to sell its products. What should have been a brand making a routine announcement soon turned into a political storm in the poll bound state with speculations that its entry could spell trouble for Karnataka's local brand, Nandini.
The move was soon meet with criticism and protests by pro-Kannada outfits and opposition parties including Congress and Janata Dal (Secular) terming this as an attempt to "finish off Nandini", a product by the Karnataka Milk Federation (KMF).
With just a month to go for the assembly elections in the state, all political parties are taking turns churning the vat, leaving nothing but curdled milk behind.

The assembly election in Karnataka is scheduled to be held on May 10, 2023, in a single phase followed by the counting of votes on May 13, 2023.
On April 5, 2023, Amul tweeted that it would soon be supplying milk and curd in Bengaluru, Karnataka. The tweet read, "A new wave of freshness with milk and curd is coming to Bengaluru. More information coming soon. #LaunchAlert"
This announcment was perceived as a direct competition for Nandini, as Amul is India's largest dairy cooperative. KMF comes in second and fears that this competition could impact the farmers that supply the state cooprevative with milk were soon raised with hashtags that started trending on the issue on social media including "#SaveNandini" and "#GoBackAmul".

On April 8, 2023, The News Minute reported citing Karnataka Milk Federation officials on condition of anonymity that they were unhappy about Amul's entry into the Bengaluru market.
Opposition leaders including Congress leader and former Karnataka Chief Minister Siddaramaiah, Congress leader DK Shivakumar, and JDS leader and former Karnataka Chief Minister H. D. Kumaraswamy, opposed Amul's entry and attacked the ruling Bharatiya Janata Party government alleging that Amul's entry was a step towards the merger of KMF and Amul.
This allegation was strengthened by a previous statement by Union Home Minister Amit Shah's "KMF and Amul working together".
Shah had made the statement in December 2022 while inaugurating a mega dairy in Mandya district of Karnataka. The statement had then too met with strong opposition with political parties apprehensive of Karnataka losing a successful cooperative venture. Shah during the public gathering after the inauguration had said, "If Amul and Nandini work together jointly, in three years there will be primary diaries at every village level."
A few days after Amul's announcement, Siddaramaiah tweeted a reply to Shah's statement saying, "The state's dairy industry has suffered a jolt ever since the union minister @AmitShah proposed the merger of KMF and Amul. Amul is making a back door entry in the face of strong Kannadigas opposition to the merger proposal."

In what he termed was a show of solidarity, Karnataka Pradesh Congress Committee (KPCC) president DK Shivakumar visited a Nandini milk parlour in Hassan on April 10, 2023, and posted photos of him drinking the brand's Badam milk (almond milk) beverage.
He also posted a video showing how popular the brand was in the state - with queues outside Nandini milk booths.
While the opposition alleges facilitating "Gujarati interests" at Karnataka's expense, BJP leaders have hit back at the criticism.
Tejasvi Surya claimed that the Opposition leaders "hate Amul" because the brand is from Gujarat and PM Modi and Home Minister Shah both belong to the state.
Karnataka Chief Minister Basavaraj Bommai on April 8, 2023, downplayed the controversy and batted for both sides by saying "Nandini will become the number one brand in the country but there must be no politics regarding Amul." He also reminded the opposition that like Amul, Nandini too sells its products in other states. Bommai said, "Nandini products are sold in other states and all steps will be taken to overtake Amul in the competitive market,
Journalist and political editor at South First, Anusha Ravi Sood in an article dated April 11, 2023, pointed out that the Amul-Nandini row is a question of federalism and the efforts to undermine it.
Sood explains that the merger of state banks like Vijaya Bank with Bank of Baroda in April 2019 by the Union government added more to speculation over KMF's survival as an independent cooperative in the long run.
Cooperatives come under the state list as per the Indian Constitution, however since the Ministry of Cooperation was established in July 2021, there have been concerns raised by the opposition alleging that the Union government could take over cooperatives from states referring to the statements about setting up multi-state cooperative societies.
Do you always want to share the authentic news with your friends?
Subscribed Successfully...
Enter Valid Email Id