Monu Manesar: Hindutva Goon Who Captured The Internet With Violence
Monu Manesar, a self-declared cow vigilante, wanted in the death of two Rajasthan men has thousands of followers on social media. He posts violent videos of capturing 'cow smugglers'.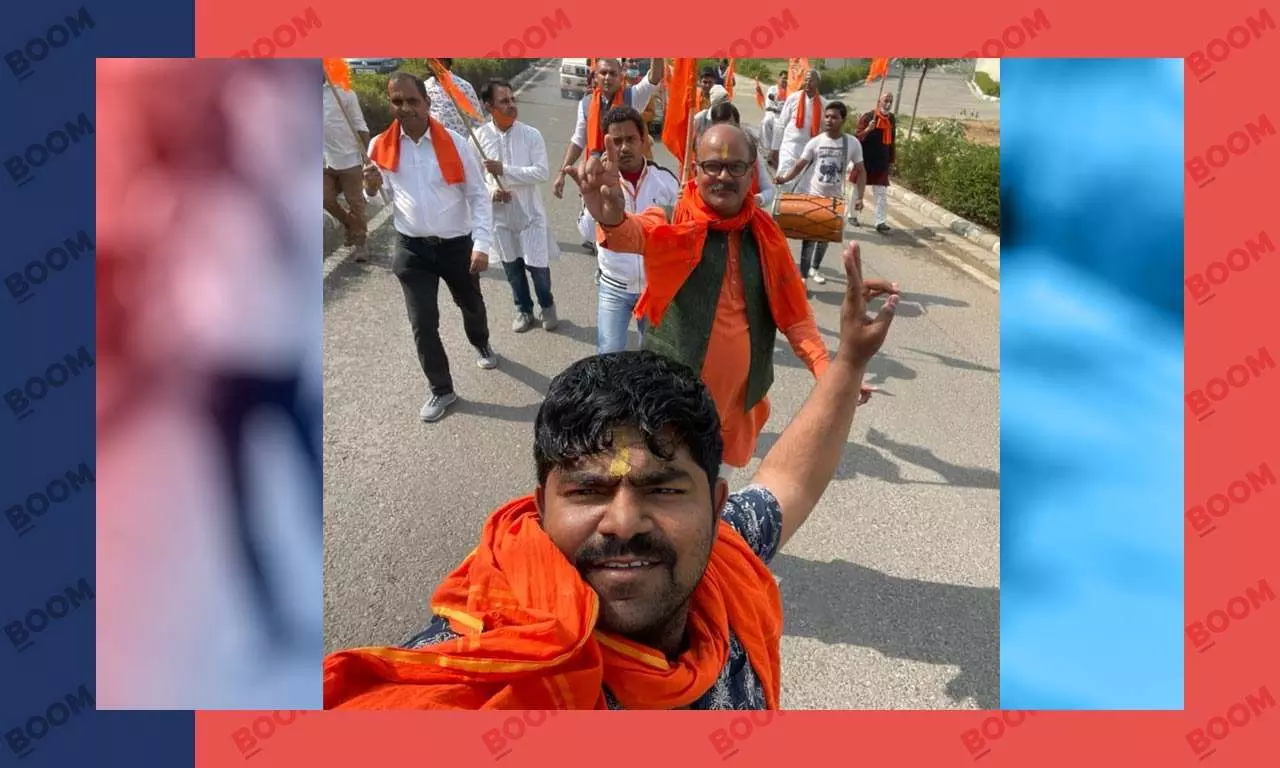 Ghatmeeka, Rajasthan: On 16 February, the police found a Bolero in the jungles near Loharu in Haryana. The car was charred; two men had been burnt alive. The two men were 25-year-old Nasir and 32-year-old Junaid. In relation, they were uncle and nephew. But the villagers recalled them as being friends.
Villagers say Junaid and Nasir were allegedly abducted by a mob and set ablaze by cow vigilantes. There's an eerie silence in the village; everyone believes the heinous act was committed by a group of cow vigilantes, one of who is Monu Manesar, a popular Bajrang Dal member with a huge number of social media followers.

Jabir, Nasir's cousin, alleges that the two men were grievously injured by the Bajrang Dal members. They were then taken to the Ferozepur police station in Haryana where the police refused to take them in fearing a probable death in custody.

As the visuals of the charred car went viral swiftly on social media, the name of Monu Manesar, a 'powerful' member of the Hindu right-wing outfit emerged.

The Rajasthan Police has booked nine people, including Srikant Pandit Lokesh, Rinku Saini, Srikant, and Monu Manesar under Sections 143 (unlawful assembly), 365 (abduction), 367 (kidnapping or abducting in order to subject a person to grievous hurt, slavery) and 368 (wrongful Confinement). Only one of them has been arrested.

Mohammad Qasism, a teacher in a nearby mosque, recalls seeing Monu Manesar brandishing firearms on YouTube and Facebook. "He posts photos and videos with military-grade weapons regularly. How do such visuals miss the eyes of the administration?"

Locals told BOOM that Monu is so popular only because he never gets punished despite the violence and hate he spews online.

Who is Monu Manesar?
Mohit Yadav, known as Monu Manesar, has become the face of cow vigilantism in Haryana and adjoining districts of Rajasthan. A lot of his popularity came from the videos he posted on social media.

His Facebook page has 80,000 followers, Instagram has 34,900 followers and on Twitter, where he now has a 'verified' tick with the blue subscription he has 6,038 followers. All of these platforms are used to share videos and photos of his cow vigilantism work, added with how he punishes the alleged cow smugglers.

Photos of tied-up men, sometimes with grievous injuries and bloodied body parts are posted on these social media platforms. Some photos are of cows and bulls. And in many photos, Monu appears with policemen and political leaders in what appears to be photo-ops.

On Facebook, the 28-year-old regularly posts videos with a line, adapted from a Nawazuddin Siddiqui film 'Dashrath Maanjhi'. The line goes like this, "Jab tak todenge nahi tab tak chodenge nhi (will not let you go until break you). In real life, Monu uses the same line when he and his aides chase 'cow smugglers', creating a sense of terror in the Mewat region and adjoining areas of Rajasthan.
Witnesses, some of them victims of Monu's antics told BOOM that he uses this phrase while chasing vehicles, firing gunshots, and catching and beating alleged 'cow smugglers'.

In one video posted on the Facebook account of Raju Buhana, one of Monu's aides, a man can be seen stomping on a man lying in a pool of blood while an overturned vehicle is seen on one side. The caption said "गौ माता को बचाते हुए तस्कर भी पकड़े गए(smugglers were also caught while saving mother cow)."

There are hundreds of such videos in which Monu and his team of 'Gau rakshaks' are seen chasing and firing upon vehicles that they claim belongs to cow smugglers.

One of the videos uploaded on Facebook on 9 September 2022 is captioned, "UP Police was with us. Encountered cow smugglers live. 17 cows were saved. Truck driver tried to Kill us. #MonuManesar". In the video, Monu and his allies are seen chasing a truck, then stopping it to drag the men out of the vehicle and mercilessly beating them.

The video is intercepted with an advertisement of Amazon Pay, indicating that the social media platform used it for monetization. The video has 122k likes, 4.6 million views and 4.7k shares.

Last year, BOOM reported how videos of cow vigilantes were being shared on social media with peppy music. Many of these videos were posted on Instagram and Facebook by Rambhakt Gopal, the man who shot at protestors at Jamia Milia Islamia and Monu Manesar. While most of these videos have been taken off YouTube, some still exist.
Haqmuddin, who owns a small general store in Ravli village in Haryana, was seen in a viral video posted last year on a YouTube channel 'Gau Raksha Dal Haryana Pataudi'. He was beaten, dragged, and paraded around with his clothes stripped off as his family and neighbours looked on helplessly.
The video is still available on YouTube.
"I was going to fetch milk for my children when they attacked me. First, they beat and dragged me and my brother Raees out of her house. Then they took us to Ravali range and beat us again. Then they beat us in front of the police in the Ferozpur police station with a rod used to fix tires of car," Haqmuddin said, narrating the violence he faced at the hands of Monu Manesar a year ago.
"When I heard the news of Junaid and Nasir, I thanked God once again that I was able to come back alive to my children," he said.
Haqmuddin said the sound of a car outside his house still scares him. "I keep thinking they might be Bajrang Dal members."

Charged under the cow slaughter Act of Haryana, the two brothers Haqmuddin and Waris were jailed for 25 days and 42 days respectively. Their trials are still underway. An FIR was lodged against four men for attacking the two brothers.

"No one has been arrested yet," said Haqmuddin.
The Internet Army Of Monu Manesar
Monu studied polytechnic but pursued 'gau raksha' (cow vigilantism) as his life purpose. "I have dedicated my life towards Gau Raksha'," he says in a interview. A member of the civil defense team of the district administration in Manesar, Haryana, he says he "helps citizens in case of crisis". He has been a member of the Bajrang Dal since 2012, and heads the district's cow protection force.
"There are many business persons who contribute to our survival and cow vigilantism. Many of my team members have their own businesses of renting rooms and transport. With the help of more than 150 Whatsapp groups we have created a network of cow vigilantes from Haryana, Uttar Pradesh and Rajasthan, he says in an interview.
Within hours after there were calls for arrests of Monu Manesar, a hashtag- #ISupportMonuManesar started trending on Twitter. At the time of writing this story, BOOM found that 2500 tweets have been made using this hashtag. At least a dozen of these tweets are by verified handles, and some of those accounts have journalists in their bio.
Monu's YouTube account which has over 2 lakh subscribers is so popular that even YouTube gave him a silver play button, a recognition that YouTube creators get when they reach 1 lakh subscribers.

In his videos, Monu is seen chasing trucks, showing off his gun, not scared of firing as he pleases and beating up the drivers. In many of these videos, he poses with injured men who he calls "cow smugglers". In some of these photos and videos, Monu his accompanied by the police.

In videos posted by Monu, the Haryana Police, Rajasthan Police and Uttar Pradesh Police are often seen accompanying them while they chase "cow smugglers."

On social media, he has also posted photos with prominent leaders of the Bharatiya Janata Party including cabinet minister Anurag Thakur, infamous for "shoot the traitors" slogans during the protests against the Citizenship Amendment Act. The 'Gau rakshak' also has photos with late Cabinet Minister Arun Jaitley, home minister Amit Shah and sports and youth minister Anurag Thakur.
In a Mahapanchayat organised in Pataudi, the BJP media chief Suraj Pal Ammu referred to Monu as "a killer of Jihadis". "I will kill those who do love Jihad and our big brother present here will help us using his his lobby," Monu had said in that meet.

He is BanjrangDal Member Monu Manesar Gives his Speech in Haryana Pataudi Hindu Mahapanchayat

This Hatemongers Are Openly giving hate Speech Against Muslims they are targeting Muslims in fake Conspiracy of Love J!had Openly Call to k!ll Muslims#Islamophobia_in_india pic.twitter.com/j3OJ41uu44

— faizan (@faizan0008) July 4, 2021

On 17 February, Monu Manesar uploaded a video of himself on Twitter denying allegations against him of burning the two Muslim men alive.

While many users online demanded his arrest, right-wing influencers and activists have come out in his support.

In a press release, Vishwa Hindu Parishad said, "desist from false allegations on Bajrang Dal. Gehlot government should apologize." They alleged that the Congress government is playing this case up for "vote bank politics". Many of the Twitter accounts that tweeted in support of Monu has 'Sudarshan' on their profiles. Sudarshan is a TV channel run by Suresh Chavhanke, a news anchor and a right wing activist. In one video posted by Sudarshan TV, Monu Manesar says that he supports Suresh Chavhanke, an accused in the 2021 hate speech case for saying "Die and kill if needed to make India a Hindu Rashtra."
Wasim Akram, a social activist, who was reluctant to talk about Monu at first, said, "If you check his Facebook profile, you will see the lawlessness that is prevalent in Mewat. Every day he posts photos and videos chasing and open-firing at vehicles and later stops and thrash people mercilessly."

On January 27, 21-year-old Waris was allegedly killed by cow vigilantes of Haryana. Before he died he was seen being interrogated on a Facebook live hosted on Monu Manesar's Facebook page. The live video was screen recorded by some locals before it was deleted.

Imran, Waris' brother, had watched the live stream of his injured brother, bleeding profusely on camera. "It has become a regular affair; we visit Monu's profile to see who he has attacked today," Imran said.
Locals of Ghatmeeka village also alleged that Monu extorted money from Muslims in the name of cow slaughter. "Those who cannot or refuse to pay are beaten mercilessly. To escape this, many times, people have chosen to sleep in the fields instead of coming back home at night. They fear they will be attacked by the members of Bajrang Dal," a local said.

Explaining the economic hurdle that they are facing, the locals said that they are having to buy buffaloes that are three times more expensive than cows. "Our plight is such that now we can't even buy cows for milking purposes. We know we can be attacked on our way home," a local said.

Meanwhile, in Manesar district, a Mahapanchayat was organised by Monu Manesar's supporters on Tuesday. Amid reports that the Rajsthan police were conducting a raid at Monu Manesar's residence, a speaker at the Mahapanchayat threatened, "If Rajasthan police sets feet in Manesar to arrest Monu, they will not return on the same feet."

In Juanid and Nasir's village, protests have been going on for the last four days for justice and the arrest of the accused who burnt them alive.
With inputs from Sujith A

Do you always want to share the authentic news with your friends?
Subscribed Successfully...
Enter Valid Email Id
---