Two Uttar Pradesh Men Used Google...
Two Uttar Pradesh Men Used Google Maps To Plan Attacks On Madhya Pradesh Churches
With the help of Google Maps, Akash Tiwari and Avneesh Pandey planned attacks on churches. Tiwari was preparing for civil services, Pandey holds an MBA degree.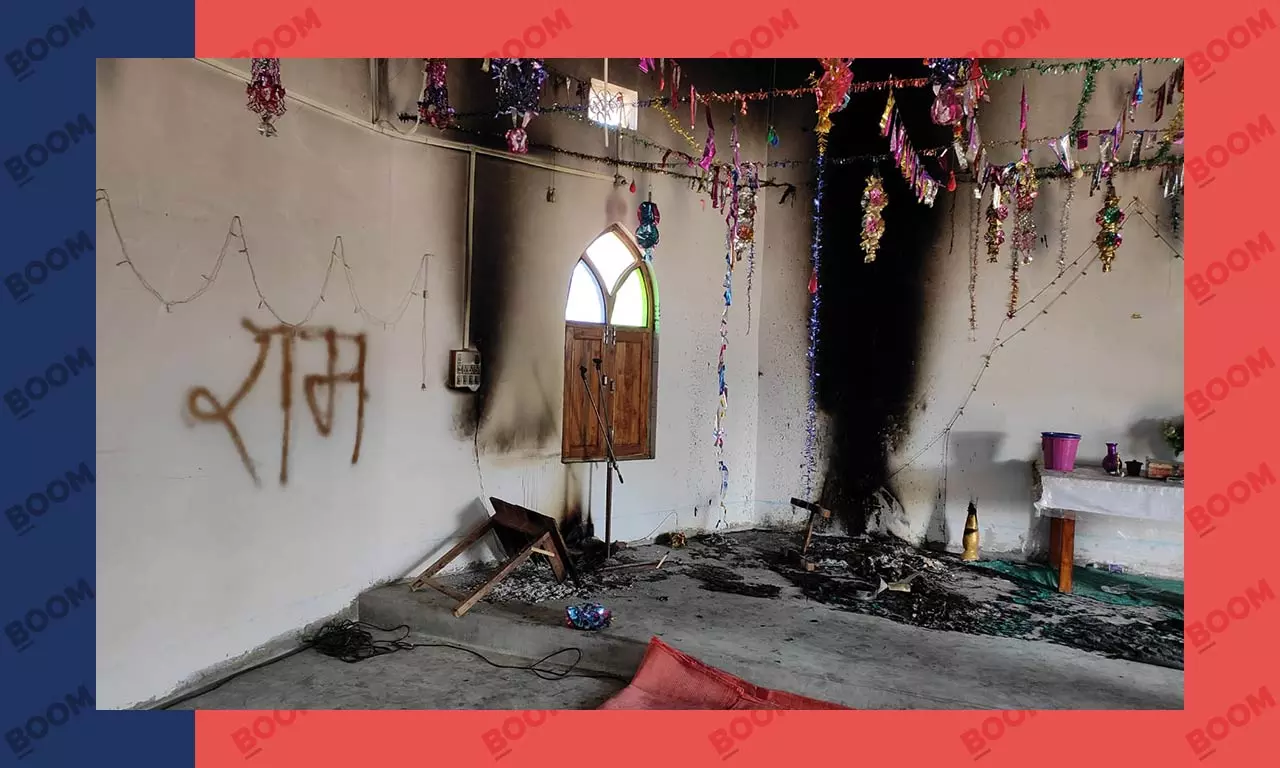 With an intention to avenge the insult of Ramcharitmanas, a poem by Tulsidas based on the Ramayana, two upper-caste Hindu friends from Uttar Pradesh hatched a conspiracy to stir up trouble in Madhya Pradesh.

With the help of Google Maps and photos, Akash Tiwari (25) and Avneesh Pandey (24), zeroed in on a half dozen churches and shrines in Narmadapuram and Bhopal district to target it.
On February 12, when the local Christian community gathered for Sunday prayer meet at the church in Narmadapuram district, they found that the window of the hall was broken. The name of the Hindu deity Ram was inscribed on the walls and curtains, carpets and furniture were left charred.
Tiwari, who has been preparing for civil services after completing a Master of Library and Information Science degree, lives in Jhansi. His friend Pandey, an MBA graduate, is a resident of Faizabad in Uttar Pradesh. Pandey moved to Itarsi town of Narmadapuram 18 months ago to pursue a Railway apprenticeship at Itarsi Railway station.
According to the police, the two friends were upset with the recent debate on the revered religious texts Ramcharitmanas. The religious texts written by Goswami Tulsidas, a devout Ram bhakt in the 16th century, came under attack in two Hindi heartland states - Uttar Pradesh and Bihar - when leaders of Rashtriya Janata Dal (RJD) and Samajwadi Party (SP) criticised it for being anti-Dalit and anti-women.
The ongoing debate over the Ramcharitmanas took an ugly turn when two political activists – Saleem and Satyendra Kushwaha – allegedly burned pages of the book in Lucknow on January 29. The Lucknow police arrested them and invoked stringent NSA charges a week later.
Tiwari and Pandey took the attack on Ramcharitmanas personally and allegedly planned a series of attacks on churches and shrines in Madhya Pradesh to avenge it.

How The Attacks On Churches Were Planned
Akash Tiwari, son of an auto rickshaw driver, was earning Rs 30,000 a month working a private job in Jhansi. It was Tiwari who was plotting the attacks from Jhansi after choosing the shrines and churches using Google Images to find them and Google Maps to track them. He used open-source platforms to collect photos and information of the target and only chose those places which are close to Itarsi where his friend Avneesh Pandey lived, the police told BOOM.
After discussing the plan with Pandey, Tiwari started sending locations, photos and money to him to execute the plan. The police told BOOM that Tiwari offered Rs 5,000 for each attack.
Pandey attacked a church in December last year near Itarsi, but it wasn't very successful. The incident did not catch the eyes of the police as the churchgoers did not report it, mistaking the broken window glasses to be a local issue.
Pandey was alone in Itarsi. He needed a like-minded person who is familiar with the terrain and could assist him in executing the plan. So he lured Shiv Rai, his neighbor who works as a technician at Itarsi Railway station. With the help of 28-year-old Rai, Pandey attacked two churches; ECI Church in Itarsi on January 9 and a community church in Sukhtva village on February 12.
Based on Tiwari's well-orchestrated plan, the duo allegedly barged inside the churches through windows, set the religious books on fire, wrote 'Ram' on the walls with oil paint and attempted to burn the place down, the police said.
How The Police Tracked Down The Duo
A day after the February 12 attack in Sukhtva village, the police detained Avneesh Pandey and Shiv Rai from Itarsi. The police told BOOM that after the interrogation, they found that all evidence led to them.
"Attacks on churches were a new phenomenon in the district. In the prima facie investigation, we found that the modus operandi of the attack on ECI Church is similar to the latest one," said Gurkaran Singh, Narmadapuram superintendent of police.
The SP formed a team of field officers and technical staff to crack the case which looked invincible in the beginning. "With the inputs of the local intelligence and technical team, within 24 hours, we detained Avneesh Pandey and Shiv Rai for interrogation who later confessed to their crimes."

Based on Pandey's input, police tracked down and arrested Tiwari from Jhansi on Tuesday morning and brought him to Narmadapuram for interrogation.
Police lodged two separate FIRs against mastermind Akash Tiwari, main accused Avneesh Pandey and co-accused Shiv Rai under section 295 (Injuring or defiling a place of worship with intent to insult the religion of any class) and 436 (Mischief by fire or explosive substance with intent to destroy house) of the IPC.
Speaking to BOOM, SP Gurkaran Singh said, "Tiwari and Pandey were friends from Lucknow. The recent barbs on Ramcharitmanas created an eagerness to protect the religion (Hinduism). But they chose the wrong path."

Police said that during the interrogation they confessed that Tiwari used to offer money after the successful execution of the plan. "We are also looking into their social media accounts, funding and whether any case has been registered against them in Uttar Pradesh," the police told BOOM.
The police also found locations and photos of over half a dozen places from their seized phones. They say that the men were planning to attack these locations next. "We have found photos and locations of 6-7 spots in Bhopal and Narmadapuram which were on their target and may disturb the public peace in the state," said SP Gurkaran Singh.
"Tiwari was using a blend of money and religion to convince his friend Pandey to attack religious places of other faiths," he said.
The Hate Ecosystem
This is not the first time when the prevailing ecosystem of hatred pushed educated youths into crime in Madhya Pradesh.
Last year, Delhi police arrested Aumkareshwar Thakur (25), a BCA degree holder and a freelance web developer from Indore on January 10, 2022 for allegedly creating the Sulli Deals app, which had listed hundreds of Muslim women, including some journalists, for 'auction' by sourcing their morphed pictures.
Months later, four persons, including two engineering students and a Delhi University student, were arrested for creating a similar app- Bulli Bai- which posted doctored photos of at least 100 Muslim women, along with lewd remarks and comments. Both the apps were hosted on US-based GitHub.
When contacted, CPI(M) State Secretary Jaswinder Singh blamed the ruling Bharatiya Janata Party (BJP) for creating an environment of hatred in the country which is polluting the minds of millennial youths. He said that the BJP government is using hate speeches, 24x7 Hindu-Muslim debate, fake WhatsApp forwards with narratives as a tool to influence young minds just to win elections.
"Every day, either Hindu seers or right-wing groups are mongering hatred not only on social media but in day-to-day rallies and events. Yet, the police do not take action. The inaction of the police sends out a wrong message among youths that religion is superior to the law of the land," he said.
Recounting the recent incidents he pointed out, "A herd of Bajrang Dal men barged inside the newly purchased home of a Muslim man in Khandwa and established an idol. This was the fourth such attack on the community in Khandwa in the last one week. Similarly, Indore Police is giving free-run to the right-wing groups who assault youths based on their faith. In January last week, they raised objectionable slogans against Prophet Mohammad. Yet, the police failed to take coercive action and they are out on bail. The attack on the churches is no different."
State Congress spokesperson KK Mishra told BOOM that he believes hate speech and hate crimes poison societies by threatening individual rights, human dignity and equality, reinforcing tensions between social groups, disturbing public peace and public order, and jeopardising peaceful coexistence.
"The BJP is using all tricks to win elections but this hatred is taking the country in a totally different direction," he said.
"They ingest hatred among youths in their Shakhas. They feel happy when a non-political youth commits religious crimes after getting influenced by hatred. It's time to take coercive action to prevent youths from influencing the wrong narrative," he added.
Mishra said that there's need for laws to regulate social media and control online hatred to prevent real life violence from occurring repeatedly.

Do you always want to share the authentic news with your friends?
Subscribed Successfully...
Enter Valid Email Id
---