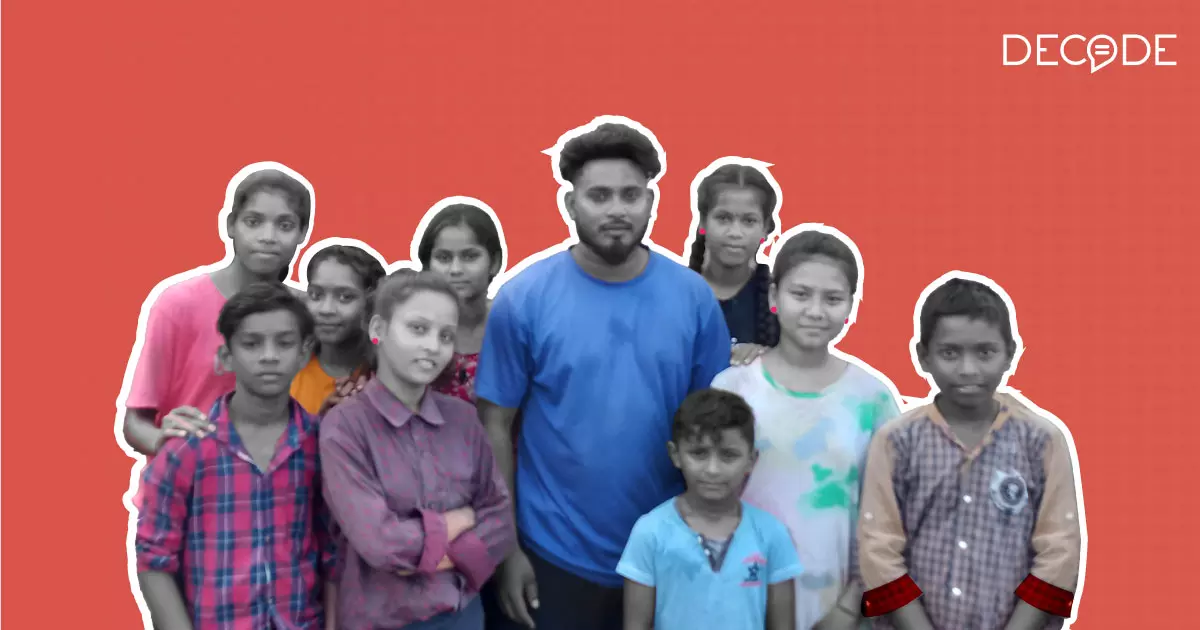 Asansol, West Bengal —It is noon and the temperature outside is touching 40C. Even the occasional breeze is hot air in Asansol district in the coal belt of West Bengal known for its dry scorching heat.
About 20km away from the town, inside a nondescript brick structure that makes up two rooms covered with a tin roof, about six to seven girls are perfecting dance moves. Some of them are stretching before they begin their dance rehearsals for the day. The room they are practising in has a fan, the other doesn't.

Their day started earlier around 11 AM and will go on till 10 PM. It is stuffy inside and the young dancers are taking water breaks. But they are mostly nonchalant, going at it again and again on 90s Bollywood numbers, tapping all feet together, swaying their bodies in rhythm, perfecting splits and somersaults.

"We are getting ready for a competition and not winning is not an option for my students," said Ajay Todi, 28, known as JD Sir to the people in the village. These two rooms are his academy.

Todi, who once balanced life between dance and working at construction sites, now has students coming to his class from the Asansol town and its peripheries. He even gets calls from far off places in Maharashtra and Haryana as they think the academy is something larger where students can stay.

The reason behind this rush is his Instagram handle, with 834K followers. The dance videos of his students performing in the village, in front of a few mud houses, have gone viral making JD Sir and his academy a social media sensation in these areas.

The videos on the page of the academy usually get over a lakh likes. Todi is yet to make sense of all of it.

The morning Decode visited him his phone kept ringing every few minutes. He gets calls with inquiries about admission, collaboration with small music producers and even for contests for television shows. When he got a call from a cloth store from Mumbai, he was trying to figure out what they wanted. If the students will need to wear their clothes while performing? If they will get paid? He didn't quote any amount as he was not sure of how much people get paid for a promotional activity like this.

Becoming JD Sir
Todi's journey with dance started much before social media became the phenomenon it is now in rural India. Todi's poor family could only ensure his education till class 6; after that he used to spend days helping his parents at home and spending time with other boys in the village, not really sure about what to do next.

This is when he was inspired by his elder brother, who danced with a group of boys and went to local competitions. All of 14 then, Todi became a part of the group with his impressive skills at picking up hip hop moves.
But financial pressures caught on soon. The family of daily wage labourers that included his brother, his parents and grandmother, now needed the two growing boys to start earning. His brother gave up dancing but Ajay Todi continued.
This decision made little sense to his family. His father would often tell him to stop wasting time with this "rich man's hobby". Eventually, Todi too had to relent and started taking up work at construction sites as a mason earning around Rs 120 for a full day of work.
He practiced whenever he was not working but it became so exhausting that eventually he decided to give up. That is when his group inspired him to come back as they were preparing for the dance reality show, Dance India Dance. For the contest, they gave him the moniker, JD.
The contest in Kolkata was a dream run for the group. They won three rounds and were shortlisted to travel to Mumbai. "The call did not come but it was then that I decided to never give up dancing," said Todi.
In 2010, his dreams were again cut short by a brutal road accident. After he recovered, he committed himself entirely to teaching as it was also risky for him to do both construction work and dance. "I realised my career as a dancer was over so I decided to pass on this passion," he said.

Building an academy
In the early years, it was all about competitions and small batches. Neither Todi nor his students saw any potential of putting out videos. This changed in 2018 with TikTok. By then coupled with cheap Internet, TikTok had made revolutionary inroads in rural India. Dancers, rappers, singers, short video creators had emerged from outside the cities and everyone was in the race to go viral.
"I had some idea of how to make these videos. One of my friends from the group used to make short videos on Youtube. He loaned me a cheap Micromax phone and we had some discussion on a good frame. That is how our journey started," he said.

The students and Todi tried their luck but before they could make money or go viral, TikTok was banned in India in 2020 after escalating border tension with China. Initially he was not sure about Instagram, given that it was seen as a medium for the affluent. But Todi started putting out videos from 2021.

This time he had a Vivo V23. Though the account kept growing in popularity, it took them a while to get noticed. "One video got three lakh likes in June last year. That was the turning point. Since then both our subscribers and likes for videos have shot up," says Todi.
Digital divide
Ajay Todi's social media fame has not changed his financial condition much. He lives with his wife, grandmother, and a six-year-old son in a small mud house that has a single room with a tin roof in the village. Before big events, the core team members of the dance team often stay with him.

Collaboration and making money out of it is still a new zone for him but it has started. They collaborate with a couple of small music producers for whom they have to put out videos regularly for a small sum. His total earnings from social media is only about eight thousand a month, which he invests in his core team. For his own earnings, he charges Rs 500 from each student. He has around 40 students now.
It is, however, not unusual for rural creators to earn less, says Avni Bhatnagar, an independent social media marketing consultant.
"Unlike TikTok, money from Instagram is mostly made through brand collaborations. Given that the major focus of a lot of brands is the urban consumer, they will be slower to associate with a rural account," she says. She, however, adds that this need not always be the case as some brand may identify a rural initiative as really unique and want to be associated with it as well.
Social media's village
Though money is yet to flow, this village set around a colliery called Girmint is abuzz with the success of their local dancers and Todi. Some are naysayers but there are more supporters now. "Earlier, friends in my village would taunt me about the long hours of dancing. They would make fun of me and my fondness for hip hop as a form," says Barsha Bauri, 18, one of the senior students of the academy, who leads the practice.
Earlier this year, after some dance videos of the class got over eight lakh likes, the reactions have changed. The neighbours now want to know more about their dance and academy. Bauri's friends are on social media too, they are trying their own methods to achieve social media fame. "They lip-sync and make videos with expressions on Bollywood songs. They find dance too difficult," Bauri laughs.
The academy's social media fame has also drawn students like ten-year-old Rimjhim Chand, who had an early brush with fame appearing for auditions of dance reality shows like Dance India Dance in Mumbai and Kolkata. After her classical training, Chand's father decided to shift her somewhere with a focus on Bollywood style dancing. He says that he learned from the auditions and social media that people don't want to see classical dance as much.
"This academy seems like a good place for that kind of training. I have seen their popularity on social media but after coming here and seeing the kind of discipline the kids are put through, I am convinced she will get good training here," says Rajib Chand, a phuchka seller, who travels 20 km to get her daughter to the academy.
Though there is some remaining taboo about girls choosing dance in this mostly rural area, it is lost in the almost overwhelming support of the families for their girls. Social media fame has only added to that strength. While Bauri's neighbourhood critics have turned fans, another lead dancer Preeti Marandi's father Musai Marandi, a daily wage worker, who hardly has any time to look at social media, is assured that her daughter is doing something good when other people tell him about her Instagram fame. "I don't want her to get involved in any other work but focus on her dance. If so many people like her performance she is learning something good," he says.
The lead dancers Bauri and Marandi are aware of this sudden popularity but hardly ever get to witness it. Neither of them have phones. "I know that our dance has gone viral but we don't want to see the comments. I just want to focus more on my practice," says Bauri, who started learning dance because she was fascinated by a girl practising hip hop moves in her village.

Her idol is Vartika Jha, a choreographer and actress who has risen through dance competitions from a small town in Uttar Pradesh. Todi has also introduced the students to famous Indian dancers Remo D'Souza and global legends like Michael Jackson.

As the day rolls ahead in the academy, the dancers are now perfecting coordination. The new students are getting used to the long day and many attempts. Todi's phone rings again, it is now a crew member from a reality show in Mumbai. They have seen the Instagram page and want the students to prepare something quickly for auditions of their next season.

Do you always want to share the authentic news with your friends?
Subscribed Successfully...
Enter Valid Email Id
---