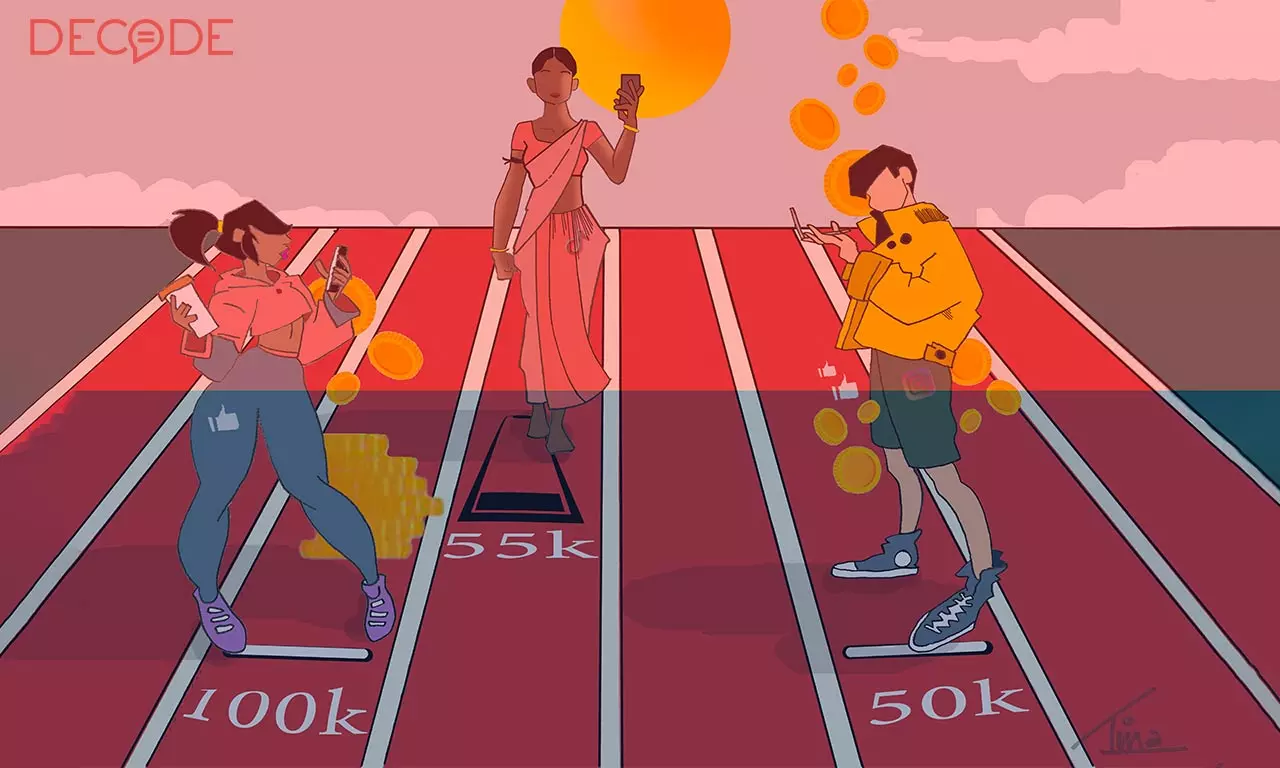 The first time Sumita Sikdar made a video on TikTok, she didn't have a phone with a camera.
From a rented one-bedroom house in West Bengal's Liluah in Howrah district, where she lives with her husband and three children, Sumita became a viral star. "Everyone around me who had a phone was watching TikTok videos. I watched a few and thought if I can dance better than all of them and have better expressions, why shouldn't I be making them too?" she said, describing how her journey as a TikTok star began and ended with six lakh followers and a ban.
On Instagram, Sumita, 27, has 55.8K followers. But without any 'agency' managing her, Sumita works hard and alone to create entertaining content. She resonates with a wide number of followers, she's a trained Bharatnatyam dancer, great actor, exceptional lip-syncer — she does almost everything that the 'influencer' selling you anti-aging cream on Instagram does. Sumita embodies the inherently discriminatory nature of the supposedly booming 'creator economy' of India.
Also Read: Photo Of Bangladesh Durga Puja Pandal Shared As West Bengal
Neither Instagram nor brands attach much commercial value to her enterprise, clearly because her account lacks the obvious markers of affluence that brands piggyback on to sell their wares.
The Making Of A TikTok Star
Three months after her youngest daughter was born in 2018, Sumita decided to record her first video for TikTok. With school fees for her children — aged 10 and 7— and expenses for a new baby, Sumita and her e-rickshaw puller husband couldn't afford a smartphone. Her mother, a housewife, however, had a Redmi 2 phone, which Sumita borrowed to make her first video.
This was the same time that the video-sharing app owned by a Chinese company ByteDance started growing popular in India. In 2019, Instagram was nine years old in India and YouTube had been around for 16 years, making influencer marketing a niche but powerful business tool for an affluent, English-speaking consumer base. Expectedly, the first most recognisable names in the business were a bunch of young, affluent, men and women who were interested in fashion and beauty, travelled to pristine foreign locations and became the faces that resonated with a similar demographic.
TikTok in India, among other things, disrupted this homogeneity of content creation bringing in a mix of voices and faces from small towns and villages, from financial capabilities that were distinctly different from the 'influencers' we were used to. The privileged creators and consumers of Instagram's lifestyle marketplace greeted TikTok's wide range of histrionics first with disdain and mockery, but then reluctantly joined the app in order to reach its staggering range of audiences when they were selling more 'consumer goods'.
For Sumita, however, TikTok was her toying with the idea of having a 'personal space', one that is either a luxury or unheard of for women in her economic location. "I wasn't looking to be famous, I started making videos because it was fun," the now viral Internet star said.
Sumita said that she had watched a video of an Indian woman, dressed in tattered clothes, walking with a log of wood on her head while lip syncing to 'Cheap Thrills' by Sia. Sumita, who studied till 11th in a Bengali medium school, says she learnt very basic English and can read the language to some extent. Nobody she knows speaks English, but she had heard the song before, on many such similar 'Trending' videos on TikTok. She went to her mother's house that afternoon, took her phone and recorded a video of her lip syncing to the same song.
The next day, that video had over 1 lakh likes on TikTok. And her DMs started buzzing with more and more requests for English song videos. "The girl on the video I watched was pretending to be poor, I don't know why. I figured that out from her other videos. Later I realised there are many such characters. They are well -off, they can speak English-- but portray themselves as poor to seek sympathy," Sumita said.
Every day, after her husband, an e-rickshaw driver, would go out for his next round of ferrying commuters to the train station, her son left to play football, Sumita would take her two daughters to her mother's house. She would end up recording 2-3 videos on her mother's phone in the three hours that she would spend there.
"I watch others' videos carefully," she said. The 28-year-old viral Internet star listens to one song at least 3-4 times before recording herself. "Then automatically I can lip sync. I think I just have that talent," she said.
Her followers have no way to tell which languages Sumita understands. Often, some of her followers message her in English. The "simple" ones she understands. If it's a long sentence, she sends their screenshots to her sister who then looks up the dictionary, finds the meaning and translates it for Sumita.
Sumita started to lip-sync to songs-- language wasn't a barrier despite not knowing the language. She started to record comical videos-- with dialogues from films. "My sister and my mother took care of the children while I would record these videos," she said.
Her videos started becoming popular-- in Jaipur, Delhi and other parts of North India. "I think it was because no one could tell what my mother tongue is or where I am from," Sumita said, explaining how she became 'viral' beyond geographical boundaries. The next video she shot was of her dancing, on the rooftop of her mother's house, to the popular song from 'Julie'- which goes like this, "Humko Tony nahi mangta, Peter nahi mangta… Johny Johny…"
"It got over five lakh views," she said.
Soon, her notifications on the TikTok app started buzzing. "Every time I opened the app, there were 1k followers, 1k comments, 1k likes," Sumita exclaimed. In another few weeks, Sumita had accrued thousands of followers on the video streaming app. It was not until a few months later that her mother gifted her a smartphone worth Rs 10,000.
Cut to three years later: Sumita accrued over 6 lakh followers on TikTok and then lost them after the government ban. Six months of posting photos and videos on Instagram, Sumita had found 57K followers. Then, her phone broke. Without a phone for two months, Sumita couldn't access her account. She saved money for a phone, but that went away for family expenses. Her husband, then, borrowed some money and bought her another phone. When she logged into her account, she realised she had lost 4K followers.
Two weeks ago, her phone charger broke.
When Sumita's daughter brings her phone so she can show me some of her viral videos on TikTok, she notices that it is completely out of juice. She asks her daughter to borrow the phone charger from her neighbour. The doorbell rings in less than 15 minutes. The neighbour wants her charger back; she was in the middle of recording an Instagram Reel.
Sumita's phone has now switched on. The battery level is at 11 percent.
Money Matters
Over a year after TikTok has been banned in India, Sumita is still trying to find a platform that is non-judgemental and gets her promotional activities.

With over 55k followers, she's not less popular on Instagram — but it's not enough to get her the big brands. So far, despite that following, Sumita has been offered just one promotional activity on the Facebook-owned company-- for an Ayurvdedic hair oil.

She got to keep a bottle of the hair oil and Rs 500 for shooting and posting two videos on her Instagram.

"That is a really low rate for someone with that kind of following," said Santu Misra, creative content director who is known to have discovered Kusha Kapila before her success as an Instagram influencer.

Despite her nearly 60 K followers on Instagram, brands prefer to look at Sumita's 'class and location' and assume that her followers won't spend on their products. Ajey Nagar, popularly known as Carryminati, arguably the biggest YouTuber in India, makes around Rs 10 lakhs a month from YouTube ad views alone. The money is big: Influencer marketing is pegged to be a ₹900 crore market in India by the end of the year, according to a report by media buyer Groupm. It is expected to grow 25 per cent annually to become a ₹2,200 crore industry by 2025, the INCA India Influencer Report said. Of the whole market share, celebrities contribute only 27 percent while influencers contribute 73 percent.
A community of over a half a billion users, Instagram boasts of many pockets and a host of creative pursuits-- where anyone can do anything-- bellydance, promote body positivity, show their 'model face', play Ukulele, play with cats. But Santu believes that despite the pockets it doesn't prevent brands from finding and reinforcing the generic ideas of how people should look.

Three content creators on Instagram, all of them with over 100k followers, told BOOM that for every video post, brands will 'easily' pay Rs 25,000- Rs 30,000 to someone with as many followers as Sumita's. For a regular post, the money usually ranges between Rs 15,000- Rs 20,000. An Instagram Reel, considered to be the more 'elite' TikTok clone, will fetch a creator around Rs 35,000- Rs 40,000. More followers are likely to translate into more money.
"The influencer culture is classist," said Santu. Earlier, he said, magazines would decide whether someone is good for a feature based on how they looked. "They don't have the X-factor is something you would hear all the time." But it is 2021 and brands can't say those aloud. "Now marketing companies will simply use any jargon-- lean, posh, etc-- to justify why they are picking someone who looks a certain way," he said. The justification is that the product has to reach a certain market and while they can be forced to speak the 'woke' language they are not compelled to act on it.

Fighting a pandemic
As India went into the Coronavirus induced first lockdown, Sumita's husband went out of work. And while the world saw the making of 'influencers' who followed their 'heart' with all the free time on hand, and baked sourdough bread or played the guitar 'live' from their bedrooms, Sumita barely managed to survive. She used all her influencer connections to scrape together Rs 2000 to feed her family.
When one of Sumita's 'influencer' friends found out about a bunch of Samaritans who are collecting funds and donating it to people who need them, she reached out to her. After the initial hesitation, Sumita asked for Rs 2,000. She used that money to buy cooking gas and groceries for her family of four to survive for the month.
"We would have died without food had that money from Helo didn't come through," she said, adding, "It saved our lives." For those two months of complete lockdown, Sumita's family survived on the money she got from Helo -- Rs 500 for each video which would turn into around Rs 2,000-2,500 in a month. Yet another ByteDance app, it was banned too, along with TikTok.

"It was my videos and my following that prevented us from starving to death in the pandemic," she said.

Ironically, this was the same time when social media influencers started getting significantly more money for sponsored posts and brand partnerships than even a year ago as brands shelved offline campaigns due to COVID-19 restrictions and followed their audiences to social media. Three months after TikTok was banned in India, Instagram launched Reels. And many jumped on the bandwagon.
Santu agreed that creators like Sumita need guidance and an agency to help her earn a livelihood off Instagram. However, he pointed out that it will be the brands that will offer the work. "There are agencies running with hundreds of influencers, but only 5-6 of them get work regularly," he said. The climb to becoming an influencer with fortune is a difficult one. "It's a long ladder," he said.
How To Lip-Sync To Nicki Minaj Without Knowing English
Last year, when Sumita went to a nearby mall with her family-- the children wanted pizza. After much consultation between husband and wife on whether they can afford it, they entered the Dominos store and got a table. As they were sitting there, a woman walked up to Sumita and asked her, "Are you that TikTok star?". A nervous Sumita said yes (in Bangla) when the woman switched to speaking to her in English. She praised Sumita, told her that her lip syncing is good, her expressions 'solid'. "I could only understand a few words," she said. Then the woman hugged her. After showering her with more praises, she hugged her once again. "I felt so proud of myself that day. A stranger recognised me. A lot of people don't want to touch people like us-- I felt very happy that day."

But Sumita couldn't understand why her fan kept talking to her in English. "Later, my son came up with a reason. He said it was because I lip sync to English songs that my followers think I can speak English. I can't," she said, bursting into laughter.
How does she shoot?
The rented room where the four of them lived had just one window. Sumita would place the phone on the window sill at 3:30 pm after the children slept. Her husband, an e-rickshaw driver, would go out for his next round of ferrying commuters to the train station. For the next hour, Sumita would stare at the screen, lip-rap to Nicki Minaj and Eminem, record several drafts, scan through to find the perfect one-- and post them on TikTok. "Everything had to be wrapped up before sunset," she said.

The biggest challenge for Sumita was to find a quiet time. That had to coincide with the time sunlight came into her house. "I don't have a good camera, neither do I have a tripod or ring lights," she said. Often, her husband asked her, "Why are you dressed up like a caricature?" Sumita would ignore him and continue to make videos.

She started getting DMs from other 'verified' influencers from cities outside of Bengal telling her that she's popular in their neighbourhoods.

It was a duet with TikTok star 'Lucky Dancer' that got Sumita to hit her first million views. The duet was on the Nicki Minaj song. Lucky, whose real name is Arhan Khan, had over 10 million followers on TikTok. On Instagram, he has 5.4 million followers. "I think it was the happiest moment of my life. The video had 1.8 million likes," Sumita exclaimed.

The Struggle To Stay Viral
It's been over a year, but the mention of TikTok shutting down changes Sumita's expressions. She goes quiet for a moment and then says, "I cried a lot. It felt like all my effort of 1.5 years had gone to waste. But what can I say...it's a matter of the country." Instantly going back to her chirpy self, she giggles and says, "Mera Bharat Mahan!"

"I would get verified if TikTok continued for a few more months. That ban really disrupted my life. I would get a lot more promotions if that platform continued," Sumita said.

The ban led to both loss of fame and fortune for Sumita. While TikTok gave her fame, it was yet another Byte-dance app called Helo that got her Rs 500 for every video she posted.

On June 29, 2020 the government banned TikTok and several other Chinese apps to counter the threat posed by them to India's "sovereignty and security". The ban was imposed under Section 69A of the Information Technology Act read with relevant provisions of the Information Technology (Procedure and Safeguards for Blocking of Access of Information by Public) Rules 2009. The government also cited complaints about data on Indian users being transferred abroad without authorisation.

The first attempt to ban the platform was spurred by officials' concerns over illicit and exploitative content on it. Compiling with the rules, the app then flagged and took down millions of videos. Weeks later, the second attempt that followed India's mid-June clashes with China stemming from a long border dispute, was successful.

"Even before it was banned, when the news started coming in about India and the country I am not supposed to name, people started getting into my DMs and called me a Chinese agent," Sumita recollected.

For a while, Sumita didn't attempt to make any videos. "It felt like everything was over," she quipped. She would give up had the looming thought of a missed shot at fame wouldn't occur.

The ban meant that all the apps on that list disappeared from the Apple and Google app stores, leaving the content creators with no access to their accounts or videos. Out of the 350 that she created on TikTok, Sumita managed to save 157 of them. And gradually, started posting them one at a time, on Instagram. Meanwhile, she joined the newly created ones that banked on the Narendra Modi government's "Make-in-India" project. Roposo, MX TakaTak, Josh, Tiki, Jose-- she decided to give a shot at virality, again.

On the Jose app, despite getting a verification and following-- Sumita was not making any money. "My face was viral then. These apps were using my videos. I needed something out of it. But no one was willing to pay," she said.

Sumita believes it is the iPhone users who gain more traction on Instagram. "My ordinary phone doesn't have all the filters and features that iPhones have," she said.

When one takes a photo or video on the Instagram app, it takes a screenshot or screen recording of what's on their phone's display. It doesn't use the phone's native camera software. The result: Instagram Stories on Android phones aren't as nice as they are on iPhones.

While Instagram's algorithm has been called 'elitist' for not pushing content of small creators, unlike what TikTok offered-- the platform has maintained that it follows a process on what it shows on Reels. "We first source reels we think you might like, and then order them based on how interesting we think they are to you. With Reels, though, we're specifically focused on what might entertain you...The most important predictions we make are how likely you are to watch a reel all the way through, like it, say it was entertaining or funny, and go to the audio page (a proxy for whether or not you might be inspired to make your own reel.)," notes their blog.

After Sumita lost thousands of followers when her phone broke, she came back on the platform and started making appeals.

"If you don't post videos every day, your followers will drop off," Sumita explained. That's why, whenever she gets a chance, she ends up recording a few videos together-- the same attire is a giveaway. Then she posts those videos, one at a time.
Another influencer on Instagram, Sweety Mishra, recently led Sumita to MxTakaTak-- an emerging video platform. Sumita has filled out a form, waiting to get verified there.

The Battles At Home And Outside
Sumita's husband has never been a fan of her virality. But it was one video that Sumita made with her children and her husband's three-wheeler as a prop when all hell broke loose. In the video, Sumita is wearing a trouser that covers three-quarters of her leg. The video was shot right outside of her home.
She didn't expect the video to go viral. But what she hadn't prepared for was her once doting husband abusing and threatening to end their marriage. "If you want to make videos, you leave the house," she was told.
She tried reasoning with her husband; it was futile. "It was those people at the toto-stand who showed him the video. They teased him, told him that I am disrespecting him by wearing pants," she said.

When her husband left the house furiously, Sumita shot another video. This wasn't a lip-sync. In her usual clothes, she recorded herself and told her followers, in Bangla, that her husband had abused her. The video was watched by her followers, which included her husband's acquaintances. They showed him the second video.

He came back home immediately and asked Sumita to leave the house. Moments later, he broke down and told her that he was called names and made to feel ashamed for not treating his wife right. Sumita deleted the second video.

"Once in a while I still have to sit him down and explain that I am not doing anything wrong. And that I won't ruin his reputation," Sunia said. "He has never praised any of my videos," she added.

Sumita has dreams-- of perhaps appearing in films or even television shows. But most of all what she wants is to be able to make a livelihood and improve her children's lives. While her offline popularity has got the neighbours to start shooting videos for social media platforms too, she often gets asked, "How do you make money from these videos?" Her only advice is, "You have to keep trying." The truth, however, is that she is still trying to figure it out.
"I don't know why I am not getting more promotional activities," she said.
The two things, Sumita feels, would get her more likes and shares, and perhaps a hope for better living are: A phone with an efficient camera, and a nicer background. For now, though, she needs to grab her neighbour's charger before the sun sets.

Do you always want to share the authentic news with your friends?
Subscribed Successfully...
Enter Valid Email Id
---