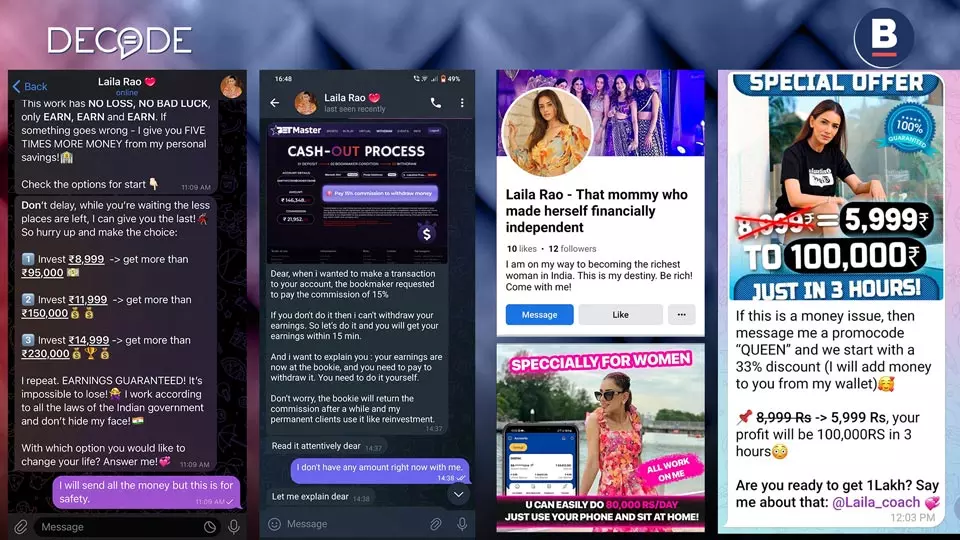 Laila Rao would sell the imagination of a perfect family online. Using pictures of a toddler and "a loving husband", Laila Rao duped several families into investing thousands in hopes of "doubling their money".
As BOOM reported earlier, Laila Rao has since been proven to be a scam using the face of actor/influencer, Smriti Khanna and her family members. The scam which promoted itself primarily on Facebook, would upload videos of Khanna's day-to-day activities, with captions like, "I am investor, great mom and happy wife. I can help Indian ladies with investment."
Pranati*, a 36-year-old from Kochi, messaged "Laila Rao" for the first time on August 4, 2023. Following up on a post where "Laila" claimed she could help pay women against investments, Pranati hoped for a quick payout. Indebted to relatives for a surgery she underwent last year, Pranati had come across a video of Sadhguru endorsing "Laila". Certain that Sadhguru could never promote ingenuine facts, she decided to give it a shot.
Except, by the time she realised that the Sadhguru video was doctored, Pranati had already lost Rs 86,000. Advised by her husband to keep the mishap under wraps in fear of public shaming, she decided to not go to the police. But Pranati is not the only one.
"Laila sold dreams of a perfect life to women"
Ragini*, a new mother from Bhopal first came across a "Laila Rao" post just two weeks ago. The post was made to look like a call to empower women. "Here are my students. They followed my advice and their lives changed." Once again, the picture had Khanna and other females (as we later also found on her personal Instagram page).
Struggling with an increased expenditure at home, Ragini found a post from yet another doctored video, this time of Ratan Tata endorsing a partner investor–i.e., Laila Rao. Once on Rao's Facebook page named 'Laila Super', Ragini decided to message her on Telegram. "She asked me to pick between three packages. I picked the one that promised Rs 80,000 return on an investment of Rs 10,000." To Ragini, the deal seemed too good to be true. "I was never fully sure, but she sold dreams of a perfect life to women," Ragini admitted.
Her hopes were crushed when "Laila Rao" stopped responding after confirming the receipt of payment. Ragini had seen multiple people reply to Laila's posts which gave her confidence to select the first package. So she messaged again, demanding an update on the repayments or threatening to complain.

"I haven't gone. Speaking with support dear." A common message that users receive whenever they request an update. "Laila Rao" would claim that large sums of money be divided into parts to pay different stakeholders. "I had to pay 6,000 to a landlord, 21,000 to a financial advisor, and another amount for GST," explained Ragini.
Namrata*, a resident of Hyderabad, was scared to file a complaint after she lost 32,000 in the scam without her family's knowledge. "I am an ardent Sadhguru follower and when I saw him speak so highly of Laila Rao, I gave in," said Namrata. Going against her brother's premonitions, Namrata invested her first Rs 9000 on July 31, 2023. She waited two days for a response, after which she wrote another message asking whether this was a scam. "Starting my work now. Next result in 3 hours, wish me luck!" the response read. But three hours passed and the reply never came.
She checked in again the next day and this time Laila Rao said, "The site is offline but I will finish my work tomorrow." The next day, Namrata received a 'BetMaster' screenshot and "Laila Rao" claimed that Namrata had won Rs 1,46,000. But the catch was that the only way for Namrata to redeem the amount would be by paying "another 15% commission to the betting site".
Now sensing something sinister at play, Namrata decided to hold back. "Laila Rao" then began providing explanations on how she owes money to the betting site that Namrata has to clear. Afraid of consequences for having engaged in betting, Namrata agreed to send another Rs 21,000 to "the bookie". Now a month has passed with no response from Laila and Namrata has lost thousands.

Sunita, an undergraduate student from Kadalur, TN selected the first package and sent Rs 9000 to Laila Rao's telegram. When chasing up the returns, the account sent her a barrage of fake screenshots of "failed payments". First, it would claim that the transactions were blocked by Amazon Pay and then it would claim bank transfer failures due to server issues. "Laila Rao knew I was struggling to pay my semester fees and she still took my money," said a disturbed Sunita. Having put in all her savings from her part-time job, now Sunita has no hopes of recovering the money or intentions to "bring disgrace" to her father by bringing the police to their village.
Decode messaged Laila Rao

The Laila Rao scam runs multiple Telegram channels such as "Laila Super", "Laila - ur investment guide", "Laila Rao Best", and many others. They link it to a Telegram channel called Big Incomes, which when you message, automatically sends you a fake "Telegraph" news article talking about Laila Rao's rags-to-riches story. From there, a barrage of automated messages directs you to message Laila_great.
Simultaneously, you begin receiving messages from a second Laila Rao account that Telegram states as a 'bot'. This account sends several fake screenshots of money transfers and WhatsApp messages from apparent users thanking Laila Rao for changing their lives. Swiftly, the profile sends you the three packages to pick from, demanding payment from you. However, they stop responding if they realise no payment is going to be made from your side.
Through ads such as these, Laila Rao targets hundreds of women. These people either join Telegram to continue the conversation or comment showing interest in investment that Laila Rao responds to with steps ahead. One of the pages named 'Laila Rao Best' had an address on their profile. Decode traced the address back to an abandoned gymnasium in Punjabi Bagh, Delhi.
Laila Rao, an otherwise common Indian name, is not shared by any legitimate person of prominence. Alongside, as our earlier fact-check suggested, none of the photos on Khanna's profile talk about any kind of monetary investment. Some people have lodged complaints against the scheme on an online 'Consumer Complaints Court'. Most complainants alleged that they had transferred money using details provided on their Telegram channel and had then not heard back from the account or seen any proof of investment.
The payments were asked to be made to one of three accounts almost every time; with one being a Canara bank account from Vasant Vihar, Delhi, an HDFC account from Karimganj, Assam and an Axis bank account from Patancheru, Telangana. Decode reached out to the banks that were tied to these accounts. However, despite promises of follow-up, we did not receive any comment Canara bank or Axis bank.
According to HDFC's Ravindran Subramanian, an account linked to the Laila Rao scam was already on the bank's radar. In fact, on August 9, 2023, HDFC put a debit block on the account (in the name of 'Surjya Sharma Choudhury') after investigating the issues.
Telegram has been the primary medium of communication for this scam. Telegram told Decode, "Since its creation, Telegram has actively moderated its platform to remove content that breaches our terms of service including potential scams. Moderators proactively monitor public parts of the platform and accept user reports in order to remove such content." But, once again, despite follow-up with evidence, the accounts still seem to be running without any moderation by Telegram.
Tech awareness not uniform across India
As per Delhi Police data, 25,000 cyber fraud cases were filed till August this year which indicates at least a 212% jump from last year's 8,000 cases from the same period. In fact, according to RBI, India saw 229 banking frauds per day in the financial year 2020-21, of which less than 1 per cent amount has been recovered. Nitish Mishra, a cybersecurity and data privacy expert, agrees, "Post covid, the digital journeys of companies have accelerated. India is focused on transitioning to a digital finance economy, especially with increased integration of UPI." With that, there has been a behavioural trend change, with people now predominantly working from home. This has led to the adoption of e-commerce.
"This is where scammers start to play at the human tendency to trust," Mishra explained. Banks send awareness SMS and sectoral regulators regularly release awareness tips. However, according to Mishra, there's a gap in language and educational levels between tier 1 and other tier cities. "As consumers, we have to be careful of the links we click upon and unlearn the practice of quick money."

Especially with the adoption of AI, as was seen in the Laila Rao case, voice and face impersonations can be easily reproduced. So a greater push for awareness is necessary. "Law will never be able to control techno, laws will have to catch up. It's a principle-based law, so organisations will have to look into precautions around Big Tech," Mishra added. Plus, intra-sectoral follow-up is missing. If an incident of financial fraud happens via Facebook, a bank will not connect with the social media giant to get to the bottom of it. Thus, in the process of recovery, most of the lost money remains slipping through the cracks.
Sandeep Saini from the Cyber Security Department of South Delhi says task frauds have become rampant, with almost 5-6 complaints a day from a locality alone. "To recover lost money, we work with social media teams to trace accounts that see sudden surges in interactions." However, Saini stresses on the importance of making an informed decision when sending money to someone.
In the case of Laila Rao, the scammer made an active effort to target and pester female homemakers and prey upon the social stigma associated with women making independent investments. "If I speak to my family about a complaint, they will think I am greedy. So it's best to keep this to myself," argued Namrata*.
We reached out to Facebook and Smriti Khanna's team for comments but did not receive any. All names have been anonymised.

Do you always want to share the authentic news with your friends?
Subscribed Successfully...
Enter Valid Email Id
---