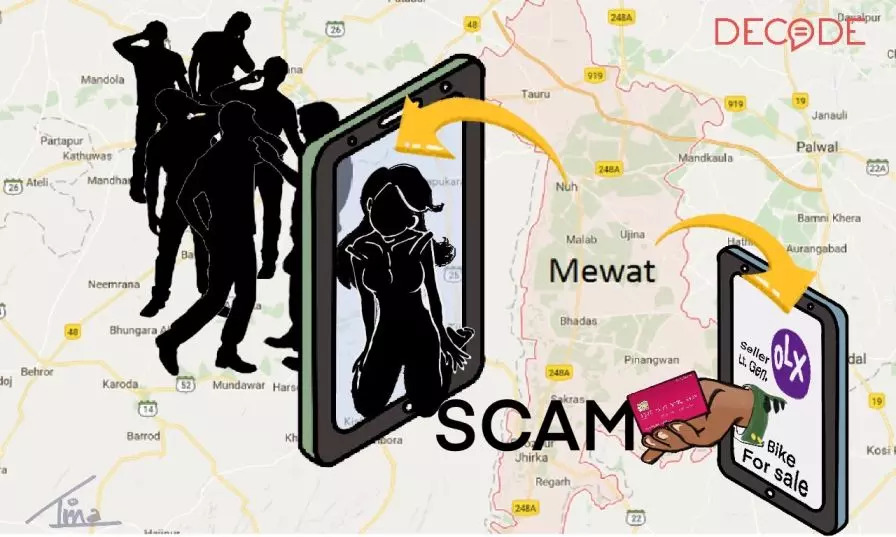 "Send money… or I will come to your home and catch you…"

"Are you sending it now?"

Karim* is on his haunches with a towel wrapped around his head, surrounded by other young men when he makes this call. He speaks in broken English but in an accent that is not Indian. "Pay up now," he sternly tells the person on the other side.

Karim is pretending to be a police officer and threatening to arrest him for creating pornographic content. This is the third call he is making to the victim.

Karim has already managed to record a video of the person, superimposed with nude scenes that he is using to blackmail him. It's a sextortion scam.

Just about 100 kilometers away from New Delhi lies the Mewat region — covering parts of Haryana, Rajasthan, and Uttar Pradesh — that has become the hub of cyber frauds. Fake ads for phones and bikes on OLX and Facebook, WhatsApp messages, and phone calls leading to sextortion scams to scamming with fake links are just some of their modus operandi. And it's all taking place in the region.

Karim's partner-in-crime Saif* tells Decode that he is the only one in their group of eight who can speak in English. And therefore, Karim is their designated blackmailer. Saif, who is uneducated, manages the bank accounts made with fake identities.

When they manage to extract money from the victim, they are directed to these multiple dubious bank accounts. "On registering a complaint, the account freezes. So before that happens I transfer the amount to another account. That's my job," he said.

All eight in their group have different roles — one arranges for fake SIM cards, two are in charge of fake ID cards, one makes scam calls and the others ensure it is a smooth process.

Home Ministry data reveals that 54.1% of total cyber crimes registered in India now originate from the Mewat area comprising Bharatpur and Alwar in Rajasthan, Mathura district in Uttar Pradesh, and Nuh in Haryana.

According to Rajveer Singh, a police officer in Nuh, the region has become the hub of cybercrimes as it falls under the jurisdiction of three states, making it easier to evade arrest. "The criminals set up their operations near the border areas of the three states. This way, whenever they get an inkling of any raid on their location, they cross over to the other state, so as to evade the jurisdiction of the raid."

Saif (28) said he got involved with the scams in 2020 when the nationwide lockdown was imposed due to coronavirus. "There was nothing else to do. There are no jobs here," he said, adding that he is laying low since the massive raid in Nuh.
The Raid
At midnight on April 27, Nuh police carried out a raid in the region arresting 66 people. The raid was carried out by 500 cops divided into 102 teams that combed 320 locations in Mewat. The police recovered 166 fake Aadhar cards, five PAN cards, 128 ATM cards, 66 mobile phones, 99 SIMs, five POS machines and three laptops from the fraudsters.
Both Saif and Karim managed to escape the raid.

The Nuh police claim that they have busted the entire nexus that had carried out pan-India cyber frauds amounting to Rs 100 crore, tracing nearly 28,000 cases linked to these cybercriminals across the country. The investigation also revealed information about 219 accounts in private and public sector banks and 140 UPI accounts that were being used for committing frauds.

The police told Decode that the victims were from across the country, the highest from Uttar Pradesh, Rajasthan, Telangana, Maharashtra, Gujarat, and Delhi. At least 347 SIM cards activated from states like Haryana, West Bengal, Assam, Rajasthan, Uttar Pradesh, Bihar, Odisha, Madhya Pradesh, Delhi, Tamil Nadu, Punjab, Andhra Pradesh, and Karnataka have been retrieved.

The criminals primarily belong to the age group of 18-35 years, the police told Decode.

Elaborating on the operation, the Superintendent of Police, Vishal Singhal, said, "The operation was conceived around one and a half months before the raid. We made a list of repeat offenders of cybercrime in Nuh and shortlisted 14 villages where each village had at least three to four such offenders. Further, with the help of intelligence units, we identified 320 hotspots within these villages to raid."
The Scams
There is no office space for these scammers, and they don't require any technical help. SIM cards issued in fake identification cards, smartphones, and fake bank accounts are what they need.

Saif said that the police are unable to catch them because they make these scam calls from the unmapped hills and then throw the SIM cards in glasses of water. "The police can't track the location then," he said. Saif said that the SIM card still functions when they take it out of the water.

One of his first scams was to sell a phone on OLX. The phone actually didn't exist. A fake ad was posted with the identity of a retired Army officer. Saif said they felt that would lure customers into believing it was authentic. Indeed, plenty of people did fall for it. "We advertise a pricey phone for half its price. When someone falls for it, we call them and tell them they need to send an advance for the phone," he said, explaining how the fake advertisements on marketplaces work.

Soon, Saif had moved from phones and laptops to bikes and cars. "Every fake ID card needs a fake bank account and a fake SIM card so we can operate without being caught," he said.

In May, the Military Intelligence (MI) unit of Pune had traced cybercriminals in Bharatpur, Rajasthan, who were posing as Army officials and scamming through online advertorials. The case was finally busted in a joint operation by police forces from Haryana, Uttar Pradesh, Rajasthan, and MI sleuths over three days.

According to SP Singhal, criminals posing as Army officials had been a very common tactic in many of the cases in which Nuh Police made arrests.

Speaking to Decode, Singhal explained, "These fraudsters get their fake Army ID cards made and pose as an official from the nearest cantonment. Citing the reason of their transfer to another city, they offer their so-called electrical appliances at a cheap rate." This, he said, is how they manage to dupe potential buyers and turn them into victims.

Laaraib Ahmad, a resident of Nagpur, told Decode how he narrowly escaped a scam on OLX. Ahmad had put up an advertisement for renting out his flat on OLX. An apparent CISF officer named Vijay Kalbhor from Pune showed interest. Kalbhor told Ahmad that he was part of the airport security staff and was being transferred from Guwahati to Nagpur. Ahmad and his family agreed to seal the deal with Kalbhor as they found in him a genuine government officer.

However, the 'CISF officer' did not agree to pay his rental deposit through UPI right away, saying that they get a certain subsidy from the government on cheque deposits for which he will need some time. Ahmad, on the other hand, found Kalbhor too good to be true. A CISF officer agreeing to move into a flat in a new city and pay Rs 22,000 deposit without even physically visiting the flat seemed fishy to Ahmad. He then did a casual Google search on OLX scams and found that there were similar frauds reported on OLX in the name of CISF officer Vijay Kalbhor.

Ahmad called the scammer to confront him, who hurled abuses at him. "Do as you will but nobody can catch us," he was told.
Screenshot of fake id cards shared by the scammer (Image Courtesy: Laaraib Ahmad)
Finding Evidence Is Tough
One of the villages where the raid was conducted is Tirwada, about 14 kms from Nuh. Fourteen of the villagers were arrested at the peak of dawn.

Mukesh, who used to work in Canara Bank for the last 13 years, has also been arrested. The 35-year-old worked in Common Service Centres (CSC), a programme that was launched under Prime Minister Narendra Modi's flagship Digital India Programme to make welfare schemes easily available to the needy. Mukesh was responsible for withdrawing pension from the bank and handing it over to the elderly in the village.

Employees from CSC have been involved in scam operations in Mewat, the police told Decode. "I asked him where he was going, he said he wanted to see the police," Mukesh's wife Pushpa said, calling it the "worst decision of his life'. "The police asked him where he works, and as soon as he said he was a CSC employee, the police took away his laptop and phone and put him in jail. He did nothing wrong," Pushpa said.

Delving into the involvement of the CSC employees, SP Singhal said, "Many of the fraudsters used to withdraw money from these centres, in lieu of ATMs. The employees there usually charge 1% commission on money withdrawals, however, the colluded employees in this case charged up to 4-5% commission from the fraudsters."

A lawyer who is representing some of the accused said that the police picked up random people during the raids. But Tasleem Arif also believes that "only 10 percent" of the real criminals have been nabbed. "Scams are rampant in Mewat, it's not easy to track and find evidence against them," he said.

Explaining how the sextortion scam works he said that it is mostly teens who talked on the phone to entice the victim. "The victims easily mistake the teenage scammer's voice to be that of a woman because of their high-pitched tone. After masking the screen of the video calls with images of girls in explicit postures, the scammers entice the victims to record their obscene videos."

In one such case, two men — Junaid and Ijran — were recently nabbed by the Assistant Superintendent of Punhana Police Station, Abdul Karim. The duo from Lohinga Khurd village in Mewat had allegedly been blackmailing Ram Verma from Kanpur. Verma was told that if he did not transfer money to them, his obscene photos will be made viral and he will be falsely accused of rape. The police tracked the fraudsters by reaching out to Verma who had made a hefty payment to Junaid's Paytm account. They also found out that Verma was not the only victim.

Talking about the scammers, Nuh police said that often everyone in a village is involved in such scams. "Neighbours to ATM guards- everyone keeps it a secret," Rajveer Singh, a police officer at Nuh told Decode.

Saif proves him somewhat right when he said that they make sure CCTV cameras in ATMs are shut when they are withdrawing the money gained from a scam operation. "The machine works but we get the guard to switch off the cameras and lights," he said.

Nizamuddin, who runs a grocery store in the village said that his 30-year-old son Sajid has been in jail for over one month. The neighbours and the family say he ran a poultry shop right opposite his father's grocery store. "He didn't even own a smartphone, how can be involved in scams? This is injustice," said Sajid's 58-year-old father. He said that the police had asked for Rs 1.5 lakhs to release his son. "The ones who paid have got bail, and the ones who are in jail did nothing wrong so they don't have the money to pay," he said.

Decode reached out to the Nuh Police for a comment on the allegations made by the families of the accused, but they did not respond.

Karim said he doesn't want his son to be a scammer like him; he is sending him to school. Meanwhile, Karim's partner has just got 16,000 rupees from a fake OLX ad for a phone. "If there were jobs here we wouldn't be in this," he said. When asked whether he feels scared, Karim responded, "We leave no evidence."
*Names have been changed.
Tags

Do you always want to share the authentic news with your friends?
Subscribed Successfully...
Enter Valid Email Id
---