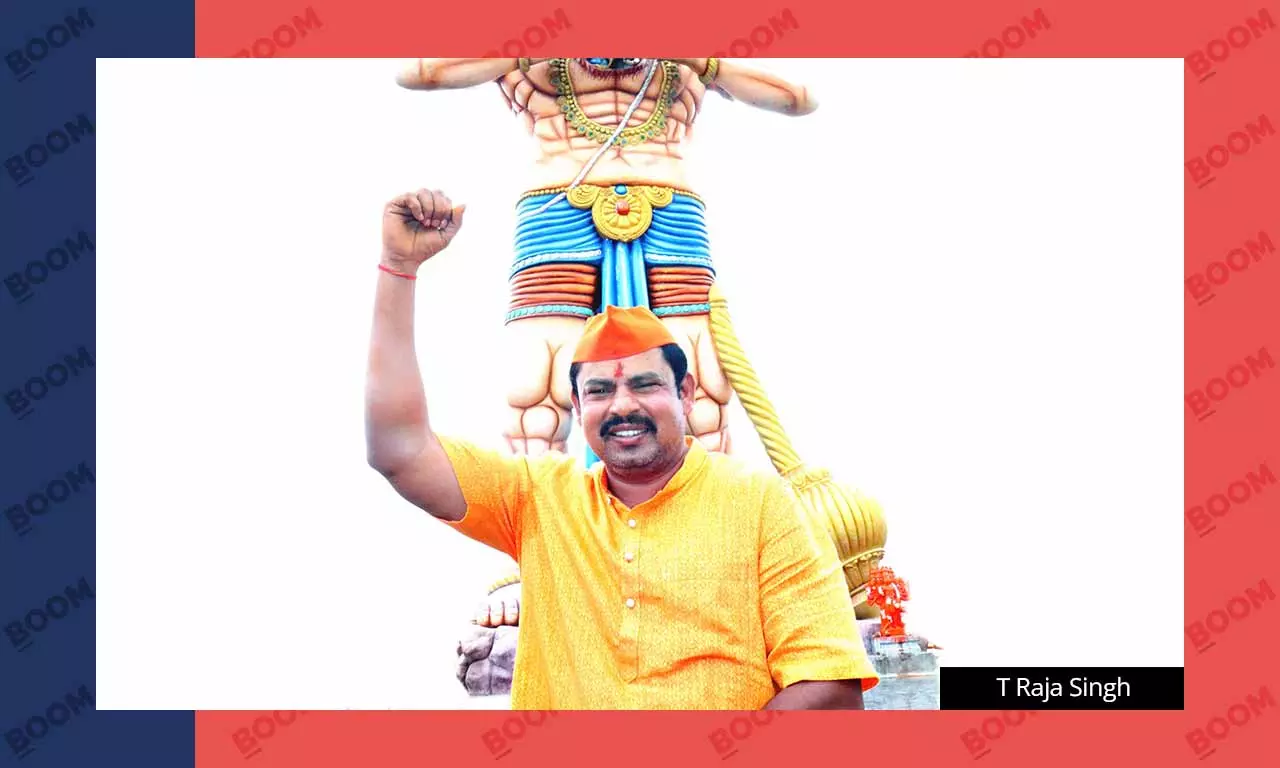 On February 19, on the occasion of Shivaji Jayanti, T Raja Singh, a suspended BJP MLA from Telangana said, "Don't leave a single love jihadi alive in Maharashtra. Our sisters are being trapped by love jihad. They are being made into a machine for childbirth. Any sister who does not obey is being cut into 35 pieces".

Eight days later, the Latur police filed an FIR under sections 153A (Promoting enmity between different groups on grounds of religion, race, place of birth, residence, and language), 153B (punishment against imputations and assertions prejudicial to national integration), 295A (punishment for acts that are intended to insult the region or religious beliefs of a certain class of citizens), and 505 (spreading of false and mischievous news intended to upset the public tranquility) of the Indian Penal Code (IPC).

However, the video of the hateful speech is still available on YouTube, uploaded by a channel named Indian Festival and Sounds, which has 1760 subscribers.
Many of the videos that were uploaded on YouTube were taken down by the platform days later. One of the channels 'Shree Ram Channel Telangana' was terminated for being dedicated to violating YouTube's hate speech policies, after Decode reached out to YouTube for comment.
T Raja Singh Lodh, also known as Tiger Raja Singh, is a 45-year-old Hindutva extremist figure from Goshamahal constituency of Telangana. In 2020, Facebook banned the BJP politician for violating its policy prohibiting those that promote or engage in violence. He was tagged by the Meta platform as a "dangerous personality" following a Wall Street Journal report. Three years after that ban the politician continues to be a viral content generator for the Hindu right wing on a daily basis.

His videos attacking the minority community are still present on all social media platforms, including meta-owned platforms such as Facebook and Instagram. Hundreds of accounts with alterations of the name T Raja continue to upload these videos.

Some of them have millions of followers, some have only a few hundred.

For the last few months, Hindutva groups have been rallying across Maharashtra protesting against conspiracy theories such as "Love Jihad" and "Land Jihad". Spearheading these speeches were T Raja, along with Sudarshan TV chief Suresh Chavhnke, religious leader Kalicharan 'Maharaj' alias Abhijeet Dhananjay Sarag who was arrested in 2022 over his remarks against Mahatma Gandhi.

Who Is T Raja Singh?
In an interview that dates back to 2013, uploaded by a YouTube channel called T Raja Singh, the BJP leader claims to have started working as a "cow protector" in 2000 under an organisation called Hindu Wahini. He contested his first assembly election from Goshamahal in 2014 on a BJP ticket, after leaving the Telugu Desam Party (TDP) in 2013.

Prior to that, he served as a corporator for the TDP in the Hyderabad municipal corporation. While the TDP is known for its centrist ideology, Raja Singh was recognised for his right-wing activism, even during his time with the party.

According to an affidavit filed by Raja Singh during the Assembly elections, there were 23 criminal cases against him in 2014 that rose to 43 before 2018 Telangana Assembly elections. In August, last year, Telangana Police said that there are 101 cases against Raja Singh now, many relating to "communal offences".

On 11 March 2023, he was served notice under section 41A of the Criminal Procedure Code by Latur police to appear before police for questioning and to abstain from delivering any provocative speech in the future. But it didn't stop Raja Singh from giving speeches that can be categorised as hateful. In public gatherings, his speeches have been on the theme of cow slaughter and 'love jihad'. Many of them are available on YouTube: Solapur (27 February), Mumbai (29 January), Shrirampur (11 March), Malang Gad (6 March), and Aurangabad (19 March).

The videos were uploaded by 7AIMS Media, and Shree Ram Channel Telangana.

He has been booked in four cities - Latur, Mumbai, Ahmednagar, and Aurangabad. All cases include at least one communal charge, including rioting and outraging religious sentiments.
Raja Singh talked about erasing the nameplates of Aurangabad in a speech on March 19. A day later, in viral videos, a mob was seen vandalizing places where the name of the city, now Sambhaji Nagar, was written as Aurangabad. Ten days later, on March 30, a riot erupted in Aurangabad, during which 10 police vehicles were torched, 12 people, including 10 policemen, were injured, and one person was killed.

Who Makes Raja Singh A YouTube Star?
On April 1, another FIR was lodged by Shahinayathgunj police against Raja Singh for alleged hate speech. Decode accessed the FIR that said, "At 6 pm, Ram Navmi procession led by Raja Singh reached Chudi Bazar. There the MLA delivered a speech saying that Hindu Rastra should be established in this country and, after hearing his speech, some of his followers waved Godse photos in the procession and also raised slogans with an intention to create enmity among the public on the grounds of religion. Hence, it is requested to take action against Raja Singh."

The video of the Ram Navami procession on 30 March that came to the attention of the police was uploaded by many YouTube channels and went viral. One such channel is 'Shree Ram Channel Telangana' (@tigerRajaSingh), a verified YouTube channel dedicated to Raja Singh- that uploads his speeches with eye-grabbing edits. The Ram Navami speech, which was found provocative by the Hyderabad police, was also uploaded on this channel.

A part of his provocative speech where he asks India to become a Hindu Rashtra has been viral since Ram Navami on all platforms in a short video form. One such video title says "Pakistani girls react to Raja Singh Ram Navmi Shobha Yatra @bublireaction2". In the video, two girls can be seen praising Raja Singh.

The channel 'Shree Ram Channel Telangana' has 562 thousand subscribers and 99,565,815 views. It was started in March 2012 and has 1,000 videos uploaded, including live videos of Raja Singh. The channel's most popular video is 'Raja Singh rescues cows from butchers in Hyderabad,' which has garnered 33 lakh views since its upload in January 2019. In the video, a camera chases a truck full of cows, and after several cuts, Raja Singh climbs onto the truck, which is full of cows. The video ends with him meeting with police officers. Another video of 'chasing and rescuing cows' has 25 lakh views.

Recently, Monu Manesar, a cow vigilante from Haryana came in news after being accused of setting ablaze two Muslim men alive. He was also known for uploading such 'chasing vehicles and rescuing cows' videos on YouTube and different social media platforms.
In a short video uploaded on this channel, Raja Singh can be heard saying "agar kisi laande ko bajana hai to Bajrang Dal se judi" (If you want to beat up Muslims, join Bajrang Dal.) Laande is a derogatory term used to describe Muslims.

There are other channels on YouTube with a large number of subscribers which has Raja Singh's provocative speeches.

1. Konkani entertainment is a verified YouTube channel with 6.03 lakh subscribers and 6.5k videos. It has amassed more than 29,15,80,625 views. The third most popular video on this channel is a music video called 'Bajrang Dal dj Song|Baap Bolte song' by Raja Singh in his own voice. The video has garnered 1,21,06,210 views and 2.8 lakh likes.

The lyrics of the song goes, "Desh ke dushman kaan khol ke sun le, gardan par laat rakh ke muh ko khula dete,bharat mata ki jai tujhse bula lete. Baap bolte, baap bolte.." (Listen carefully, oh enemy of the country, we would kick you in the neck and force your mouth open, and make you chant 'bharat mata ki jai'' through it. We are your father.) Singh has sung other songs, given speeches, and repeatedly stated that Hindus are the "fathers" of Indian Muslims.

Another song on the same lines 'Baap baap rahega' on Shree Ram Sena Channel (@TRajaSingh) has 1,72,790 views. There are many videos of Singh singing these songs in his rallies in front of large crowds available on Facebook, Instagram, and Youtube.

2. Hyderabad Pahelwans is a verified channel that has 4.16 lakh subscribers, 16,93,09,933 views, and 1500 uploaded videos. This year's Hyderabad Ram Navami video featuring Raja Singh on the channel has garnered 13 lakh views. Many other videos on this channel showcase Raja Singh delivering speeches and singing provocative songs himself.

3. 7AIMS Media is a verified channel that has 1.75 lakh subscribers and a total of 6,67,65,545 views. The video, which shows a mosque in the background and Raja Singh taking an oath to make India a Hindu Rashtra, has garnered 16,10,343 views and 71 thousand likes. There are also many other videos featuring communal songs and Raja Singh's rallies on this channel.

4. Ashutosh Jha Thoughts is a verified channel with 2.5 lakh subscribers and a total of 1,58,64,860 views. This channel has also uploaded the Ram Navmi video which has garnered 1.3 lakh views and 18k likes. In another video titled "T Raja Singh Thakur, powerful Sanatani, Owaisi ka jija," the presenter, Ashutosh Jha begins by calling T Raja Singh as Asaduddin Owaisi's brother-in-law.

Ashutosh Jha is a right-wing activist and a Youtuber. In one video uploaded on his channel, he can be seen giving a speech to a crowd on topics like "love jihad", conversion, and cow protection. He has 182k followers on Instagram and 4550 on Twitter.
5. Hyderabad Activities is an unverified channel with 58.8k subscribers and a total of 2,89,81,334 views. The Ramnavmi video on this channel has garnered 5.9 lakh views. There are also other videos of Raja Singh giving speeches on this channel.

6. Hyderabad Moods is a verified channel with 2.64 lakh subscribers and a total of 13,31,33,069 views. The channel's description states that it posts traditional and festival videos from India. There are at least 10 videos of the Raja Singh Ramnavmi procession. One video is captioned "Nitin Bandkar's reply to Akbaruddin's 15-minute dialogue at Raja Singh Ram Navami Shobha Yatra". In the videos, one of Raja Singh's associates and leader of BJYM (Bharatiya Janta Yuva Morcha), Yount wing of Bharatiya Janta Party, Nitin Bandkar, says, "Not 15 minutes, but give me 1 hour, and after that, you too will start chanting Jai Shree Ram. Father is always greater than the son."

7. While the full speech of Raja Singh on Ram Navmi has been uploaded by many channels on YouTube, part of his speech has also been uploaded as short videos garnering views in Lakhs. One such channel is Prashant Thakur with 6.21 lakh subscribers. Out of a total of 19 videos uploaded on this channel 8 are of Raja Singh. In one video he is seen taking an oath to make India a "Hindu Rashtra" and in another, he is using abusive language. In one another video he says, "arey police Bhai vo Ram bhakt hain tumhari seva ke liye dhakka mat maar, ye wahi rambhakt hain jinhone ek dhakka mara tha to ayodhya me ram mandir banaya tha, ek dhakka aur maarenge to kashi aur mathura me mandir banayenge (Hey police brother, they are devotees of Lord Ram in your service, don't push them. These are the same Ram devotees who had pushed and built the Ram temple in Ayodhya. If they push again, they will build temples in Kashi and Mathura as well)."

The short video in which Raja Singh is using abusive language has also been uploaded on a channel named Swabhiman Bharat which has 14.9 lakh subscribers. The video has 5.7 lakh views.
In response to Decode, a YouTube spokesperson said, "YouTube has strict policies that prohibit hate speech on YouTube, including content promoting violence or hatred against individuals or groups. Any flagged content found to violate our policies is removed from YouTube immediately and we terminate channels or accounts dedicated to a policy violation. All our policies are applied consistently across the platform, regardless of the creator, their background, political viewpoint, position or affiliation."
Specifically, YouTube said it took action against some of the channels that Decode mentioned above. "Upon review of the content flagged by Boom Live, we removed two videos for violating our policies on hate speech and harassment," YouTube said over an email. "In accordance with our long standing three strikes system, a warning was issued Konangi Entertainments, and a first strike issued to Ashutosh Jha Thought's. Repeated violations of our Community Guidelines may result in channels being terminated," it added.
Dangerous, Yet Viral On Facebook
In August 2020, the Wall Street Journal (WSJ) reported, citing former and current Facebook employees, that Raja Singh had been labeled "dangerous" by employees charged with policing the platform. This designation takes into account a person's off-platform activities.

However, Ankhi Das, the company's then-top public-policy executive in India, stated that punishing violations by politicians from PM Modi's party would damage the company's business prospects in the country, Facebook's biggest global market by the number of users. The WSJ report cited unnamed former and current employees in August 2020. After much outrage against alleged favoritism towards the ruling party BJP, Ankhi Das resigned from Facebook in October 2020.

Although Raja Singh was banned from Meta platforms, his provocative speeches were not. There are still many accounts and groups in his name and others that upload his provocative videos and speeches, which garner millions of views. One such account belongs to Naresh Yadav.

Naresh Yadav, with 36 thousand followers, has a cover photo with Raja Singh.
During the rallies in Maharashtra, Raja Singh gave a speech in Shirdi in which he calls Muslims "Landya" and says "Jo bhi Landya Love Jihad karega, arey beta tum aadhe kate ho, pure kaat denge (Whichever Muslim man does love jihad - you are cut in half- you will cut fully)"

Singh's Shirdi speech is uploaded on Yadav's Facebook account in three videos. One video, lasting 13 minutes and 37 seconds, has gained 1.3 million views, 106 thousand likes and and 4,500 shares. The thumbnail of the video says "Bulldozer coming to Telangana, KCR ek landa hai", and features a photo of Telangana Chief Minister Kalavanthalu Chandrashekhar Rao (KCR) wearing a skull cap. Another video, with 239 thousand views, features a thumbnail of Asaduddin Owaisi, Member of Parliament from Hyderabad with the statement "Owaisi is a terrorist". The third video has 93 thousand views and features a crossed-out photo of a girl wearing a hijab and Owaisi.

Among the prominent Facebook pages that have posted Raja Singh's speeches is Sudarshan News Hyderabad. This account uses the name and logo of Sudarshan News, but it is not confirmed whether it is a part of Sudarshan News run by Suresh Chavhanke. However, the Chief of Sudarshan TV, Suresh Chavhanke, was seen showing support after an FIR was lodged against Raja Singh in cases of hate speech. On the Facebook page, Sudarshan News Hyderabad posted a one-minute-long video of Raja Singh that has over 564,000 views, 2,000 shares, and 78,000 likes. This video is also from this year's Ramnavmi procession, where Raja Singh can be heard using abusive language.
Accused of hate speech earlier too, Sudarshan TV chief Suresh Chavhanke has also been a part of the rallies that Raja Singh attended. Additionally, Chavhanke was booked again, along with Raja Singh, in an FIR in Aurangabad for "promoting enmity between different groups."
In another video on the Facebook page, Raja Singh can be heard saying "Kahin par bhi jaate hain meri gau maata ko kaat kar ye madar**od maans bechte hain. Main Raja Singh apne valmiki bhaiyon se nivedan karna chahunga ki aaplog bhi suar kaatkar uski dukana lagana shuru kar do. (Wherever they go, these mother****** slaughter my mother cow and sell beef. I, Raja Singh, would like to request my Valmiki brothers to start slaughtering pigs and open their shops in every locality)." Valmiki is a caste considered lowest in the caste hierarchy of Hinduism and Sikhism. This 1 minute 35 seconds long video has 406 thousand views, 60 thousand likes and 1500 shares. The caption of the video says "Gau Mata ko Katna Chhod do-Tiger Raja Singh".

Some other Facebook pages that have posted Raja Singh videos that can be categorised as provocative are 7AIMS-2.9 Million views and 4111 thousand likes. BNP बेगूसराय-7.6 million views, 766 thousand likes, 52 thousand shares, the caption of the video says "In a state where there is no Hindu government, those who organize Shri Ram Navami processions by covering mosques is called Tiger Raja Singh."

Although Raja Singh was banned from Facebook, there are still accounts, pages and groups with name of Raja Singh that post contents related to him are. Sample these: Raja Bhai ka Sena, I support Raja Singh, Tiger Raja Singh Fan Club, Always Raja Singh Hindu, Raja Singh, MLA Raja Singh, Raja Singh समर्थक, Raja Bhai Ki sena, T Raja Singh के साथ हो तो इस ग्रुप को जॉइन करो
Decode has reached out to Facebook for comments, we will update the story when they respond.

Star On Instagram Too

Although Decode could not verify whether the real Raja Singh has an Instagram account, there are multiple accounts on the platform with alternations of his name. Some of them are - Tiger Raja Singh, Raja Singh, Tiger Raja Singh, team_tigerrajasingh, T Raja Singh, Tiger Raja Singh.

One post on Tiger Raja Singh's Instagram account, that has 289 thousand followers, shows a huge crowd in front of a mosque holding a Lord Ram effigy. The mosque is covered with a white cloth, and a photo of Raja Singh occupies the other half of the photo. The photo has been turned into the viral 'Art and Artist' meme. The caption of the post reads, "We will make the impossible possible. We are so courageous that we know how to make the world bow down because we are like lions."
The photo of the covered mosque is from the Ramnavmi Shobha Yatra, and every year, the city police of Hyderabad covers the mosque during the festival.
Other Instagram pages dedicated to content featuring Raja Singh are Sri Ram Yuva Sena, Arjun Sharma, Laxman Vairal, Shree Ram Channel Telangana .

In a video posted on Sri Ram Yuva Sena, Raja Singh can be heard addressing a huge crowd. "My only goal now is to make India a Hindu Nation," he says. The crowd cheers in response. This video has received 325,000 views, 41,100 likes, and 10,800 shares.

Raja Singh's Playlist
Decode also discovered an account on SoundCloud named "Raja Singh Ram Navmi Songs". This account contains 36 songs that were all uploaded in February 2015. Many of these songs are played during Raja Singh's Ram Navami processions, as well as processions in other parts of the country. Some of these songs are also available on YouTube. The themes of these songs include Pakistan bashing, protecting cows, and encouraging violence in the service of Hinduism.

The lyrics of a song uploaded on this channel say, "Gau mata ke pran bachao in majlis gaddaron se, tut pado bharat walo gauo ke hatyaro par." (Save the life of the mother cow from the traitorous Majlis people, O people of India, attack the cow killers.) "Majlis," meaning "council" in Arabic, is used by many Muslim organizations in India. The song has been played 558 times. A nationalist song named "Ho jao taiyar sathiyo" (be ready, my friends) on this channel is sung by Raja Singh himself.
During our investigation, we also found an app on Play Store dedicated to Raja Singh. Released in October 2014, the app has 5000+ downloads and is rated 12+ (parental guidance recommended). The description of the app states that it is made for the public of the Ghoshamahal constituency to connect with their MLA, Raja Singh.

In the recent past, multiple tweets have been withheld in India. However, the irony is that while Raja Singh's provocative speeches exist on Twitter, the ones calling him out have landed in trouble- their accounts were withheld.
In a video uploaded on November 9, 2022, by a right-wing influencer Ahwini Shrivastava, Raja Singh says, "It is secularism that is making our country hollow…. If you don't sing Vande Mataram, you won't have the right to live in India. In the future, you will see that there will be no need to wield a sword on your neck. You will bow down, bend your knees and say that you will sing Vande Mataram." In the middle of the edited video, there is a clip of Asaduddin Owaisi, Member of Parliament from Hyderabad, defying the forceful recitation of 'Vande Matram'.

Shrivastava has over 46,400 followers on Twitter.The video has received 4152 views, 423 likes, and 145 retweets.
T Raja Singh may be banned on platforms, but his provocative speeches have found a way to appear on everyone's feed.

Do you always want to share the authentic news with your friends?
Subscribed Successfully...
Enter Valid Email Id
---