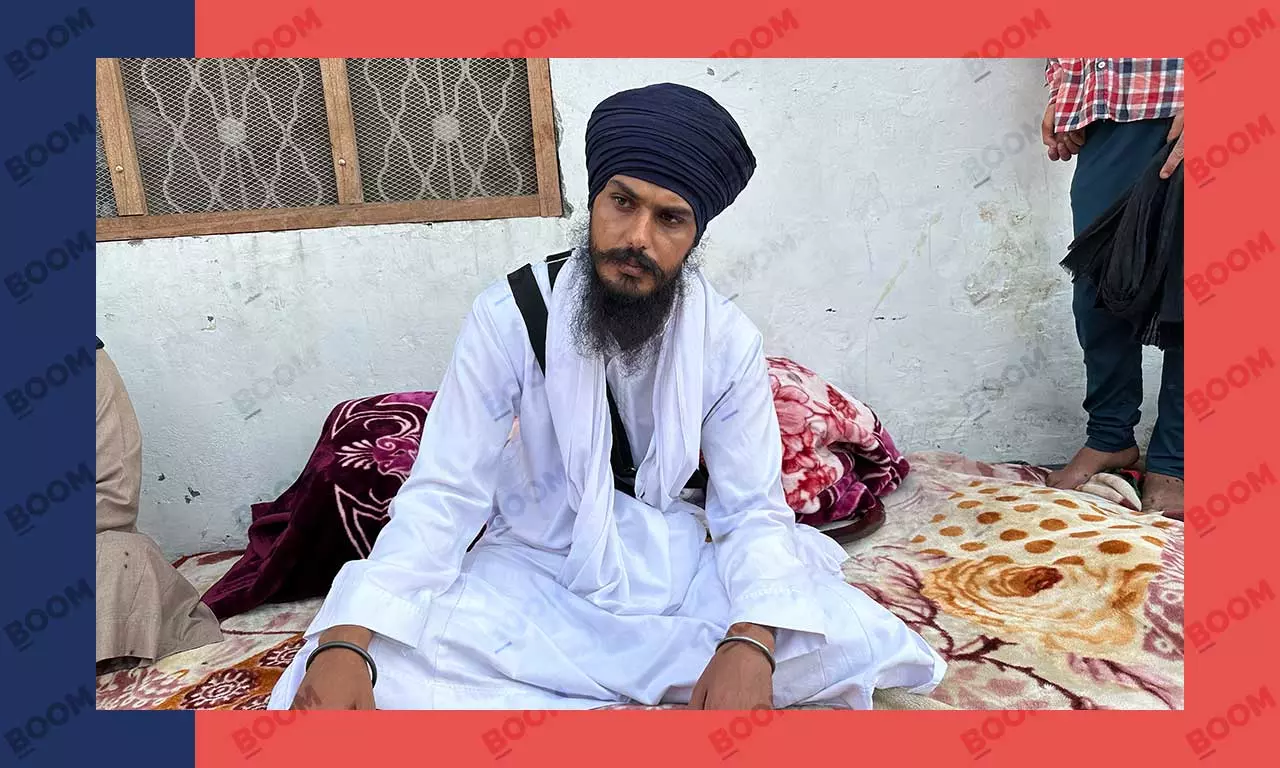 The first time Amritpal Singh Sandhu started voicing his opinions on the creation of Khalistan was on Clubhouse, back in mid-2021 when the audio-based social network platform had become hugely popular in India. The audience in the chatroom did not miss that he had radical thoughts.

Amritpal Singh is currently on the run.

On Saturday, the Punjab government launched a major crackdown against the Waris Punjab De (WPD) chief. The cops have arrested 78 members of the outfit headed by him. The police action came a day ahead of the start of Amritpal Singh's 'Khalsa Vaheer' - a religious procession - which was to start from Muktsar district.

His supporters use Facebook pages, under Amritpal Singh's name and have been talking about the cause of Khalistan for quite some time.
"The talk of Khalistan is very common in Punjab, it is considered taboo outside Punjab. The national media cries a lot over this. Elections are fought in Punjab in the name of Khalistan, rallies are taken out. So this was not a new thing. But when I talked about these things on stage and gave some interviews, it came to the attention of the national media," he said in an interview to Decode two weeks back.
Also Read: Inside Clubhouse India: Is It The New Ground For Polarisation?
In his speeches, the WPD leader would often stoke passions while talking about the alleged atrocities against the Sikh community in Punjab, especially during the rule of late Prime Minister Indira Gandhi in the early 1980s. The videos of some of his speeches are still available on YouTube here, here and here.
During the COVID19 pandemic, Amritpal Singh shot to prominence as one of the "voices in favour of the Sikhs" and someone who would carry forward the legacy of a well-known actor and activist, Deep Sidhu, who was heading an outfit by the name 'Waris Punjab De'. Sidhu died in a road accident in February 2022. Though he never met Sidhu in person, the WPD leader claimed being in touch with him through online interactions.

One of the criticisms for Amritpal Singh has been that he is an 'outsider'. Born in Amritsar's Jallupur Khera hamlet in 1993, he studied in a school near his village, Feruman in Punjab. In 2008, he took admission in Lord Krishna Polytechnic to study mechanical engineering in Kapurthala, Punjab. But he did not complete his degree and went away to Dubai in 2012 where he helped his family's transport business. He came to India on separate occasions in 2013, 2016 and 2019. In 2022, he decided to return to India permanently.

"I could have planned to go to Canada," Amritpal Singh told Decode but the reason he chose to come to India was Deep Sidhu, he said. Like many other youths in Punjab, Amritpal Singh too went outside to find better opportunities, he said. Recalling the horrors of 1984 violence, he argued that the youth in Punjab prefer moving to countries like Canada, United States of America, United Arab Emirates, and various parts of Europe because "there is deep dissatisfaction against the state among the aspiring youth in Punjab".

But Clubhouse conversations with Deep Sidhu set the tone for forming the organisation 'Waris Punjab De' (heir of Punjab). "Our telephonic conversations and interactions on Clubhouse played a decisive role in cementing our organisational structure," he told Decode.
"There used to be little talk in the farmer's movement before he (Sidhu) went to jail, but later there was a lot more talk. After that we started forming an organization. For this I used to take support of phone and used Clubhouse as the medium. After his death in February 2022, there was no leader in our group. That's why people suggested my name," he said.

On September 25 last year, Amritpal Singh went through a formal Sikh baptism at Anandpur Sahib to become an Amritdhari Sikh followed by a ritual of Dastarbandi to continue the legacy of late Jarnail Singh Bindharnwale, a prominent Sikh leader who stood and nurtured the idea of Khalistan for the Sikhs during the early 1980s.

The new avatar took place within months—from a clean shaven man to the one sporting a flowing beard and dressed like the late Bhindrawale.

The 31-year-old preacher took over as head of 'Waris Punjab De' in an online ceremony in early 2022. Post September, 2022, photos and videos of his speeches started getting viral on social media platforms, while his supporters were sharing them by adding pro-Khalistani songs to lend credence to a renewed pro-Khalistan political narrative.
When asked what his plans for Punjab are, Amritpal Singh told Decode, "drug issue is very serious in Punjab, many people of my village have died due to drug overdose." Apart from this, he said that people were staying away from their culture and their identity. "Our main focus are intoxication and connect youth with our religion ," he said.

Meanwhile, PTI reported that the security agencies had raised a red flag after intelligence inputs suggested that the pro-Khalistan preacher was using drug de-addiction centres and a gurdwara for stockpiling weapons and preparing youths to carry out suicide attacks. A dossier prepared with inputs from various security agencies claimed that Singh, who returned from Dubai last year allegedly at the behest of Pakistan's ISI and Khalistan sympathisers residing overseas, was mainly engaged in brainwashing youths to become "khadkoos" or human bombs.

Voicing their protest against police action, in which around 78 of his close confidants have been arrested, Sandhu's supporters have taken social media by the storm with hashtags such as #WestandwithAmritpalSingh and #ReleaseAmritpalSingh, etc.
When asked how Khalistan and Hindu Rashtra are different, Amritpal Singh told Decode, "Hindu nation does not mix others in itself. They destroy the identity of others. They say that everyone should be a Hindu and they only talk about Hindu, Hindi and Hindustan. The demand of Khalistan is on Khalsa i.e. purity. Those who are capable will rule. Everyone will get a chance to grow there, be it a Hindu or a Muslim. There will be no freedom to harm others. Like it was in the rule of Maharaja Ranjit Singh," he said.

"There is no diversity here neither in China, Pakistan nor India, but there is internal struggle everywhere," he added.
Also Read: India's Booming Creator Economy Is A Battleground For Dalit Artists
Denying that Punjab's political parties has anything to do with his return, Amritpal Singh said, "Politics has become completely irrelevant in Punjab. The Aam Aadmi Party first won the assembly elections but then lost the Sangrur Lok Sabha by-election. The party that wins the assembly elections loses the sitting Lok Sabha seat. The politics of Punjab changes everyday." He added that he is not in Punjab to contest elections but to revive Shiromani Akali Dal (SAD) – a religious political party in Punjab.
Harjeet Singh, Amritpal's uncle, who is also an ardent follower of him told Decode that for the last three to four months, Singh has been going from village to village preaching religion. "There is nothing wrong in this," he said. On Sunday, he surrendered before the police.

Meanwhile, at least three Twitter handles have been withheld including that of two journalists – Gagandeep Singh, Kamal Singh Brar, and one Lok Sabha MP Simranjeet Singh under the government's orders. Clicking on Brar and Singh's Twitter profiles shows that 'Account Withheld - This account has been withheld in Indian in response to a legal demand'.
The Punjab government has extended ban on mobile internet service for another day, till noon on March 21. The government said that the ban is to prevent 'mobilisation of mobs of agitators and demonstrators'.

Do you always want to share the authentic news with your friends?
Subscribed Successfully...
Enter Valid Email Id
---