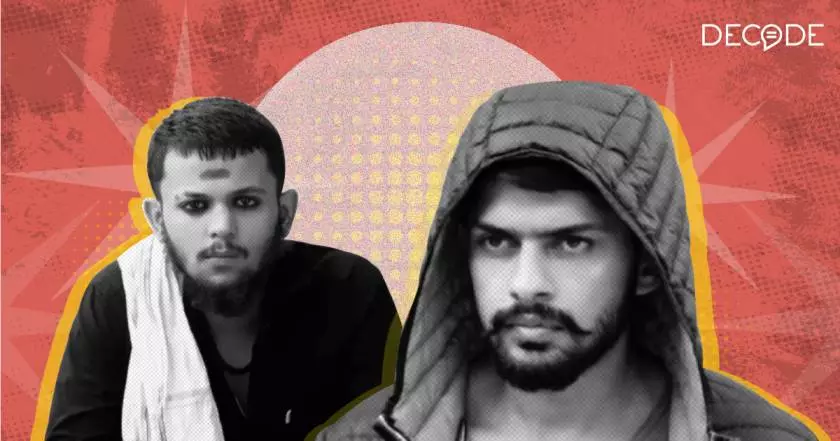 Aniket Gupta would make content for YouTube. But he did not know a dead gangster would bring him fame and money.

Gupta is a 24-year-old B.Com graduate from Nalasopara town of outer Mumbai who runs a YouTube channel called Durlabh Kashyap Official. When he started making content a year ago, he did not know who Durlabh Kashyap is.

A social media phenomenon largely, Durlabh Kashyap belonged to the temple town of Ujjain in Madhya Pradesh. He was killed in September 2020 in a gang war when he was just 20 years old. Videos made in his name have over the past three years attained him a cult status. Scores of videos and accounts in his name can be found on YouTube receiving views in millions.

A song about him by RapperKashyap has over 24 million views and 460K likes. The song describes the gangster as a great figure and a 'Lion of Kashyap community'.

In the digital age, consumers with their insatiable appetite for content, have found an unexpected icon: the Indian gangster. Multiple fan pages of gangsters such as Lawrence Bishnoi, Neeraj Bawana and others regularly produce content in their names, garnering millions of views. While the fandom of gangsters is not new across the world, the creators who Decode spoke to said that they had no clue about the gangsters till they discovered that their content brings them clicks.

Decode explored why and how these gangsters have turned into a social media phenomenon in India.

The YouTube channel called Durlabh Kashyap Official that Gupta runs has over 561K subscribers. The 24-year-old regularly uploads videos depicting Kashyap, his mannerisms and attire to look similar to him. Three videos on the account have over 10 million views.

Aniket remembers being confused for the gangster on his visit to Shirdi. His hair was trimmed and he had a tika on his forehead. And this is when many visitors to the Sai Baba temple approached him to take selfies with them. Aniket realised he could pass off as a doppelganger of Durlabh Kashyap, the gangster he then discovered.

So he researched about Durlabh Kashyap and started making videos copying Kashyap's style and attitude. He posted the videos on Instagram and YouTube. Soon, his videos started getting viral and he made more content on similar lines. He told Decode that he was contacted by Durlabh Kashyap's gang member Chayan Ck about his content. "We reached an understanding," he said.

When he is not making videos pretending to be Durlabh Kashyap, he helps his elder brother at his mobile repair shop.

Aniket said that he doesn't feel unsafe. In fact, to make his profile more appealing, he had pictures clicked similar to Durlabh Kashyap.

In the past year, Aniket said he has earned around 3-4 Lakhs rupees, a majority of which came through promoted content on his Instagram page with over 600 thousand followers. The account was later suspended for violating community guidelines.

Aniket said that he was given a six-month contract by Moj, another short video content app. On being asked whether Moj has had any problem with the 'gangster content', he said, "They only care if your contents are viral or not".
We reached out to Moj for a comment. The spokesperson said that the user was part of the Moj for Creators Program and may have earned through the program. "We are not aware of the user's content on other platforms and have not worked with this creator to endorse or advertise for Moj," the spokesperson said.
YouTube has not responded to our queries at the time of publishing of this story.
Durlabh Kashyap is hugely celebrated on social media platforms. The fandom ranges from songs about him, a video featuring five youngsters while sitting by a large cutout of Kashyap celebrating his birthday to his videos of being arrested.
Many YouTube channels such as NewzHome and KrSuraj01 have multiple videos fanning over Durlabh Kashyap and his alleged gang activities amassing millions in views, some even more than 10-20 million.

The Fandom Of Lawrence Bishnoi
Lawrence Bishnoi, a high-profile gangster lodged in jail since 2018, shot to fame last year after the murder of famous Punjabi singer Siddu Moosewala in Mansa, Punjab. He is allegedly the mastermind of the killing. Currently lodged in Tihar Jail and facing numerous charges in different states, Bishnoi is now also an Internet star.
A 52-minute interview video of Lawrence Bishnoi by ABP News has alone fetched the channel 10 million views. Another summarised version of the interview, about 6 minutes long on the channel, has 13 million views.
In May, Bishnoi confessed to the National Investigation Agency that he planned to target Salman Khan for hunting the blackbuck in 1998, to avenge the hurt sentiment of the Bishnoi community. He was immediately in the limelight once again.

Bishnoi's name is enough to garner such views. At the time of writing this report, out of the 100 most popular shorts on YouTube channel of ABP News, 28 were from a single interview of Bishnoi.

It's not just news channels that have realised the potential fandom of the gangsters.
A 10-second clip of Bishnoi being produced in court by Punjab Police on a YouTube channel of Rare Videos has 17 million views. The most popular video on a YouTube channel Fact Eve which has around 762K subscribers is of Lawrence Bishnoi; it has around 41 million views.

On YouTube, multiple other videos featuring or adulating Bishnoi have over 10 million views and continue to draw views since he posed as a nationalist. Several short clips of a video featuring right wing influencer Major Gaurav Arya have garnered millions in views wherein Major Arya proclaims Lawrence as some messiah fighting against the alleged Khalistanis .

A YouTube channel called Sigma Greatest which has around 32.2K subscribers and uploads only shorts mostly sympathetic to the right wing viewpoint has 3 videos of Bishnoi out of its 10 most popular videos. The videos have attracted 10.1 million (761K likes), 1.5 million and 0.91 million views respectively.
Another account called God Honter which used to upload gaming videos now has Lawrence Bishnoi as its display picture with around 14K subscribers.
While none of the gaming videos amassed over 10K views, the account started uploading Bishnoi's videos in May this year, and it worked. So far, they have uploaded 13 videos of Lawrence Bishnoi and all of them have crossed the 10K barrier with five videos above 100K and 1 even reaching 1 million in views.
Yet another gangster, Neeraj Bawana, operating in Delhi NCR region, who has been in Tihar Jail since 2015 is content gold. The content made from pictures of his court appearances, jail activities, and before arrest is used for garnering views.
Five YouTube shorts and one video from India TV news channel featuring him have gained over 10 million views while 3 others have over 9 million views.
A major creator of the videos featuring Bawana is a YouTube channel called Gang Info which has over 1.6 lakh subscribers and has uploaded 228 videos— all of them with names of alleged criminals and gangsters. The channel has uploaded multiple videos of Neeraj Bawana and of Lawrence Bishnoi and other less-popular gangsters.
One such video which is from a Web series 'Shukla The Tiger' is uploaded twice claiming it to be a shootout of the Bawana Gang and has amassed 26 million and 23 million views.
Like Aniket, Gautam Kashyap, a 25-year-old college dropout from Kuria Garhi village in Ghaziabad also hadn't heard of the gangster Durlabh Kashyap till 2021, a year after his death. "It was my friends from the Kashyap community who asked me to create songs about Durlabh as he was very popular and a Kashyap," he said. Gautam's first song on the gangster got over 25 thousand views in just one day.
"I was astonished. Now the video has over 24 million views. It was only then that I decided to create more videos about Durlabh," he said.
Gautam runs the channel 'Rapper Kashyap'. The channel has 256 thousand subscribers and more than 37 million total views. Music videos on his channel range from 'Kashyap caste supremacy, Hindu religious songs, love songs, to gangster songs. The most popular video on the channel is about the gangster Durlabh Kashyap. The song glorifies Durlabh Kashyap's violent history, mourns his death, and refers to his demise as a great loss to the 'Kashyap caste'.
Before relying entirely on his YouTube content for survival, Gautam was a newspaper hawker. During high school, he used to earn a living by sharing downloaded songs and movies from his computer to other devices.
Explaining the reason for making the videos, he says, "I am an artist."
He said he started making the videos because his friends nudged him to but he now does it because it gets them views. Gautam is currently working on a video about the gangster Kashyap's fandom.
In the process of watching this report, we watched multiple such clips and the algorithm started pushing us to several other videos of different gangsters. Such as a video of gangster Sube Gujjar visiting his house, videos on gangster Sukha Kahlon, and videos on slain gangster Anandpal Singh. All these videos have attracted more than 5 million views and are or were uploaded by small channel YouTubers having no such specific but random content.

Dr Beulah Shekhar, Emeritus Professor in Department Of Criminology, Karunya Institute says that not only real life gangsters but even depiction of gangsters in movies inspire people. Citing an example of a Maharashtra driver who was inspired by the movie 'Pushpa' to smuggle sandalwood, she says that people are intrigued by these depictions, especially in the adolescent stage. "They want to get identified by a famous crime by copying it," she added.
Dr Shekhar pointed out that while this fandom for gangsters has been witnessed for decades but with the advent of social media, it has become easy to disseminate it. "Crime is fascinating for everyone," she added.

Do you always want to share the authentic news with your friends?
Subscribed Successfully...
Enter Valid Email Id
---