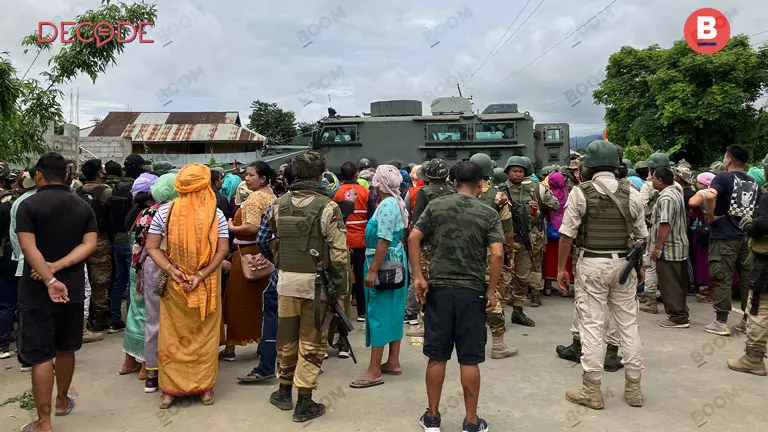 Manipur — N Romesh, 45, has not seen his wife and his house in the last three months. All he has are pictures of a burnt village that were sent to him by a security official. Romesh, who is in a relief camp in Moirang College, is a Meitei. His wife belongs to the Kuki community.

He takes out his phone to show the photo. Incidentally, it is the same photo that climate activist Licipriya Kangujam had tweeted claiming that Meitei houses are being burnt. The photo was originally from Langol village in Thoubal district.

On May 3, Romesh ran for his life from Churachandpur. "I couldn't stay there, they were burning our houses," he said. Romesh's wife has moved in with a relative in the Kuki dominated neighbourhood.

Without the Internet, Manipur has transgressed into a polarised state, filled with misinformation. Many of the people in the relief camp do not know what happened to their homes. All that they have are photos and videos of rampages, beheadings, and burnt villages— quite a few from other locations, some from outside of Manipur.

The Internet doesn't need to work for the mass sharing of photos- there's still Bluetooth and an Android app called ShareMe- both are being used liberally across the ethnically divided state of Manipur.
"We tried to defend our village for a very long time, but when they started burning it down we ran, with our children in our laps," Zou Vang said. He said that they crossed a river in the middle of the night. "We called the police but no help came from them," he said. They were finally rescued by the Assam Rifles and moved to the relief camp.
He showed a video of the burnt houses. This, too, was sent to him by a security personnel.
The All Tribal Students' Union, Manipur (ATSUM) had organised a solidarity march on May 3 protesting against the demand for inclusion of Meitei community in the Scheduled Tribe (ST) category. That day the riots began between the minority Kuki-Zo community and the majority Meiteis. The police say they are still investigating whether the Anglo-Kuki War memorial gate in Churachandpur was set on fire by Meiteis, as alleged by the Kuki community. They also say that mobs may have started burning houses in Bishnupur after the rally ended. There's no clarification on how the riots began.
Over 150 people have died in the last three months, most of them belong to the Kuki community. Thousands of people have become refugees after being forced to abandon their homes.
"It was not a peace rally, it was a call for war against the Meiteis," said T Sanatomb. "They wanted to kill us," he said.
The next day the government decided to shut off the Internet to stop the spread of misinformation. But by then a picture of a woman's dead body wrapped in plastic had gone viral with a false claim that it shows the body of a woman from the Meitei community who was sexually assaulted and killed by people from the Kuki tribe.
BOOM had fact-checked that photo and found it is of an old honour killing incident from Delhi. The woman in the picture was murdered by her parents and her body later discarded in a red trolley bag near Yamuna Expressway in Mathura, Uttar Pradesh.
"When the crisis started on 3 May, some Meitei YouTubers spread fake news claiming Meitei medical students in Churachandpur were raped. This is how violence was incited in the Imphal valley," said Indigenous Tribal Leaders Forum (ITLF) spokesperson Ginza Vualzong.
In July, a video surfaced on social media showing two women from the Kuki community being paraded naked. The incident took place on 4 May, allegedly triggered by the piece of fake news.
The Internet blockade didn't help much with stopping misinformation.
In June, a video showing a young woman being brutally assaulted and finally shot to death by a group of armed insurgents in Myanmar was falsely shared as an incident from Manipur to claim that a Christian Kuki woman was assaulted by armed civilians. BOOM found that the claims are false and the video shows members of the People's Defence Force (PDF) in Myanmar executing a woman on suspicion of espionage.

Numerous false video clips of drones, rapes, attacks did the rounds on social media claiming that they are from Manipur.
Read all our fact-checks from Manipur here.
The Tale Of Illegal Immigrants And Poppy Cultivation
In December 2022, Chief Minister N Biren Singh had said Kuki militant outfits are encouraging poppy cultivation in most parts of the state.
The Meitis often address the Kuki tribe as "Drug mafias" and "Illegal immigrants". "There is a need for the National Register of Citizens (NRC) to get rid of the illegal immigrants from Myanmar," a journalist, who is Meitei, said.

But the Kukis claim that poppy cultivation is rampant across Manipur. "People believe Kukis are the poppy cultivators, but that's not true. All the communities are involved," a Kuki student activist leader said.
Just about a few kilometres away from the Moirang relief camp, in Tourbang in Bishnupur district, security forces have set up buffer zones. They say that constant firing is still on. On August 6 three men from Meitei community were shot dead in the Kwakta area. Hours later, two Kuki men were killed in Churachandpur district.
A day before that the Kuki community had planned a mass funeral. To prevent the mass funeral, the Meiteis had gathered with arms and ammunition at the border between the two communities, that led to Churachandpur.
On both sides, armed civilians, calling themselves "village defence forces", and militant groups have built bunkers. They check all the cars and the identification of the drivers and passengers.
"The situation is far from normal, it is still extremely volatile," Ginza said.
A woman from Meira Paibis, a Meitei women vigilante group, said that there is no way the Kukis can bury the dead in "their land". "They are illegal immigrants from Israel, they should go there and bury their militants," she said.
She was referring to the Bnei Menashe community that claims to have descended from the Manasseh -- one of the biblical "lost tribes" of Israel exiled in 720 BC by Assyrian conquerors. They also belong to the ethnic group which includes the Kuki.
Ginza said that messages floated around claiming that the bodies that are lying around are of illegal immigrants. This was after Solicitor General Tushar Mehta told the Supreme Court that "most of the unclaimed bodies are of infiltrators". "This creates conflict," he said. "This is a war between two communities, we don't know when it will be over. The dead bodies are rotting," he said.
The mass burial was put on hold after a request from Home Minister Amit Shah.
The 'Biased' Media
The Kuki-zo community say that the Imphal media, which is largely run by Meiteis, have propagated false information to the national audience. One such message claimed that Hindu temples were burnt and destroyed by the Kuki community in Churachandpur. "Not a single temple has been destroyed here," Ginza claimed. The Superintendent Police of Churachandpur said that no Hindu temples were destroyed.
The government submissions to the Supreme Court said that 46 cases have been filed for destruction of religious places.
There are more accusations about the state media.
A Kuki student political leader said that although eyewitnesses had said 20-30 people had died in Churachandpur on May 3, the newspapers in the Valley had reported that only two civillians and two security officials were killed.
"The journalists in the Valley were dependent on the Kuki correspondents for information. But after a week of the violence, it got difficult to get news from that side," said Pradip Phanjoubam, the editor of Imphal Review of Arts and Politics. He said the lack of communication and the inability for Meitei journalists to go to the Kuki side led to the one-sided stories.
Kaybie Chongloi, a journalist with Imphal Free Press, had a different story to tell. He claimed that many of the stories that were sent by the correspondents from the Kuki regions were not carried. One journalist from Churachandpur quit the The Sangai Express, the largest circulated newspaper in Manipur, because of this reason. "The mediapersons in the Valley started calling us again from mid-July to report," he said.
There was a huge gap in communication and there may have been bias because of their ethnicity, Phanjoubam said, adding that the fault was with the government. "This is an emergency, they shouldn't have done weekly briefings but two briefings daily."
In another relief camp in Kangpokpi, Pastor Thinna Vaiphei, a Kuki, showed a photograph of a burnt woman's body, she had no clothes on her. "She was abandoned in the village when our houses were burning," he said, claiming that he had taken the photograph himself when he went there to visit with the security officials. He believes she was raped but there is no evidence. A Kuki student political leader said that the picture had gone viral as a Meitei woman, but in reality she was a Kuki.
The polarisation in the state has divided families.

Twenty-eight-year-old Rebecca's mother is a Kuki, her father is a Meitei. Rebecca, who is staying at a relief camp in Churachandpur with her mother and her 2-year-old son, was the last one to flee her village.

"It was really difficult for me to make a decision. Everyone had left for the mountains and I was still in my village," she said.

Rebecca's mother remembers the night the violence began when they were told about a nearby village that was burnt. But she didn't want to flee till late in the evening when every family in the village had left. She remembers the day as any other usual day when she went out, brought fish, cooked and fed the broiler. "We never believed that our village would be burnt," she said.
Her husband stayed behind in the village, now living in a relief camp in Kumbi. He was advised not to go with his family.
Rebecca said that she can't even communicate with her father as he doesn't own a phone. "We sometimes speak through people's phones and he keeps crying every time," she said.
Rebecca said she has tried to persuade him to be with them; he has decided to remain alone as he is scared of the uncertainties that may be on the way.
"He comforted us by saying that we shall meet again soon. But he kept crying. It is so difficult to endure knowing that he is all alone, not having anyone to talk. Sometimes, he would say, I don't think we will ever meet again," she said, breaking down.
Tags

Do you always want to share the authentic news with your friends?
Subscribed Successfully...
Enter Valid Email Id
---