Video Of Bodies Next To COVID-19 Patients In Mumbai To Be Investigated
Sion Hospital & BMC authorities said the video was being investigated & its findings were expected to be reported in 24 hours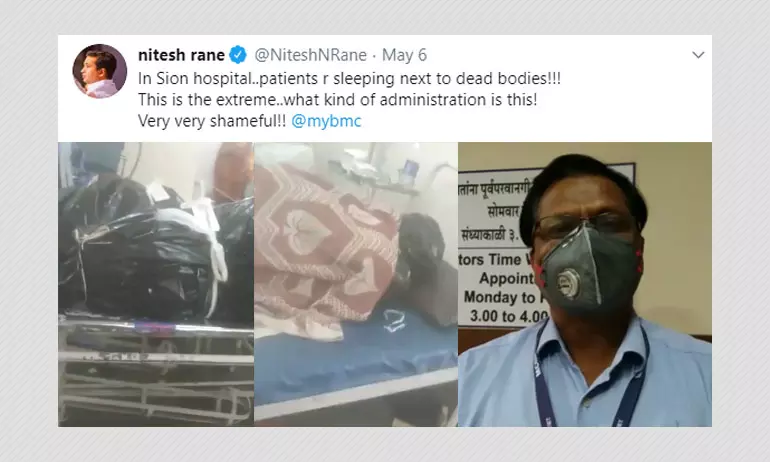 An undated video showing several bodies wrapped in black plastic placed next to coronavirus patients, went viral on Thursday claiming it to be from Sion Hospital in central Mumbai.

Dr. Pramod Ingale, dean of Sion Hospital, previously confirmed to Press Trust of India that the video could be from the hospital but later released a video statement wherein he said the matter was under investigation.The Mayor of Mumbai's civic body - Brihanmumbai Municipal Corporation, Kishori Amonkar also said the video was being investigated by a separate committee, according to news reports.

The video of around seven body bags lying on beds and in the corridor of a hospital next to other patients who are being tended to by family members was shared by BJP MLA Nitesh Rane on May 6, 2020.

Former Maharashtra Chief Minister Devendra Fadnavis also expressed his anguish at the state of affairs in the hospital.
सायन हॉस्पिटल मधली घटना अत्यंत गंभीर आहे.
प्रेतांच्या बाजूला रुग्णांना उपचार घ्यावे लागावे ही अत्यंत गंभीर बाब आहे.
मुंबईकरांचा कोणीच वाली नाही का असा प्रश्न निर्माण होत आहे.
शासनाने तात्काळ लक्ष घालावे व अशी घटना पुन्हा होणार नाही याची खबरदारी घ्यावी.#CoronaInMumbai

— Devendra Fadnavis (@Dev_Fadnavis) May 7, 2020
The video is being widely shared on Facebook and BOOM has received the video multiple times on its WhatsApp helpline.
What Transpired So Far?
On initial contact, Dr. Pramod Ingale told Press Trust of India that the bodies were lying around as the relatives of patients were reluctant to come and collect the bodies.
When further asked as to why the bodies were not transferred to the mortuary, Dr. Ingale mentioned that the mortuary had a capacity of only 15 corpses. "There are 15 slots in the hospitals mortuary, of which 11 are already filled. If we shift all the bodies to the mortuary, it will be a problem for bodies of those who died of causes other than COVID-19."
The hospital authorities added that once a body is packed in a body bag, "there is no scope of the infection spreading". The clarification, however, does not alleviate the fear generated among people due to the virality of the video of patients sleeping next to body bags.
BOOM reached out to Dr. Ingale for further clarifications but he was unavailable for comment.
The Brihanmumbai Municipal Corporation released two videos on May 7 of the city's mayor Kishori Amonkar speaking in Marathi and Dr. Ingale speaking in Hindi where they explain the situation at hand.
Both of them mention the creation of an inquiry committee which will investigate matters in 24 hours. The BMC and the hospital will separately investigate the same.
Dr. Ingale further mentioned that this investigation will help ascertain if this video is from Sion and if it is, help establish when it was recorded. According to a Maharashtra government circular issued on May 2, the body of suspected or confirmed COVID-19 patients are to be handed to their families 30 minutes after demise or are to be shifted to the mortuary if there are details in collecting the same.
Dr. Ingale stated that they need to verify whether the video was shot in Sion hospital and whether it was shot before or after this order.
Dr. Ingale later said that all the hospital staff have been told to take the bodies to the morgue till relatives come to collect them. Amonkar said that most times people are reluctant as they themselves are quarantined, scared or cannot travel.
Also Read: Fake News In The Time Of Coronavirus: A BOOM Study
Maharashtra Health Minister Rajesh Tope told ANI on Thursday that all protocols were followed at Sion Hospital and the bodies were wrapped in black body bags and were waiting to be collected.
A video from Sion Hospital has gone viral on social media where a body can be seen with a patient. There is no point in doing politics over it. As per protocol,if a patient dies the body has to be covered in black to avoid spread of disease:Rajesh Tope,Maharashtra Health Minister pic.twitter.com/7GscHHYMSm

— ANI (@ANI) May 7, 2020
The inquiry committee reports are expected to be shared on May 8. Mumbai city has so far reported over 11,394 cases from the state's total of 17,974 cases.
Also Read: Coronavirus LIVE Update: India's Cases Rises To 56,342; 1,886 Dead
Updated On:
2020-05-08T15:34:17+05:30