Congress Apologetica?: New Links With Cambridge Analytica Raise Questions
An old video showing the Congress party's symbol at the now suspended CEO Alexander Nix's office in the U.K. has come as a fresh headache for the party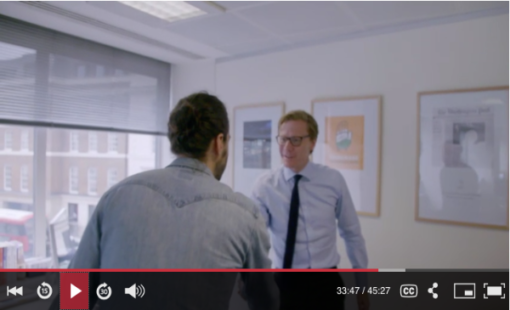 Screenshot from a BBC show that shows Congress logo in the background
Pressure on the Indian National Congress to come clean about its alleged relationship with Cambridge Analytica went up several notches on Wednesday, as an old video showing the party's symbol at the now suspended CEO Alexander Nix's office in the U.K. was revived by Indian journalists.
The video shows a framed poster of the Congress party's hand symbol along with the line 'Development For All' and the website address www.aicc.org.in. (All India Congress Committee)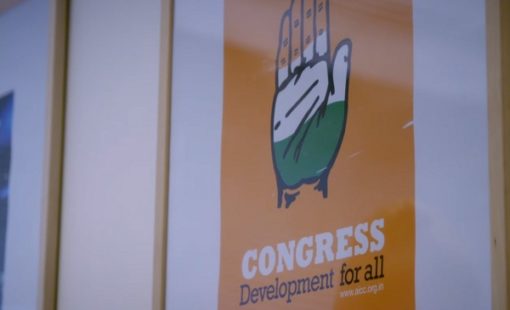 The clip is from a two-part documentary series called The Persuasion Machine, Secrets of Silicon Valley, presented by writer and tech blogger Jamie Bartlett. The documentaries were aired around August 2017. Jamie confirmed on Twitter that while he didn't ask any specific questions related to the Congress, the image from the video is not photoshopped.
This is causing a stir in India. However, I did not ask Nix about Cambridge Analytica's relationship with the National Congress Party, so I cannot comment helpfully on that I'm afraid. https://t.co/pysIrSExy6

— Jamie Bartlett (@JamieJBartlett) March 28, 2018
The existence of the poster at Cambridge Analytica's CEO's office was first reported by the Economic Times.
Led by Randeep Singh Sujrewala offline and IT cell in-charge Divya Spandana, online; so far the party has repeatedly and categorically denied engaging with Cambridge Analytica at a regional or national level.
But speaking to journalist Barkha Dutt, Spandana conceded that the UK-based data analytics company did approach them to work in India but their proposal was never accepted by the party. This is a new revelation from a party that always denied any engagement with Cambridge Analytica.
Exclusive: Congress @divyaspandana confirms Cambridge Analytica DID approach them; there were emails & a proposal for 2019 elections but says party turned them down. "They were client- hunting like agencies do. We said No". Preview of my interview for @themojo_in & @TheWeekLive pic.twitter.com/b9At34NBm4

— barkha dutt (@BDUTT) March 28, 2018
The discovery comes a day after Cambridge Analytica's former Director of Research turned whistleblower Christopher Wylie told the House of Commons committee in the UK that he believed the Congress party was a client of Cambridge Analytica.
"I believe their client was Congress but I know that they have done all kinds of projects… I don't remember a national project but I know regionally. India's so big that one state can be as big as Britain. But they do have offices there, they do have staff there," Wylie told the committee.
Also Read: "I Believe Their Client Was Congress": Cambridge Analytica Whistleblower
Following the nearly four-hour televised session, Christopher Wylie tweeted that he had been contacted by several journalists from India pressing him for additional details.
"To the most frequently asked question – yes SCL/CA works in India and has offices there. This is what modern colonialism looks like," he tweeted.
SCL or Strategic Communication Laboratories is the parent company of Cambridge Analytica.
I've been getting a lot of requests from Indian journalists, so here are some of SCL's past projects in India. To the most frequently asked question – yes SCL/CA works in India and has offices there. This is what modern colonialism looks like. pic.twitter.com/v8tOmcmy3z

— Christopher Wylie (@chrisinsilico) March 28, 2018
The tweet detailed election data analysis work done by SCL India since 2003. While the tweet shows that SCL India had worked with several parties in different regional elections, the company also worked with multiple candidates in the 2009 general elections. SCL claimed that the candidates who employed their proprietary data collection methodologies to form strategies in 2009 ensured their success in the election. However, the tweet does not mention the names of the parties SCL worked with in all these elections or whether they only worked with the Congress party.
For the BJP, these fresh links of Cambridge Analytica to the Congress have come as a shot in the arm as they fight a pitched battle with the party to dislodge it from power in the politically significant state of Karnataka in May this year. The ruling party was quick to target the Congress on Twitter.
After whistleblower Christopher Wylie's confession in the UK House of Commons Committee, Congress posters are spotted being flaunted in Cambridge Analytica London office. How long will Rahul Gandhi and his coterie continue to lie and deny irrefutable evidences? pic.twitter.com/D6C6Yi3Xml

— BJP (@BJP4India) March 28, 2018
While the BJP is lapping up these fresh links to the Congress with both hands, they also continue to be under the scanner based on interviews given by Avneesh Kumar Rai, a political consultant working with Cambridge Analytica's Indian partner Ovleno Business Intelligence.
Also Read: Cambridge Analytica – Facebook Fallout: Time For BJP & Congress To Come Clean
Rai had told several reporters, including news website The Print last week that Cambridge Analytica's actions were suspicious in nature, resulting in him parting ways with the company and its now suspended CEO Alexander Nix. Rai said that he got to know from an Indian-American lady working for a Indian businessman in the US that they had hired SCL UK (SCL UK is the parent company of Cambridge Analytica) to infiltrate the Congress machinery and ensure their defeat.
The Print also reported that Rai worked with BJP leader Mahesh Sharma, currently the minister of state (independent charge) for culture in the 2009 general elections when he fought for the Gautam Buddh Nagar seat in UP. Sharma had lost the election in 2009.
We are glad to bring you this fact check. If you are happy with our mission to keep the internet safe of disinformation, do support us by clicking on the link