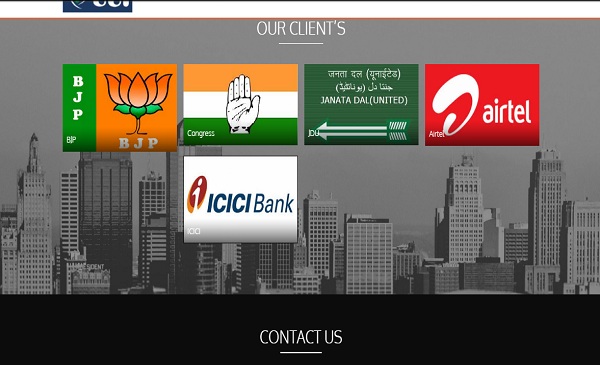 The alleged illegal harvesting of 50 million accounts of Facebook users in the U.S. by British data analytics company Cambridge Analytics has not just impacted the world's largest social media platform but also brought into focus its Indian partner, Ovleno Business Intelligence Private Limited. A political slugfest has broken out between the ruling BJP and the Congress over its association with Cambridge Analytica to use data analytics to influence several elections since 2010.
While the Bharatiya Janata Party (BJP) and the Congress held press conferences to deny any association with Cambridge Analytica and accused each other of enlisting the company's service, an in-depth look at Cambridge Analytica's India partner Ovleno Business Intelligence, suggests both parties need to come clean on their level of engagement with either company.
On visiting the URL www.ovleno.in you are greeted with a message that the account has been suspended.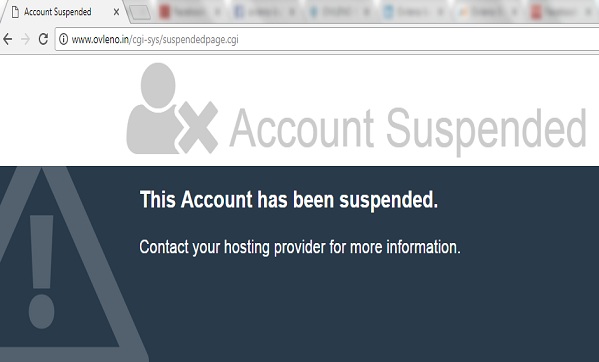 BOOM searched for snapshots of the website using Internet Archive: Wayback Machine tool. Ovleno's 'About Us' page says the company was set up in 2010 to serve political parties and businesses. The company specializes in election campaign management, mobile media management, social media management in addition to providing BPO services, gathering research and doing surveys. (Click here to view the archived link)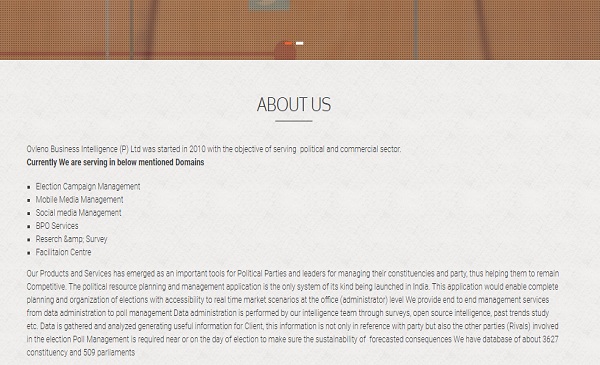 Cambridge Analytica, in turn on its site, has also made no secret of its links with India. Its India section mentions its work during Bihar Assembly Election in 2010 that was won by Nitish Kumar's JD(U) in alliance with the BJP. The bio clearly says, "Our client achieved a landslide victory, with over 90% of total seats targeted by CA being won."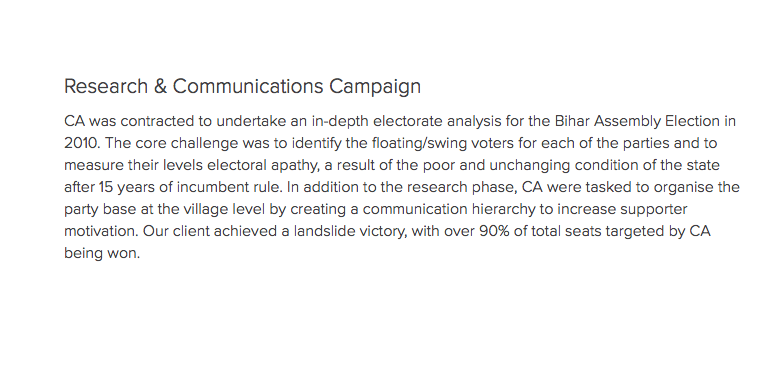 SCL INDIA
The About Us page also has a description of SCL India, a joint venture between Ovleno and London-based SCL Group, the parent company of Cambridge Analytica. SCL India calls itself a research and strategy agency specialising in data management and behavioural change communications for political, social and commercial clients.

The site's 'Political Campaign Management' section lists how it uses data analytics and carefully crafted media communication to target voters.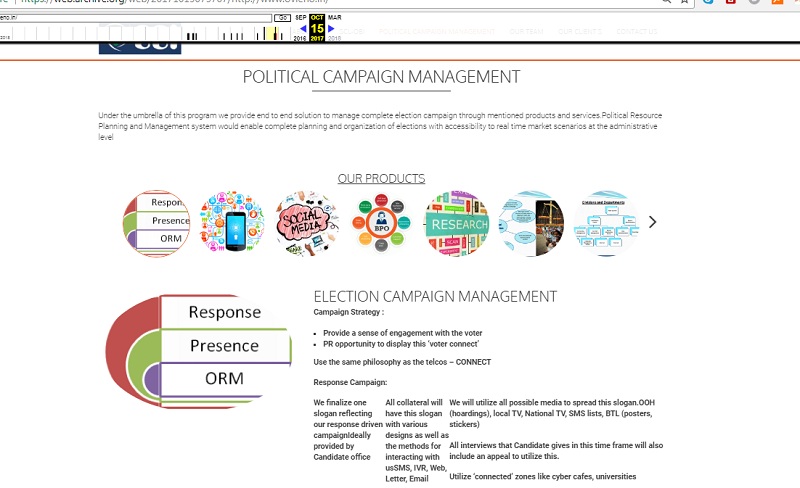 Ovleno Business Intelligence counts the BJP, Congress, Janata Dal (United), Airtel and ICICI Bank among its clients.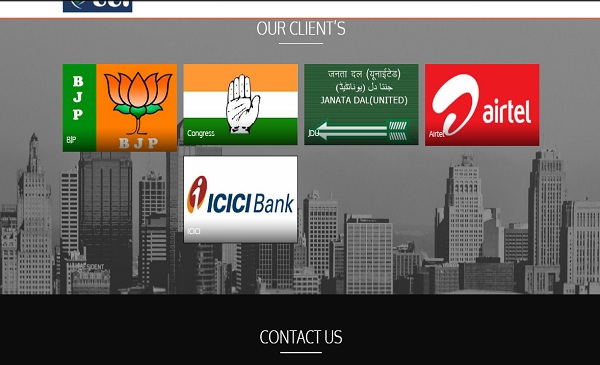 While clicking on these individual links does not yield anything other than the names of the parties, Ovleno's ties with political parties and government officials become clear while going through the profiles of its executive management - Managing Director, Amrish Tyagi and Vice President, Himanshu Sharma.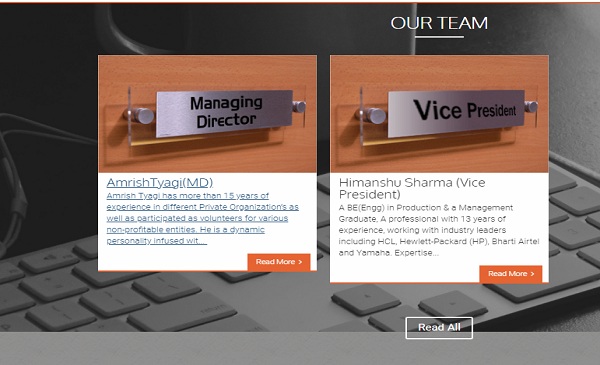 WHO IS AMRISH TYAGI?
Amrish Tyagi is the son of JD(U) leader KC Tyagi and has been described as a political strategist and psephologist. Tyagi has a master's degree in Mass Communication from Delhi University. His first recorded involvement in politics seems to have come during the 2009 national elections when he worked in the war room of BJP senior leader and Home Minister Rajnath Singh's election campaign in Ghaziabad, UP.
"In 2009, when Rajnath Singh was the president of BJP, he contested elections in Ghaziabad, which happens to be my hometown. I was looking after his war-room at the time, social media and all. He won the election and I haven't left the war-room since," said Tyagi in an interview to the Economic Times Brand Equity in November 2017.
It is not clear in what capacity Tyagi worked for Rajnath Singh at the time but his company Ovleno Business Intelligence was founded in 2010. According to SCL Group's website Tyagi acquired Wings Communication Pvt Ltd, which was later established as OBI (Ovleno Business Intelligence).
A profile on Tyagi written by the Telegraph in September 2016 mentions that Ovleno "worked for Nitish Kumar and Arvind Kejriwal in the 2015 elections in Bihar and Delhi, respectively."
AAP finds a mention in reference to Tyagi's work again in an article by the Hindu in 2015. Tyagi is quoted to having said that AAP handled the social media campaign of the Janata Dal (United) which helped make CM Nitish Kumar a visible face on Twitter and Facebook. This campaign was handled by a handful of AAP experts operating from a small office in Ghaziabad.
"The AAP was handling our social media campaign. Their social media team, along with the JD(U)'s team, was reaching out to the public of Bihar from a one-room office in Indirapuram, Ghaziabad," said K.C. Tyagi, the general secretary of the JD(U). His son Amrish Tyagi was heading the social media team, comprising 30 members." - The Hindu.
BOOM got in touch with Ankit Lal, the head of AAP's social media team who denied Ovleno played any role in the party's victory in the Delhi state elections. As far as reports of AAP handling the social media campaign of Nitish Kumar in 2015, Lal said that they were consulted by JD(U) and there was no commercial relationships between the party and Ovleno in any form.
Amrish Tyagi's bio on Ovleno's website says Tyagi acted as an advisor for many political leaders and government officials. He also conducted an opinion poll for television channel News24 during the Uttar Pradesh assembly election in 2012. (Click here to view an archived version of the page.)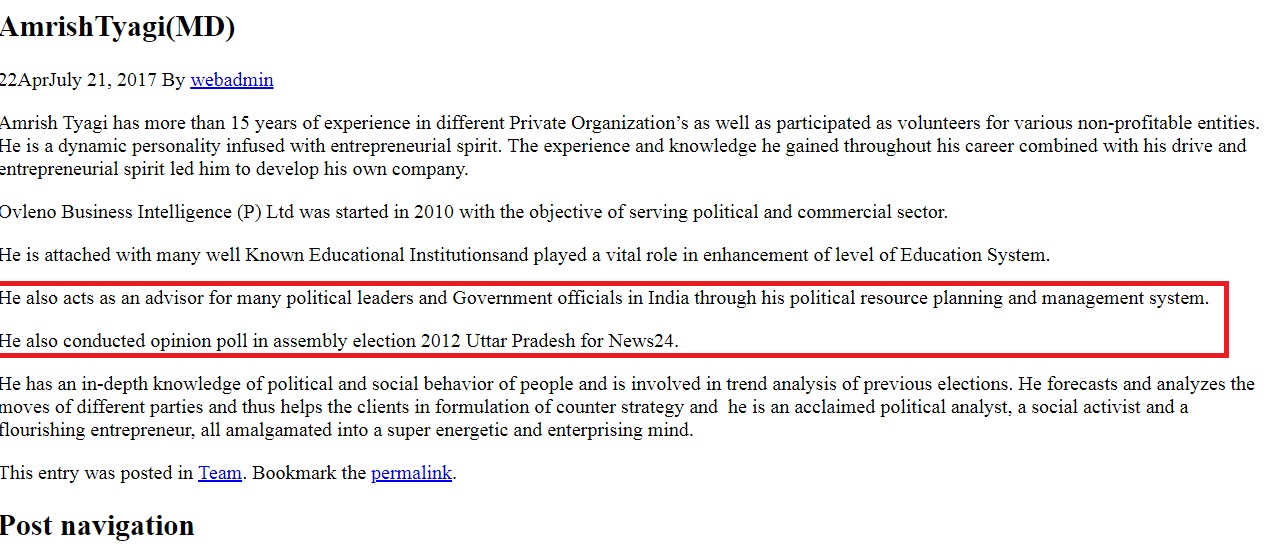 Screenshot of Amrish Tyagi's bio on Ovleno's website
WHO IS HIMANSHU SHARMA?

Screenshot of Himanshu Sharma's bio on Ovleno's website.
Himanshu Sharma's profile says he was responsible for managing four state election campaigns (Haryana, Maharashtra, Jharkhand and Delhi) for the BJP. Sharma helped the party in its 'Mission 272 plus' (seats) by maintaining a call centre that profiled each and every volunteer who extended her or his support by giving a missed call, sending an SMS or WhatsApp message to the toll free number 07820078200.
The number was used by many official accounts of the BJP in 2014.
Volunteer for Mission 272+.

Give Missed call to 07820078200. pic.twitter.com/c1hjKFJHoA

— BJP (@BJP4India) January 3, 2014
Give Missed Call to 07820078200 to become a Volunteer for #Haryana Elections. pic.twitter.com/If33xqowKN

— BJP (@BJP4India) September 12, 2014
Sharma was also responsible for maintaining a constituency-wise database that was provided to BJP candidates as additional support for national elections and state elections of the aforementioned states. Click here to view an archived version of the page.
Himanshu Sharma has stated he is the founder of Shashya Agro, a horticulture company involved in large-scale production of flowers and vegetables on his LinkedIn profile .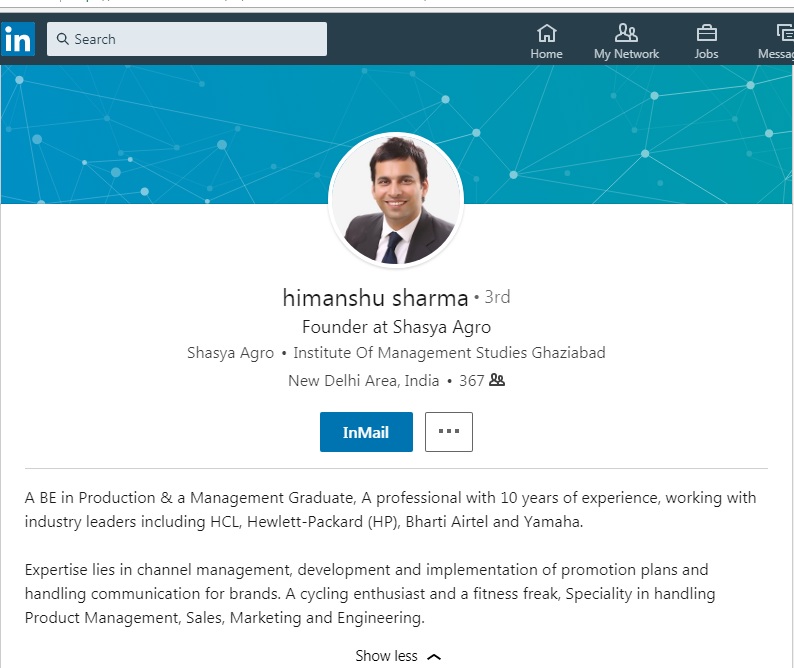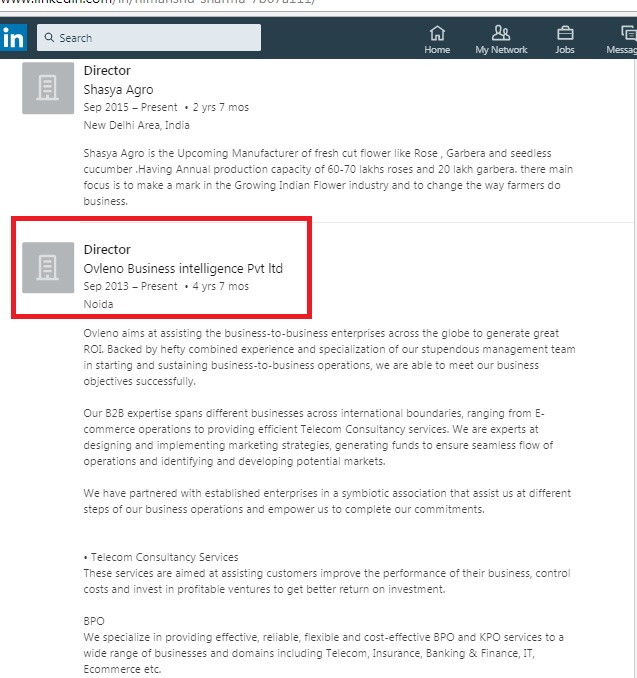 NDTV had reported Sharma's links to Ovleno and his bio mentioning the work done for the BJP in 2014. But they faced criticism from Twitter users who claimed that this could be a case of another Sharma.
The person @SreenivasanJain referred to yesterday, Himanshu Sharma of Ovleno Business Intelligence, doesn't seem to be consistent, actually.

His company's website said he is a "Vice President". On LinkedIn he claims to be a "Director".

What else has he been inconsistent about? pic.twitter.com/mGRIMgCMoY

— Piyush Kulshreshtha (@ThinkersPad) March 22, 2018
But on a more detailed search, BOOM found that his work experience lists him as a director at Ovleno. While the description of his work at Ovleno does not mention politics, his work experience and education on the revised LinkedIn profile are the same that appears on Ovleno's website (Click here) where Himanshu Sharma's work with the BJP has been mentioned.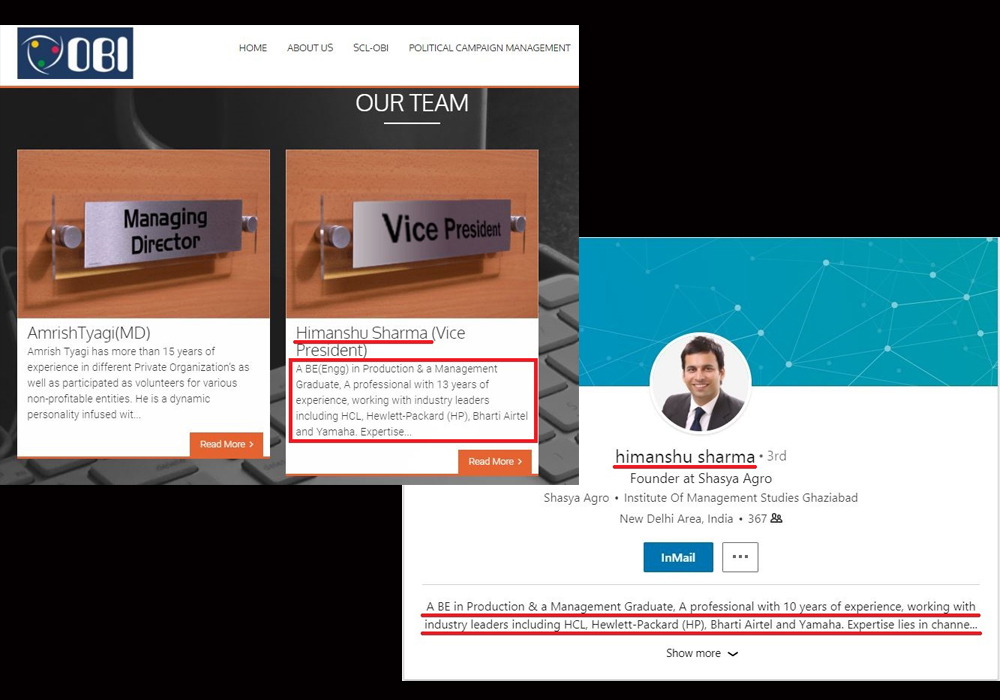 SOCIAL NETWORK MEETS BUSINESS NETWORK
BOOM also looked at Tofler to find out more about registration details and executives of Ovleno Business Intelligence. Ovleno was incorporated on January 28, 2010. Amrish Kumar Tyagi and Sharad Tyagi are listed as directors as per Tofler's records, which appear dated.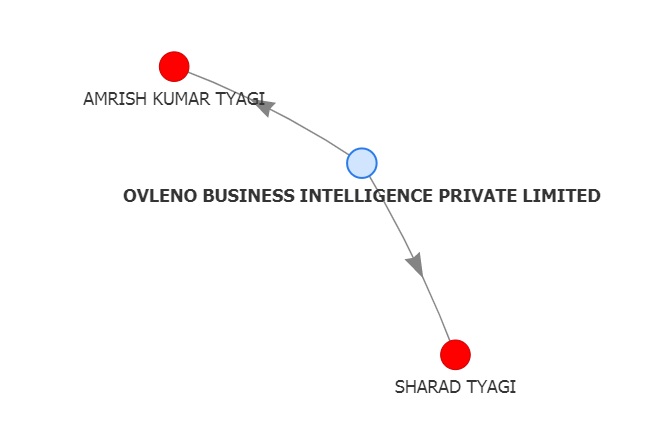 AMRISH TYAGI - CAMBRIDGE ANALYTICA CEO LINK
Amrish Tyagi is listed as a director in three companies as per Tofler's records, - Ovleno Business Intelligence, Span House Customer Services Pvt Ltd and Strategic Communication Laboratories Pvt Ltd.

STRATEGIC COMMUNICATIONS PRIVATE LTD
Strategic Communications Pvt Ltd which was incorporated in November 2011 lists four directors including the now ousted CEO of Cambridge Analytica - Alexander James Ashburner Nix. (Click here to view the link) The other directors include Alexander Waddington Oakes and Avneesh Kumar Rai.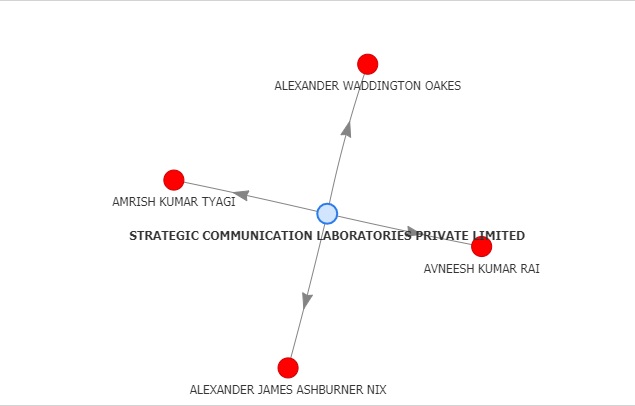 AVNEESH KUMAR RAI
Avneesh Kumar Rai is a director in four other companies other than Strategic Communication Laboratories Pvt Ltd. These are Stealth Analytics & Business Solutions Pvt Ltd, Nikbaa Innovations Pvt Ltd, Debunk Media Pvt Ltd and Debunk Strategies Pvt Ltd.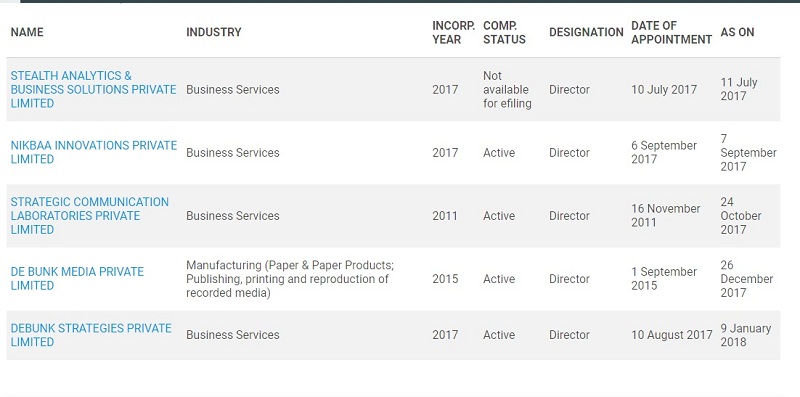 BOOM asked Divya Spandana, the social media head of the Congress party about its links with Cambridge Analytica. Spandana reiterated the party's stand that they have never worked with the data company. On being asked why the party did not refute reports in the month of November linking the discussions between them and CA, Spandana said that she had refuted the reports when journalists contacted her.
Data analytics is a fast emerging field and its use in the electoral process has not been defined in India. It could well be that these political parties have enlisted the help of external data and social media strategists. However, the fact that Ovleno Business Intelligence lists both BJP and Congress as its clients, the deep professional ties between Amrish Tyagi and Cambridge Analytica begs more than an explanation from the government and the opposition party.
Do you always want to share the authentic news with your friends?
Subscribed Successfully...
Enter Valid Email Id