Food Delivery Partners Are Scamming...
Food Delivery Partners Are Scamming Zomato Using A Loophole
Zomato founder Deepinder Goyal took note of a LinkedIn post that pointed out a COD scam. But how are food delivery agents offering food at lower prices?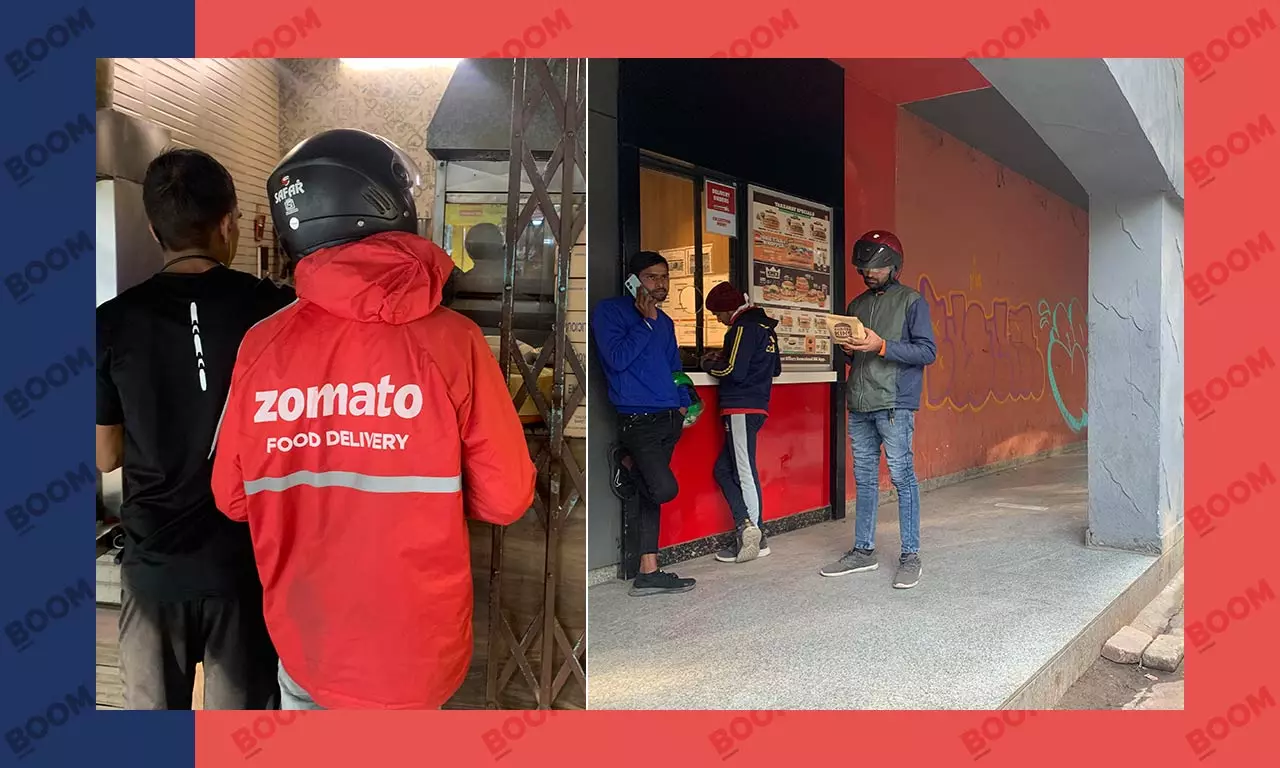 When Vinay Sati, an entrepreneur from Uttarakhand, ordered food from Zomato a few days ago, he was told by the delivery agent while delivering his order how he could cheat and get his food at a much lower rate next time, if he uses the 'cash on delivery' (COD) option on order.

On January 22, Sati shared a post on LinkedIn saying that the 'scam' by the food delivery agents might be causing a massive loss to Zomato.

The entrepreneur wrote, "Yesterday I ordered some Burger King burgers from Zomato And I also made the online payment. And as soon as the delivery boy came after 30-40 minutes, he told me, sir, don't pay online next time. I wonder why he said that. And I asked why brother? The option from the delivery guy surprised Sati and he enquired more about it. The delivery guy told him that the next time he orders food worth Rs 700-800 through COD, he will give it to him for Rs 200. "Aap bas mujhe 200-300rs de dena or 1000rs ke khane ke maje lena (Pay me around Rs 200-300 and you enjoy Rs 1000 worth of food)."
Zomato founder and CEO Deepinder Goyal replied to his post saying that the company is "aware of this" and are "working to plug the loopholes".

So, what is this scam really? And how are delivery agents promising to offer food at a much lower price? BOOM spoke to some delivery agents to understand.
27-year-old Rajeev*, a delivery agent of Zomato told BOOM that the scam that the delivery guy had offered to Sati is quite possible and some of the guys do it in order to make extra money.

He explained that if a customer has put on the COD option, and then cancels the order, the delivery agent has the option to give it to anyone. "We can give it to the customer at any negotiable price and the money is ours," he said.
There is no rule or guidelines for a delivery agent to return food to the seller. The seller doesn't accept it back either.
"For example, if a customer orders food worth Rs 1,000 on the COD option, normally he has to share the OTP with us while making the payment," he said.
However, sometimes some delivery agents tell customers to cancel the order. This is where the trick is. "The delivery partners give the food to the customer at low prices and this is how the agent makes the money," he said.
The payment for food orders cancelled after pickup by a Zomato delivery partner is paid to the restaurant. And the food is considered to be a waste.
Speaking to BOOM a Delhi restaurant owner said that in every COD order even if the customer cancels it on Zomato, they receive full payment of the order from Zomato.
"We receive full payments on a weekly basis from Zomato and we are not concerned if the order gets cancelled by the customer or if Zomato receives payment on it," he said.

He added it is the loss of Zomato not of the seller.

BOOM has reached out to Zomato for comments, the story will be updated if and when they respond.
Other agents from different food delivery apps told the same thing to BOOM, explaining the scam that is practised quite often.
There is a penalty that a customer has to pay on their next order after cancelling an order. Rajeev told BOOM that they tell the customer to deduct that amount and pay them 30-40 per cent of the remaining amount.
Zomato asks multiple reasons to the customer before they cancel the order like If the customer is cancelling the order because they want to pay online. The other options for cancelling an order on the app are: "Want to order something else, selected the wrong delivery address, I was expecting a lesser delivery time, restaurant asked me to cancel etc."

Before accepting the cancellation of an order, the app shows the delivery time of the food and mentions that they do not usually allow cancellations because it leads to food wastage, but they accept it because it is a default setting in COD mode.

There are other penalties for cancellation too. The food delivery app sometimes does not allow the customer to use the COD option on their next few orders once they cancel an order.

Rajeev told BOOM that the cancellation charges and what will happen to the customer's next orders depend upon the order. "Sometimes it charges them an amount and sometimes bars them from the next few COD orders," he explained.

Why are delivery agents doing this?
Sitting on a chair in a restaurant waiting to get his order ready, 28-year-old Ravi* said that not all but a few delivery agents follow this scam in order to make extra money. He explained that even after spending 12-13 hours on the job every day, they do not earn enough money.
He opened his login ID and scrolled through the previous week's login hours history- he revealed that on an average he was earning around Rs 800 a day.
The delivery boy said sometimes they deliver orders to far locations and Zomato calculates the delivery charges based on the kilometres it shows from one side. "We go back without finding any return orders and in this process, we do not earn much on such orders," he explained.
Also, he said due to rising petrol prices, they are finding it hard to pay the bills despite working for long hours.
He said sometimes delivery agents use this loophole on food delivery apps especially if they realise that the earnings of the day are low. "This option is highly risky because if a customer reports it to the company, the boy will lose his job forever. The company blocks his login ID for a lifetime," he said.
Rajeev* and Ravi's* names have been changed to protect their identities.

Do you always want to share the authentic news with your friends?
Subscribed Successfully...
Enter Valid Email Id
---