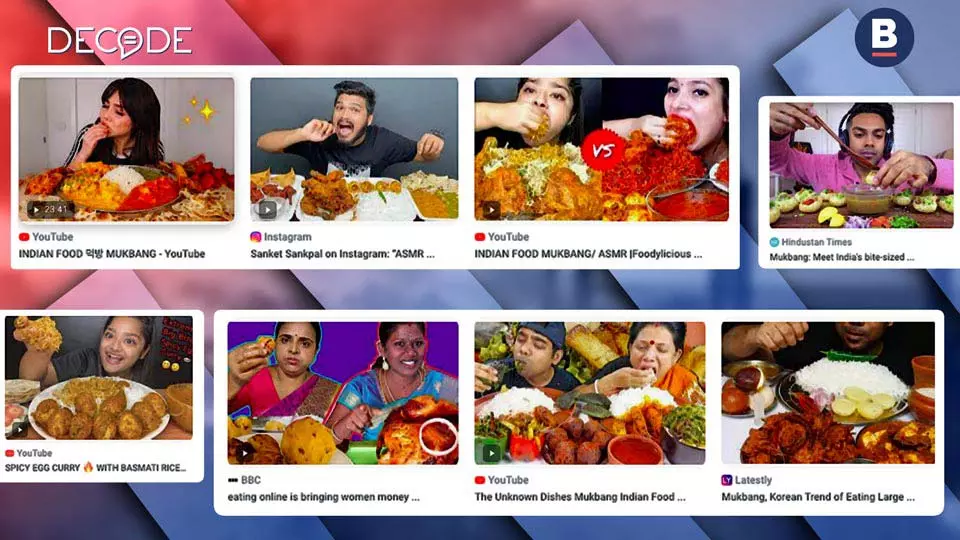 Sanket Sankpal, a Mumbai resident and his brother were invited to Sangli, a small town in Southern Maharashtra. They left in the wee hours of the morning to make it in time for lunch. A short half-hour after their arrival, they began their 'task' of eating a giant thali with 42 items. It was a restaurant collaboration and Sankpal is a popular YouTube creator who goes by the handle Wake'N'Bite. There was a camera setup in place and they ate as it recorded, finishing the thali in a matter of minutes.
They spent the night in Sangli to rest, waking up early the next morning for yet another food challenge. Right after the food challenge, they took an eight-hour drive back to Mumbai.
Sankpal admits that driving after a challenge the way his brother does is extremely laborious. "We don't talk about this in the BTS videos but sometimes our jobs can get difficult," he says.
Sankpal is a food challenge creator who gradually took to Mukbang, a Korean word that translates to 'eating and broadcast'. A wildly popular trend in South Korea that has been around for the past decade originated on the live-streaming platform AfreecaTV in 2010.
The huge potential to get views and shares has got hundreds of Indian content creators to sit down in front of a camera with copious amounts of food and record videos of them eating.
The food changes, as do the ambient sounds and the time of the day, what remains constant is the large quantities and the fact that they are eating alone; unless it's a challenge. The trend was born out of social isolation and the inherent need to share meals among the Korean youth.
A simple search for Indian mukbangers will lead you to numerous YouTube channels and Instagram pages. These mukbangers, across regions in India, have made the trend their own by using traditional food and native ingredients. Some even cook their own food and share recipes as a bonus. Most feature the signature sounds of chomping that viewers find appealing and little to no talking. Background music is rare, and the camera remains stationary for a close glimpse of the variety, texture, and colour of the food. It gets messy, and that we're told, is part of the appeal.
On a YouTube channel called Craziest Food Competitions, videos range from the bizarre to the revolting. There's cake dipped in kadhi, Frooti being poured into Maggi, mega-sized bread pakoras, among others. They are all being consumed at great speed often with a time limit, or with two participants competing against each other.
A couple of months ago, one of the YouTubers who features on the Craziest Food Competitions channel, Chandu Naresh who prefers to call himself, 'Chandu sab ka bandhu', responded to a challenge by popular YouTuber Carry Minati. The challenge was to squeeze lemons into a glass of buttermilk and drink it. Carry Minati promised Rs 10,000 to anyone who finishes the 'khatti lassi' in less than 1:30 minutes.
Intercepted with choking and coughing, the YouTuber finishes and challenge and announces, "This isn't lassi, it's poison".
Back in 2019 when the food challenge creators' industry was still unknown, 28-year-old Chandu Naresh started out his journey into Mukbang from Nagla Jai, a village near Mathura, in Uttar Pradesh. Now, the channel he posts his videos on has over five lakh followers.
The channel was started over four years ago by farmer Sanjay Singh, who is a mukbang creator himself. While a majority of the videos run into a few thousand views, there are some that have hit millions of views, including a Chole Bhature eating challenge at two million and a Funny Gulab Jamun Eating Challenge at 3.8 million in the early days. A Samosa Eating Competition during the lockdown by Chandu garnered 4,42,000 views.
The competition in the field has grown over the years and running a food challenge channel is no easy job. There are too many people doing mukbang now.
"You always have to push yourself to eat more than the others. I saw the Jolo chip challenge; people were eating two packets, I ended up eating three," he recalls adding that the spices burnt his cheek, lip and tongue. "I drank ghee after that to deal with the spice and the stomach burn," he says.
Chandu also keeps a keen eye on others in the field, trying at every stage to eat larger quantities or keep better timing — so he can get more views and in turn more branded collaborations.
He claims that his appetite continues to increase with more and more challenges.

Decode spoke to eight Indian Mukbang creators to piece together their journey into the world of food challenges— a competitive eating sport for Internet views that can lead to several health challenges— to understand why and how they do it.
YouTube first
A civil engineering graduate from Mumbai, Sankpal wanted to be a YouTube star. He started a dance channel first and gave up when the first few videos didn't get many views. A singing channel after this didn't go well either. In 2017, shortly after these two attempts, he took on food challenges.
"I used to watch food videos from other parts of the world while eating. While looking for these food videos I was introduced to mukbang. It's quite addictive and you'll end up watching all the videos," he says of his introduction to the world of YouTube food challenges.
His first video, a pizza challenge, hit one lakh views in a single day. Sankpal had found the route to internet stardom, and this was how his popular YouTube channel Wake'N'Bite, which now has over 2.5 million subscribers, was born.
After the pizza challenge, there came other competitive challenges; 22 idlis in two minutes, five kgs Haleem in 40-50 minutes, 200 paani puris in 30 minutes, 1.2 litres of Maaza in 12 seconds, and so on. "I didn't eat puri for a month after the challenge, and that happens with most food items except staples like roti, rice, and noodles," he says. Sankpal says that with the kind and quantity of food mukbangers eat, cravings eventually disappear.
Sankpal was raking in the views through a variety of cuisines and then he started introducing his family members on his channel. His brother, his mother, and his father, have all appeared in food challenges. The mission was to make the YouTube channel a hit.
"I have a friends' series, girls vs boys' series, brother vs brother series, mom vs dad series," he says that often these demands come from his fans.
Out of the 600 videos so far on his YouTube channel, 12 fall into the mukbang category. Most of them are shot in a home studio setup by his school friend Sharel Kondru, who is also his manager now.
The food challenge creator's videos feature a combination of Indian food and trending items from around the globe: fried chicken, Jolo chips, fiery wings, and more. For instance, for the Korean hot noodles challenge, he brought home packets of instant noodles and cooked them at home.
Sankpal also hosts an ongoing thali challenge and has sampled 40-45 across the country and in Dubai, on camera.
His speed and the unique challenges he undertakes are, according to him, his strengths. Sankpal travels to different cities and records videos of him doing food challenges. On his trip to Dubai, he threw in a skydiving video that his fans lapped up— it encouraged him to explore vlogging and consider other avenues of internet fame.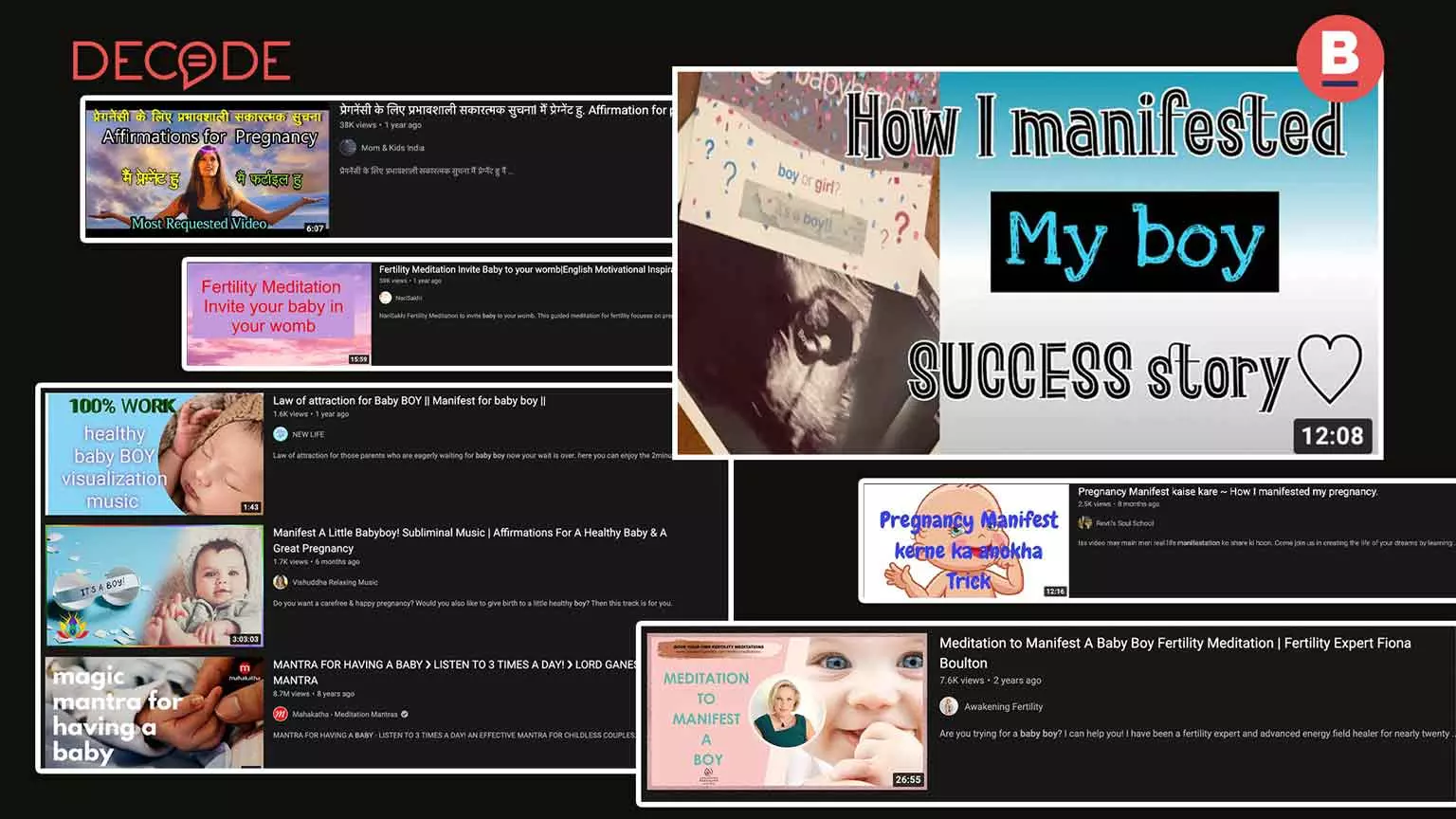 Also Read:Indians Are Willing To Pay To 'Manifest' A Baby, Especially A 'Boy'

"I can't be doing food challenges all my life. It will affect my body eventually," Sankpal says. "I can do this for another five or six years. I might use my channel to do reviews eventually or I could use my brand to start a food business. Once I have a family, I might do family and travel blogs. There will be food but there may not be challenges," he says.
But for now, all his efforts are concerted towards achieving 10 million followers by the end of the year.
From the hinterland
Much like Sankpal, for 22-year-old Deepika Verma who is based in Lucknow, mukbang was simply a route to internet fame. "YouTube was my backup career," she says.
She started her channel Foodie Bobby in 2017 and is self-titled 'first Indian female mukbanger'. A law graduate and fitness freak, Verma doesn't seem to find mukbang an odd choice.
Her first smartphone introduced her to the world of YouTube videos, especially those of popular American mukbanger Neo Peggy. On her own, she started with videos featuring restaurant reviews and did the occasional food challenge. It was while browsing food challenge videos that she encountered the word 'mukbang' and became fascinated with the style.
A food lover who enjoys all kinds of cuisines, Deepika feels that mukbang is a good way to showcase Indian food to the rest of the world and includes it in her videos often. "Earlier I would get my sisters to shoot the videos or even participate in them, but now I do it myself," she says, adding that she edits her own videos too, two every week.
Verma keeps a tab on trends in mukbang and food challenges from around the world and replicates them on her YouTube channel. For instance, she tried the popular 'jolochip' challenge that derives its name from the fiery Indian ghost pepper or bhoot jolokia chili. "They left me with a stomach burn," she recalls.
In 2018, the early days of her mukbang videos, Verma would do a combination of videos at restaurants and at home. But now, she prefers ordering in her meal and shooting the videos at home. A lot of time, she admits, goes into selecting the type of food and restaurant. "I maintain a diary where I plan what to eat each week and how much," she says, adding that mukbang is simply about large quantities of food and not timing like in food challenges. She also relies on her followers for suggestions. "If a few people are requesting me to do the same food or challenge, I take it up. It's how I did the KFC Meal Box challenge with my sister," she says. The videos has over 1.6 million views.
She follows a strict schedule, shooting on Wednesdays and Sundays, and posting the videos online. She edits them herself and admits being a mukbang creator while pursuing a full-time degree is often difficult.
"I am doing something creative and something I love. Even if I become a judge, I will keep doing mukbang on the side," she says, adding that she sees this as a lifetime vocation and believes she will be able to stick to it owing to the manageable quantity of food she eats in her mukbang videos.
Age is no bar
While most Indian popular mukbangers belong to Gen Z and are in their twenties or early teens, Porchezhiyan, an Ayurvedic practitioner from Kallakurichi in Viluppuram district in Tamil Nadu, at 59, is an exception. He goes by the name Saapattu Raman on social media and can be spotted wolfing down everything from platefuls of rice to a spread of hibiscus flowers.
He speaks directly to the camera in Tamil, and like most other mukbangers rarely uses any music. Once done talking, it is the sounds of chewing and crackling that take over. It is quite evident though that Porchezhiyan enjoys a big meal finishing off remarkable quantities with pure glee. He quickly points out that the 2.5 litre dragon fruit juice challenge that he once did was the only exception. "I felt like I wouldn't be able to finish it," he says, reminding us of the magnanimity of the disaster that could have been, on live stream.

Porchezhiyan's mukbang journey began through his son Sabari Kumar, 28, who was a medical student in Ukraine.
"I was exposed to an international community and had heard of food challenges and mukbang all over the world. There was nothing like that in Tamil Nadu," he says adding, "I've always seen my father eat large quantities of food, as much as 2 kgs of meat at one sitting, and I thought it was a good idea to cash in on it".
Porchezhiyan agreed and felt it was an interesting way to popularise the local South Indian cuisine that he loved so dearly. On Kumar's return, the YouTube channel Saapattu Raman was launched on May 11, 2018, with its first video where Porchezhiyan was seen with 200 pieces of ripe jackfruit. "We started with whatever was available at home. It's also auspicious to start with something sweet," Kumar says.
Now, once every week, Porchezhiyan, sits down in his kitchen, at a table lined with banana leaves and eats an enormous quantity of food in front of a camera. Kumar shoots the video.
The father-son duo has a staggering 1.34 million followers on YouTube. Their videos receive between one and two lakh views in the first couple of days and have seen their highest at 20 million for a video featuring white rice and a traditional fish curry. On occasions, Kumar joins him at the table.
What started as an attempt to popularise local cuisine has now expanded to include cuisines from other regions, all cooked at home largely using organic produce cultivated at Porchezhiyan's own farm. Lesser-known native heirloom varieties of rice also form a part of his meals.
"We usually plan the menu a night before or on the morning of the shoot. My wife cooks the food at home, and I skip breakfast on the day and instead just have a glass of juice," Porchezhiyan says, making the act sound a lot more effortless than we would imagine.
Money matters
While most mukbangers Decode spoke to started with the goal of fame, the economics came into play quite quickly. With millions in following and lakhs of views in days, mukbang, they say, can be a lucrative career option. The stream of money isn't simply limited to advertising on YouTube but comes from brand and restaurant collaborations, too.
"There is a process before you get there. You must spend the first few months building your channel and amassing a decent following. Then, you can approach restaurants for collaborations through a barter system. As your following goes up, you can then demand a price for these collaborations," Sankpal explains.
The money, Sankpal admits, started coming in soon, at roughly six months into creating his YouTube channel. "It was small though, only Rs 5,000-6,000 a month," he says, adding that he now makes anywhere between Rs 1.5 – 2 lakh each month through social media YouTube, Facebook, and the various brand and restaurant collaborations.
Saapattu Raman makes a similar Rs 1 lakh a month through his YouTube channel. However, he has also used this opportunity to create and sell products branded under the Saapattu Raman label as an extension of the mukbang. There are wood-pressed oils, organic honey, and the most popular, his own 'digestive secret' in a bottle. The sales, they say, have picked up, and Saapattu Raman has launched his first store in neighbouring Salem.
For Verma, money through social media channels started coming in nearly a year after the channel was launched and she had hit 40,000 unique views in line with YouTube's policy at the time. "It was roughly $150-200 (between Rs 11,000 and Rs 15,000) then and has since consistently gone up," she says but declined to reveal her current earnings. For now, directly from social media channels, is the only remuneration Verma receives and isn't too keen on restaurant collaborations.
For Chandu, mukbang and food challenges form a huge part of his income. Hailing from an agricultural family and dividing his time between his village Nagla Jai and Agra, he manages to get a restaurant collaboration or two each month. "I make roughly rupees one lakh a month from YouTube alone and Rs 1.5 lakh including the collaborations," he says, adding that often challenges come from the cities of Delhi and Chandigarh and remain dependent on his travel plans.
Brands and restaurants offer challenges to these creators with fixed food quantities and time.
"I once went for a food competition in Delhi, it was for a thali. The thali weighed 14 kgs, the utensils weighed 7 kgs and the rest was food. The challenge was meant for two people. The prize money was Rs 2 lakh for finishing the thali. We couldn't finish it and stopped when there was about 15 percent left," recalls Chandu
"For restaurants, not finishing the food is a win-win. They get the advertising they want without having to pay us the prize money," he adds.
At other times, the deal is negotiated well in advance and includes food and payments. "The payments depend on the views. The price is roughly Rs 25-30,000 if the views cross one lakh in five days," he says.
The health equation
In 2018, several news outlets reported that the Korean government was looking to restrict mukbang due to a spike in obesity and related health conditions in the country. The risks of a viral eating fad that results in the consumption of large quantities, often fatty food, as one would imagine, are all too real.

Shradha Vijan, a senior registered dietician at a private hospital in Mumbai, admits it's the stuff of nightmares for practitioners like her. "Our bodies are not physiologically made up to have those quantities of food at one go. They are going to have repercussions someday, even if they lead healthy lives otherwise," she says listing out obesity and related conditions like type 2 diabetes, hypercholesterolemia, hypertension, and metabolic syndrome, among the dangers of the food fad.
Eating disorders are often associated with mukbang, but Vijan says that "there are many other factors to be considered for it to be a pathological condition".

Gurgaon-based psychotherapist Asees Kaur Chadha, also clarifies that eating disorders have several markers of extremities and it remains difficult to see a correlation. "However, if they are having to control their food intake on other days, it has definitely affected their eating habits," she says.

Sankpal and Verma, two of the three mukbangers who shared their stories with Decode, say that they maintain strict diets and a workout regimen barring the times they are eating on camera. Sankpal believes in rigorous exercise using a treadmill at home, and detox using lemon and jeera water frequently. He has also stopped eating sweets entirely, unless for a challenge. His meals on days other than mukbang videos are made up of roti, sabzi and dal.
Verma on the other hand goes on a calorie-deficit diet before her videos and maintains an intense workout schedule and spends two and a half hours at the gym every day. Her breakfast is made up of oats, peanut butter and bread and lunch of home cooked roti and sabzi. Her diet includes no junk food.

Porchezhiyan claims he has no health issues and doesn't believe in working out but swears by his digestive formula.

"Some people can't have more than two rotis, but it depends on your body. My body has adapted to this (mukbang)," claims Sankpal.
Chandu isn't worried about his health at the moment either and gets physical exercise in the form of long walks only. He is aware that this isn't a career that will sustain him for more than a few years."Age is on my side right now and I may not be able to digest all this food a few years later. I will turn into a food blogger then and get younger ones to do food challenges," he says.
Vijan is quick to point out that mukbangers and those following food fads need to be careful and watch out for bodily signs. "If they start gaining a lot of weight too quickly, have acid reflux or gastric issues, it means their gut is not accepting this food. They need to stop immediately," she says.

Ishi Khosla, another nutritionist Decode spoke to, seemed aghast with the videos, and declined comment beyond saying, "Ill health is the only implication. There is zero respect for the body".
While the physiological concerns of mukbang aren't difficult to see, we wondered about mental health implications the trend could have on the creators. Dr Nirmala S Rao, director, Avishkar Centre for Self Enrichment, believes it can result in the brain craving larger quantities of food in the future. "It is the need for attention that is making them do this. Social isolation especially during the pandemic also has a part to play. Additionally, there are too many idle people who are available as viewers to such fads," she says.

Chadha, who spent some time viewing the videos and the research around it, says, "People seem to know it's bad for them but they derive certain pleasure out of it. In this case the pleasure comes from getting likes and followers. If they were deriving actual pleasure from overeating, they would be doing it every day". She draws parallels with smoking and alcohol consumption to further elucidate this point.

Both Vijan and Rao, recommend a positive trend to tackle this otherwise damaging eating fad. "If it's about eating a meal in front of a camera, why can't it be roti, sabzi, dal, chawal, and dessert? Eat the food but change the quality and quantity," says Vijan.

Competition: How to get more views
Sanjay Singh and Kajal, a mukbanger couple based in Agra, started their YouTube channel 'Indian Mukbang Show' over two years ago. They used home-cooked food, stuck to limited quantities, and developed a following over this time. "My wife can't eat a lot so we decide quantities based on that. We don't mind leaving some food on video either. It's usually more than normal, in this case two people eat worth that of four people," says Sanjay, admitting that more food does usually lead to more views.

The competitive nature of food challenges is hardly missed in these viral videos. Almost all these videos have a stopwatch recording the time of eating. The challenges are about beating someone's record of how fast they can eat.
But Sankpal believes that mukbang for Indian creators is healthier than that for their Korean inspiration. "I believe in giving my followers variety through food and locations, so I don't worry too much about the competition," he says. "But sometimes we do challenge each other, especially during the festival season like Diwali. I once challenged a gaming channel called Big In The Game and ate pizzas in record time," he says.
Verma says envy is a large part of why they do what they do. "Indian mukbangers overdo it because of the competition," she says. Explaining further, she adds, "Mukbang is about large quantities of food".

Verma also suspects several Indian mukbangers use clever editing techniques but actually consume much less food than what they show in their "fake videos". "When you place a certain quantity of food in the frame, they are expecting you to eat it.So I keep my quantities moderate. After all, the most crucial thing about mukbang and YouTube is consistency," she says.

Then, there are those who eat worrying amounts of food. "Maddy Eats and Foodie Darling (YouTube mukbangers) should be careful about their health and not get carried away with Korean trends. They are very young and could face health issues later in life," says Verma.
When it comes to restaurant collaborations, both Verma and Sankpal claim that establishments discuss meal quantities in advance and there is no pressure based on the quantity. "But you are responsible for your own health. A restaurant once made me sign a waiver to that effect too," says Verma.
Yashvika and Payal, another couple based in Mumbai, who have recently been in the news for their same-sex wedding with Hindu rituals, tried their hand at mukbang through their channel Yashals Mukbang. They had a popular vlog and wanted to add a YouTube channel to their repertoire. "Initially, we thought of a recipe channel. I have a good diet and I am very fond of cooking," says Yashvika, adding that Payal was hooked to mukbang videos, especially those of Indian YouTuber Akshanshu Aswal. "His videos would make us crave for food," she recalls.

The mukbang and food challenge world was already crowded by then and the two had to find their own niche. "We noticed there were very few vegetarian mukbangers, and most of the food that was being consumed on camera contained meat. Since we are both vegetarians, we started a vegetarian channel with home-cooked food only except the occasional street food," says Yashvika.

Yashvika started alone and soon enough followers urged the two to try out food challenges. Their first was a 100 paani puri challenge.
Payal explains that mukbang and food challenges often attract fleeting views and very little audience engagement. "It's why you will see several videos with many views while the person may not have a large number of followers. The truth is, it's something people watch to satisfy their cravings and can always find another video, if you don't post frequently," she says.
It's also why brand collaborations aren't common with YouTubers who do mukbang and food challenges. "Collaborations have a lot to do with audience retention. Comments are a big sign of that. If there are no comments and only viewership, there is no engagement. Very few channels get good collaboration offers," explains Payal.
Second-hand eating
Mukbang has often been referred to as second-hand eating, where viewers derive pleasure from large quantities of food being consumed in front of them without the calories or guilt directly affecting them.
The rise of Indian mukbangers with millions of followers also signals the trend of increased mukbang viewing in the country. Most mukbangers themselves began as loyal followers of their counterparts trying to emulate these trends within their settings thereby establishing their own viewership and communities.
"When looking up mukbang videos, a term called ASMR (Autonomous Sensory Meridian Response) kept cropping up. It's a term used commonly on the internet for content that produces a sensory, often calming experience in the viewer. In mukbang, several of your senses are being employed. There's the visual of the food and the sound of the crunch. The colours are red and orange with sauces and meat. They tend to look more appetising than blue or green on screen," explains Chadha.
She adds that although there isn't much research available on the trend, a correlation between the pandemic and the popularity of these videos is likely. "People watch it because they are lonely. Because of Covid, there has been no fine dining. Could it be that it has had a surge in recent times because people have not been able to go out?" she wonders aloud.
While mukbang or second-hand eating for viewers, may not come with the often-grave health risks one would associate with creators, Chadha believes that it is not without an impact. "Several studies including one conducted in Korea in 2020 established a link between the eating habits of mukbang viewers and others. The eating habits of these viewers were strongly impacted," she says.

Do you always want to share the authentic news with your friends?
Subscribed Successfully...
Enter Valid Email Id
---