AAP Sweeps Delhi: The Who And The How

The Aam Aadmi Party (AAP) registered an unprecedented, staggering win in the 2015 Delhi Elections by securing 67 of 70 seats in the Vidhan Sabha, putting a firm end to the Modi wave in the capital.


This win percentage of over 95% has only been seen twice before in the Indian electoral history – in Sikkim and Bihar. Arvind Kejriwal, the AAP chief, won the New Delhi seat with a margin of 31,583 votes over BJP's Nupur Sharma. BJP's CM candidate Kiran Bedi lost to S.K. Bagga in the Krishna Nagar constituency by a margin of 2,277 votes.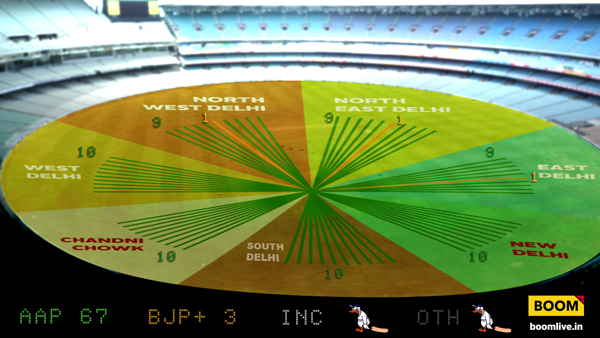 The only three candidates who survived the AAP sweep were Jagdish Pradhan, Vijender Gupta and Om Prakash Sharma from the Bhartiya Janata Party (BJP). The Congress scored a duck for the first time ever. As BJP were unable to win the minimal seven seats (10 per cent) required to form the opposition, this sensational result could have meant that there would be no opposition party in the Assembly and no opposition leader.
AAP leader Kumar Vishwas, however, said the party would give the BJP Leader of Opposition status despite winning less than seven seats.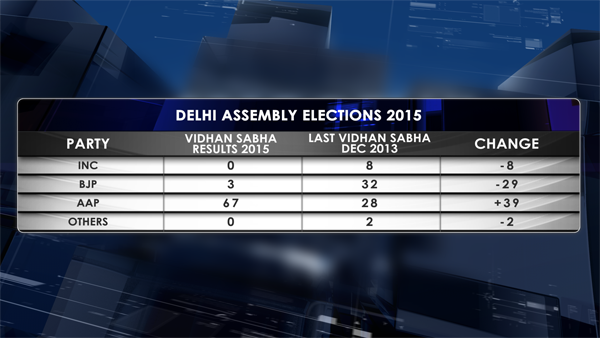 Out of the 67 seats that AAP secured, 45 of them were won by a margin of over 20,000 votes, further underlining the magnitude of the landslide win.
"No exit polls predicted this kind of AAP victory. It seems that the turn out of the lower classes out rode the entire BJP support. This is a complete annihilation of all opposition parties," said Yashwant Deshmukh, the Managing Director and Editor of CVoter Foundation.
"When there is something historical of such unprecedented scale, it also becomes unpredictable. If I was insane, I could have predicted such seat share projections. These numbers are beyond the sanity of any projection borders," he added.
We are glad to bring you this fact check. If you are happy with our mission to keep the internet safe of disinformation, do support us by clicking on the link