'Yeddyurappa Government Most Corrupt': Amit Shah Scores Self Goal
Amit Shah's embarrassing faux pas in poll-bound Karnataka. Shah says Yeddyurappa government would win the first prize in a hypothetical corruption competition.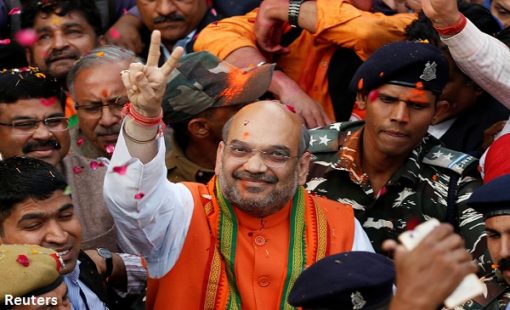 File photo
Bharatiya Janata Party President Amit Shah gave political rivals a free hit on Tuesday when he misspoke at a press conference in Karnataka saying if ever there was a competition for corruption, the Yeddyurappa government would win the first prize.
"A retired Supreme Court judge recently said that if we hold a competition for the most corrupt government in the country, then Yeddyurappa government shall be given the No. 1 award," Shah rattled off.
Shah quickly corrected himself when BJP MP Prahlad Joshi seated next to him audibly whispered "Siddaramaiah", the name of the incumbent chief minister belonging to the Congress party.
BS Yeddyurappa, the party's chief ministerial candidate, who according to news reports looked stunned by the faux pas was reported to have told reporters Shah's statement was 'a slip of tongue'. "Siddaramaiah is stupid. Let him count the number of times he has done the gaffe of abusing his own government," Yeddyurappa was reported to have said.
Not willing to squander a juicy free hit, Congress leaders and the party's IT cell had a field day with Shah's comment.
The #ShahOfLies finally speaks truth. Thank you @AmitShah pic.twitter.com/WczQdUfw5U

— Siddaramaiah (@siddaramaiah) March 27, 2018
Now that the BJP IT cell has announced Karnataka elections, time for a sneak preview of our top secret campaign video!

Gifted to us by the BJP President, our campaign in Karnataka is off to a fabulous start. He says Yeddyurappa ran the most corrupt Govt ever...

True. pic.twitter.com/UYqGDZuKyR

— Rahul Gandhi (@RahulGandhi) March 27, 2018
Who knew @AmitShah could also speak the truth- we all concur with you Amit ji @BSYBJP is the most corrupt! pic.twitter.com/GFbTF3Mg7H

— Divya Spandana/Ramya (@divyaspandana) March 27, 2018
Meanwhile the BJP's official Karnataka Twitter handle which has earned notoriety for trolling, thought it was wise to go on a counter offensive against Rahul Gandhi.
Oye Rahul,

You prove your silliness by wanting to base your campaign on a slip of tongue! Btw, unlike you we have no secrets, we believe in complete transparency

Visit https://t.co/AFMqCAosTZ to know our star campaigner, gifted to us by India's most corrupt dynasty

Cheers! https://t.co/YLi32Lcote

— BJP Karnataka (@BJP4Karnataka) March 27, 2018
The Election Commission announced on Tuesday that Karnataka would go to the polls on May 12, 2018.