Were Rare Sloth Bears Spotted In Sri Lanka Due To COVID-19 Pandemic?
The video being shared was shot in India in November 2019 and not in Sri Lanka during the COVID-19 pandemic.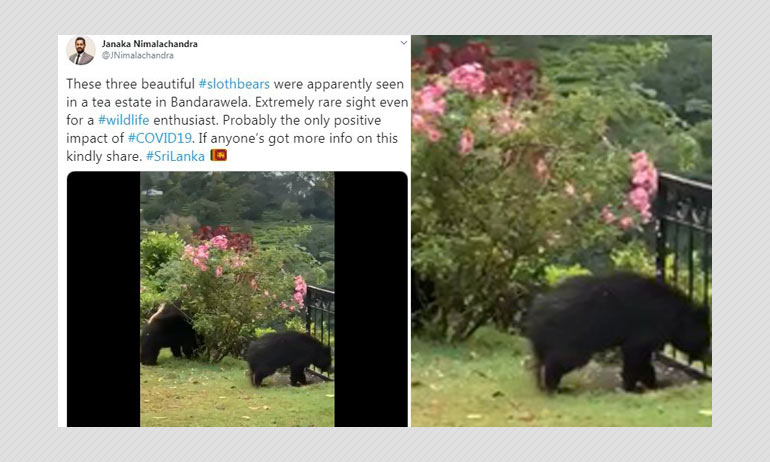 A video of three sloth bears has been viewed thousands of times on Facebook and Twitter alongside a claim it was captured in Sri Lanka during a curfew implemented due to the coronavirus pandemic. The claim is false; the clip has circulated in reports about sloth bears in south India since November 2019, before the COVID-19 pandemic; a Sri Lankan wildlife activist told AFP it would be "highly unlikely" to see sloth bears in the Sri Lankan town which was cited in the misleading social media posts.
The video was published on Twitter here on May 11, 2020.
The tweet reads: "These three beautiful #slothbears were apparently seen in a tea estate in Bandarawela. Extremely rare sight even for a #wildlife enthusiast. Probably the only positive impact of #COVID19. If anyone's got more info on this kindly share. #SriLanka".
Bandarawela is a town in south Sri Lanka's hill country.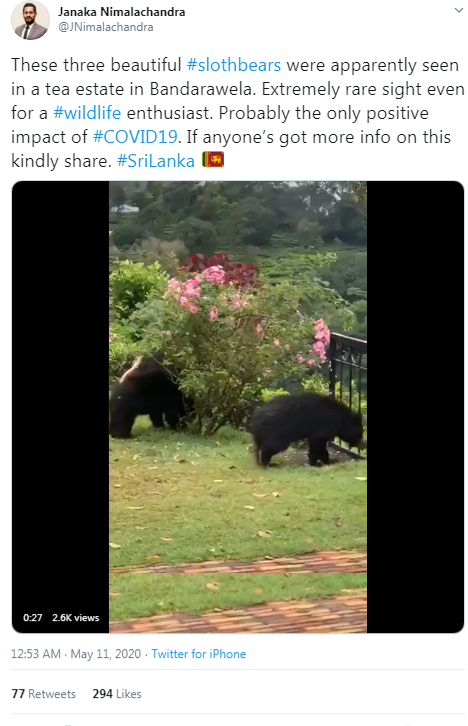 Screenshot of the tweet featuring the video of sloth bears
A curfew was implemented in parts of Sri Lanka due to the coronavirus pandemic on March 20, as reported here by AFP.
The video was published with a similar claim on Facebook here and on Twitter here. Links to the tweets also circulated in Facebook posts here, here and here.
The claim is false.
ALSO READ: Is Washing Fruits & Vegetables With Salt Water Harmful? Not Quite
A reverse image search on Google with video keyframes extracted with InVID-WeVerify, a digital verification tool, found the same footage was published on YouTube here on November 9, 2019.
The video was published by Gypsy Tiger, an Indian wildlife video platform, in a post titled: "loth bear mama and cubs take over this man's lawn in south India | Gypsy Tiger".
According to the video's description, the footage was recorded in Coonoor, an area in the south Indian state of Tamil Nadu.
The caption reads: "Have you ever woken up to such an amazing surprise? A mama sloth bear and her cubs in your lawn! Sloth bears are shy animals and it's tough to see them in the wild. But Akshay Gaur, who lives near Hallakarai village in Coonoor is very lucky because these bears have decided to pay him a frequent visit. VIDEO shot by Akshay Gaur."
Below are screenshot comparisons of the video in the misleading posts (L) and the YouTube video (R):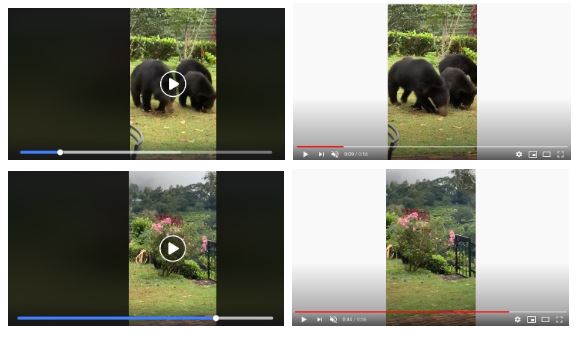 Screenshot comparisons between the misleading video (L) and the Youtube video (R)
A spokesperson for Gypsy Tiger told AFP that a Coonoor resident named Akshay Gaur recorded the video.
"He shared it with us and we uploaded on our Facebook and YouTube channels...This is not in Sri Lanka, this was at his house in Coonoor and shot before Covid-19 was known to the world," the organisation told AFP via Facebook messenger on May 13, 2020.
Pubudu Weerarathne, a Sri Lankan wildlife activist and a member of the Sri Lanka Young Zoologists' Association, also said that it is "highly unlikely" that sloth bears would have been sighted in Bandarawela.
"Sloth bear habitats in Sri Lanka are mainly in the dry zone. It is very rare that they would be found in the intermediate zone and highly unlikely they would be seen in an area like Bandarawela located in Sri Lanka's hill country that is the wet zone," he told AFP by phone on May 13, 2020.
Updated On:
2020-05-28T16:22:40+05:30
Claim Review :
Rare sloth bears were spotted in Sri Lanka during COVID-19 pandemic.
Claimed By :
Twitter, Facebook