Will The Real Urmila Matondkar On Twitter Please Stand Up?
BOOM reached out to Matondkar's husband Mohsin Akhtar Mir, who confirmed that '@OfficialUrmila' was her account on Twitter.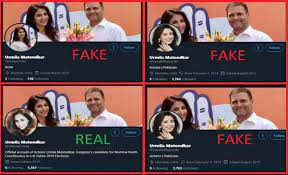 Days after former Bollywood actress Urmila Matondkar took the plunge into politics by joining the Indian National Congress (Congress), several fake Twitter accounts impersonating her on the micro-blogging platform have cropped up.
Matondkar joined the party on March 27, 2019 after meeting Congress President Rahul Gandhi. (read more here)
BOOM found three Twitter accounts named 'Urmila Matondkar' with a substantial following, which had been impersonating the actor. These accounts also flout Twitter's rules as they do not carry a disclaimer of being a fan or parody account.
Fake accounts of actors are extremely common on Twitter, however fake accounts of a actor-politician combination is potent way of spreading politically and communally sensitive fake news. (Read about it here -Fake Sara Ali Khan Account Whips Up Anti-Muslim Sentiment On Twitter)
1. Fake Twitter Account @reallyurmila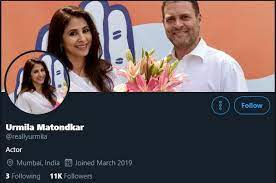 The account was created on March 24, 2019 with a bio that just describes the handle as 'Actor'. This account has gained around over 11,000 followers at the time of writing this story.
The first tweet by this account was a reply to Priyanka Gandhi on March 24, 2019, before Matondkar could join the party and asking people to follow another Twitter account @Sapna_indian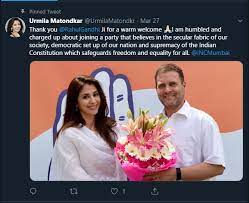 While the account @Sapna_indian does not exist any more, BOOM was able to find an archived version of it which leads us to believe that the account first impersonated dancer Sapna Chaudhary while news reports speculated that she could be joining the party.
The fake account @reallyurmila has been tagging several Congress leaders to appear genuine. In its second tweet, after Matondkar had joined Congress, the handle had tweeted a photo tagging former Mumbai Congress chief Sanjay Nirupam.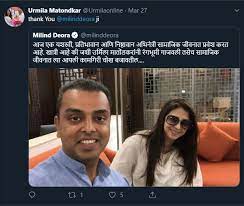 Several news interviews and campaign rallies of Matondkar were tweeted and retweeted by this fake account.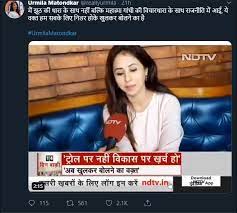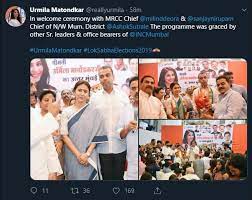 2. Fake Twitter Account @UrmilaMatondkr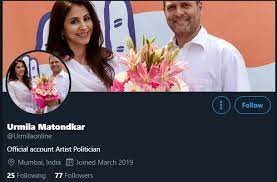 The account (@UrmilaMatondkr) which misspell 'Matondkar' as 'Matondkr' in the handle was created on August 29, 2015 and has around 1763 followers. Its bio states 'Actress Politician'.
This account had tweeted once thanking Rahul Gandhi.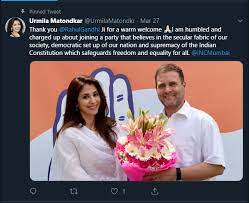 The first tweet by this account was a retweet of photo posted by a account impersonating Indian Air Force Wing Commander Abhinandan Varthaman who became a national hero after being taken captive by Pakistan earlier this year. (Meet The Fake Accounts Impersonating Wing Commander Abhinandan Varthaman)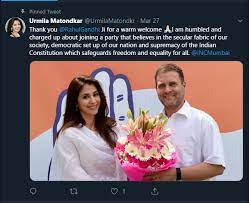 3. Fake Twitter Account @Urmilaonline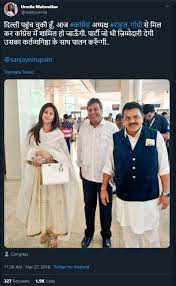 The account (@Urmilaonline) was created on March 27, and had only 77 followers when last checked. The account's bio claims to be the official account of the 'Artist Politician'.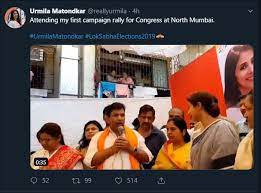 The account has followed the same pattern and quote tweeted Congress leader Milind Deora.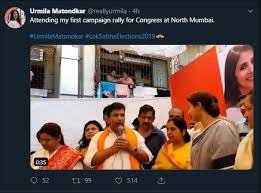 Official Account - @OfficialUrmila
BOOM reached out to Matondkar's husband Mohsin Akhtar Mir, who confirmed that '@OfficialUrmila' was her account on Twitter. However the handle does not have Twitter's blue tick yet that helps identify verified profiles.
Additionally, the account is followed by Sanjay Nirupam and Divya Spandana who handles social media for the party.
Updated On:
2020-06-27T18:25:57+05:30