Fact Check
Fake Sara Ali Khan Account Whips Up Anti-Muslim Sentiment On Twitter
Sara Ali Khan is not on Twitter yet this account that claims to be her's is busy tweeting hateful things.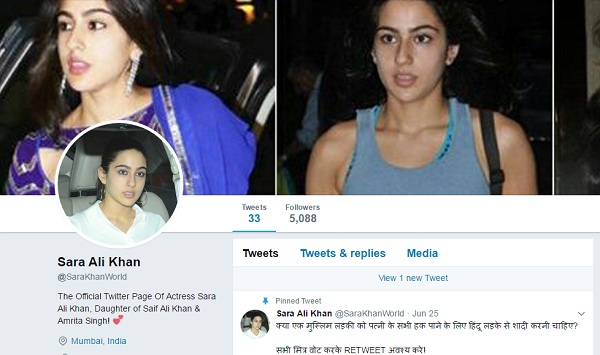 A fake account impersonating Sara Ali Khan, daughter of Amrita Singh and Saif Ali Khan, is being used to spread anti-Muslim rhetoric even as Amrita Singh confirmed to BOOM that her daughter is not on Twitter.
Singh replied to BOOM in a text message that Sara does not have any Twitter or Instagram accounts.
The fake account @SaraKhanWorld created on June 14, 2017 has already garnered a following of over 5000 in less than two weeks and is gaining traction in attracting more Twitter users every day. Tapan Ghosh, president of the Hindu Samhati organisation, follows this handle. It is not clear whether the individuals following the account know that it is a fake account. Fake accounts on Twitter are a growing menace and are skewing opinion on news, politics and religion.
While fan and parody accounts of movie stars are extremely common on social media, this unverified handle that claims to be the official twitter page of Sara Khan is dangerous because most of the tweets come across as hateful and designed to stir up religious bigotry.
The troll account's @SaraKhanWorld 33 tweets paints a picture of an individual who has a very strong and critical opinion of politics and religion in India, according to an analysis of the topics and hashtags used by the fake account.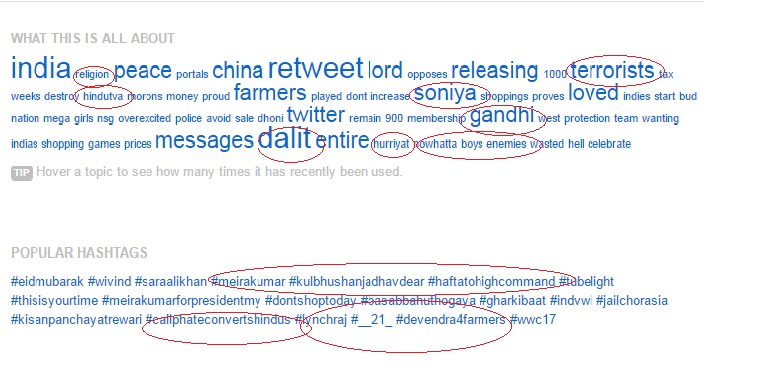 In order to seem legitimate, the account even lists a dummy URL SaraAliKhan.com.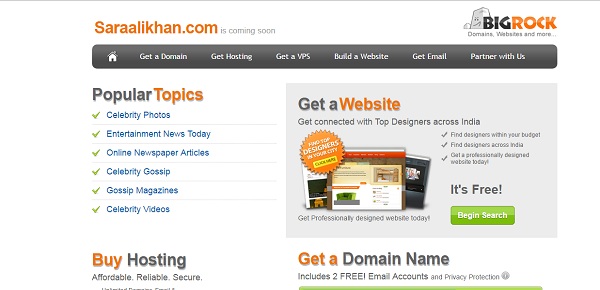 The tweets that alternate between Hindi and English do not read as the tweets of a carefree 23 year old, who is gearing up to make her debut in the movie business. Sample this pinned tweet which asks users to vote if a Muslim woman should marry a Hindu man to enjoy all the rights of a married woman.
क्या एक मुस्लिम लड़की को पत्नी के सभी हक पाने के लिए हिंदू लड़के से शादी करनी चाहिए?

सभी मित्र वोट करके RETWEET अवश्य करे!

— Sara Ali Khan (@SaraKhanWorld) June 25, 2017
Even a tweet wishing people for Eid was followed up with this passive aggressive tweet about Islam turning into a religion of terrorism and stone pelting.
वैसे #EidMubarak कहने का फायदा भी क्या, जब आंतकवाद फैलाना, सैनिकों को पत्थर मारना और हिंसा फैलाना ही हमारा मजहब बन चुका है?!

— Sara Ali Khan (@SaraKhanWorld) June 25, 2017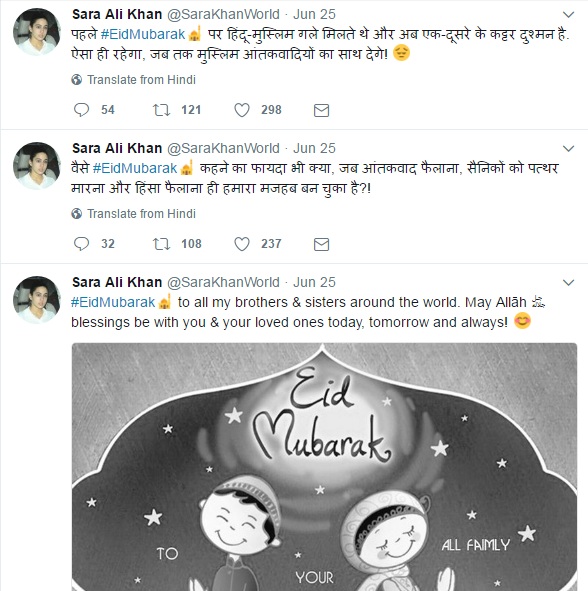 The screenshot below shows how the account almost always tweets in favour of the Bharatiya Janata Party (BJP), the Indian army and is vocal against liberals, Islam and opposition parties such as Congress and Aam Aadmi Party (AAP).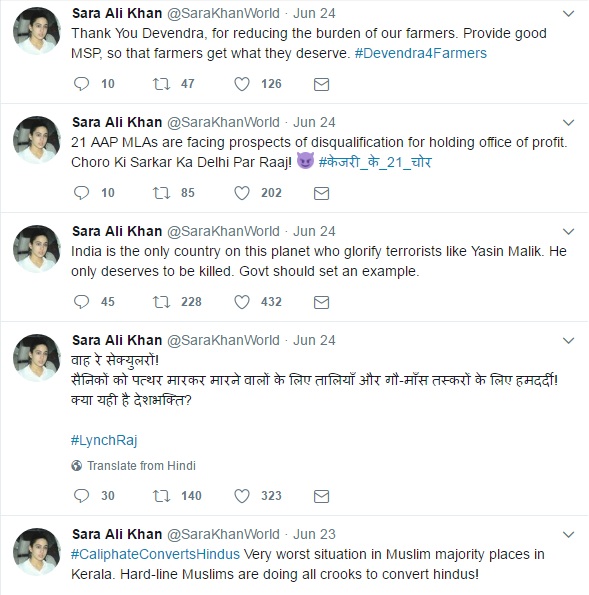 BOOM does not know the real identity of the person behind this fake account.
Parody, commentary, or fan accounts are common so what's the big deal?
The account @SaraKhanWorld is in violation of Twitter's Impersonation policy by not spelling out that it is not connected to the real Sara Ali Khan in any way and by not mentioning that it is a fan account.
It also meets the requirement of portraying another individual in a deceptive and misleading manner.
[blockquote width='100']
"In order to be impersonation, the account must also portray another person in a misleading or deceptive manner." - Twitter Support
[/blockquote]
Do you always want to share the authentic news with your friends?
Subscribed Successfully...
Enter Valid Email Id