'Will File FIR': Kairana MP Tabassum Hasan On Fake Quote, RLD Blames BJP
Facebook groups and Twitter handles associated with BJP push out fake quote attributed to Kairana MP Tabassum Hasan
Following Rashtriya Lok Dal's Begum Tabassum Hasan's victory in the recently concluded bypoll in UP's Kairana constituency by a margin of over 30,000 votes, several posts on Facebook and WhatsApp have gone viral attributing a quote to her. This communally sensitive post quoting Hasan says - ये अल्लाह की जीत है और राम की हार ( Victory for Allah, defeat of Ram) and ये इस्लाम की जीत है और हिंदुओं की हार है ( Victory of Islam and defeat of Hindus ) succeeded in creating an outrage against the MP for celebrating her victory by invoking her religion publicly.
Facebook user Rita Devi shared this quote on facebook group "We support Narendra Modi" which has more than 3 million members and her post got more than 13K shares in the last 2 days.
Other users like Anjana Prasad also shared another variant of this quote on the same Facebook group "We support Narendra Modi".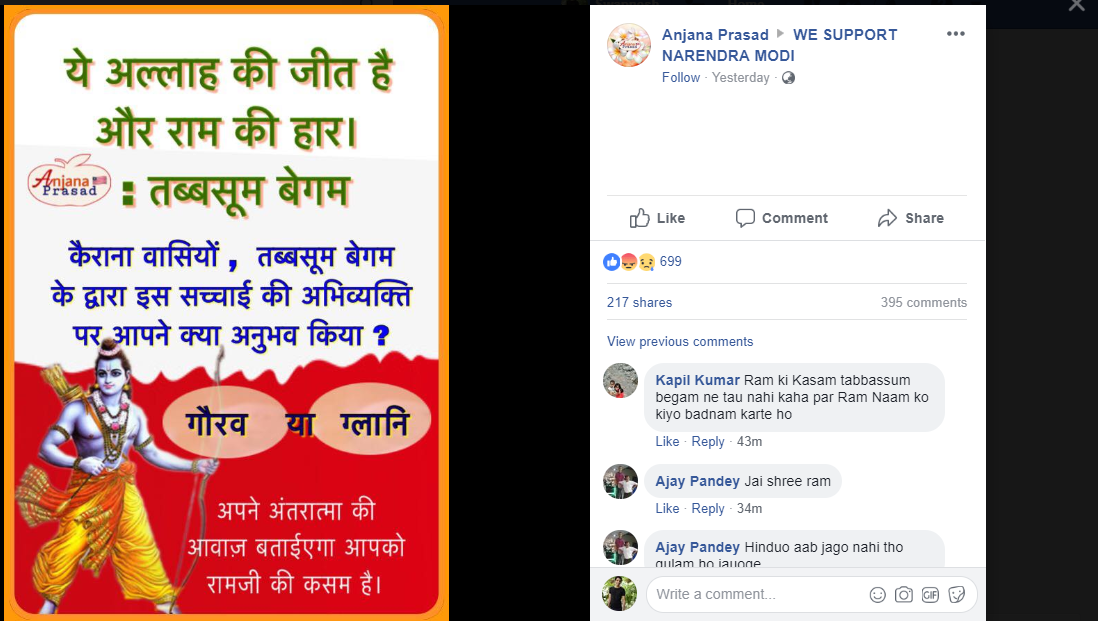 On Twitter, an unverified handle of singer Sapna chaudhary tweeted the same quote and has received over 600 retweets and 1500 likes.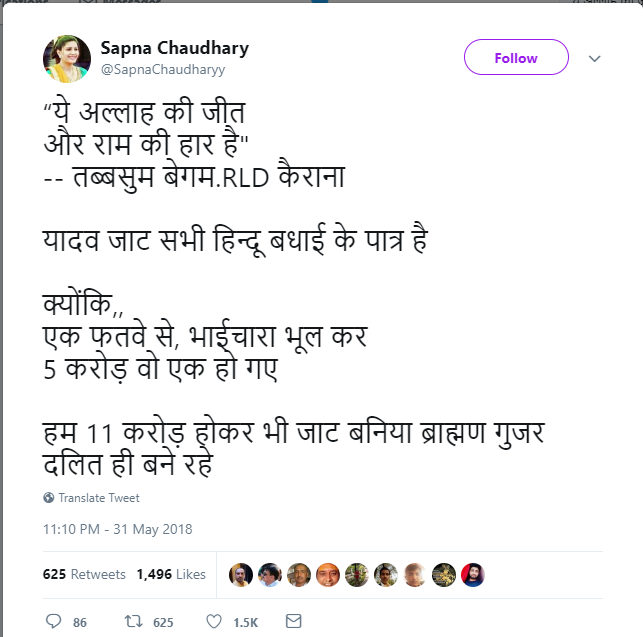 Yet another Twitter user Prajapati Shantilal also tweeted this quote, saying that Hasan's statement is a slap on the face of these who opposed Narendra Modi and voted for her. Interestingly Shantilal is followed by Prime Minister Narendra Modi and his other ministers Piyush Goyal and RK Singh.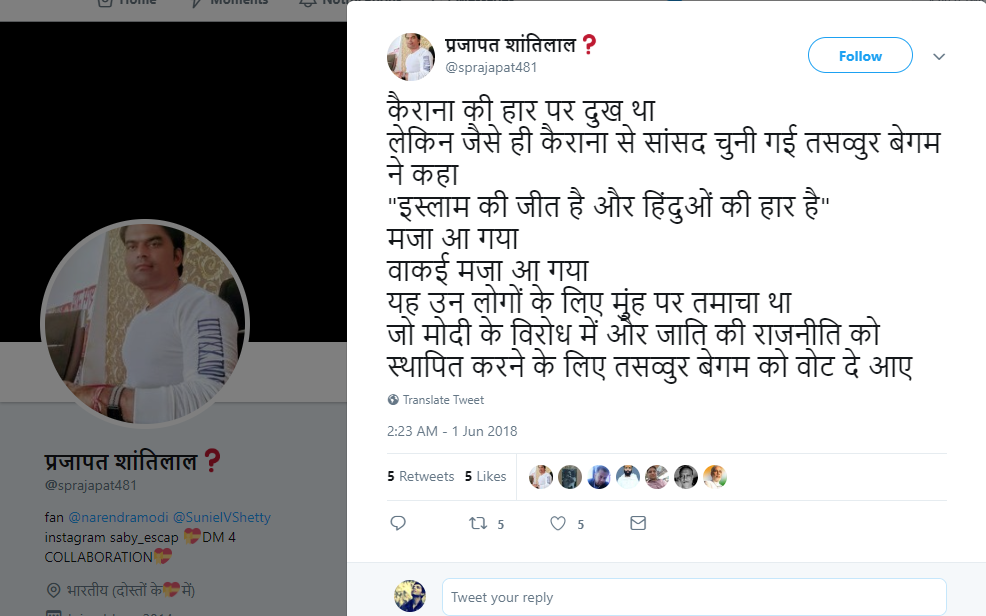 This quote spread like wildfire not just on Facebook and Twitter but also on WhatsApp.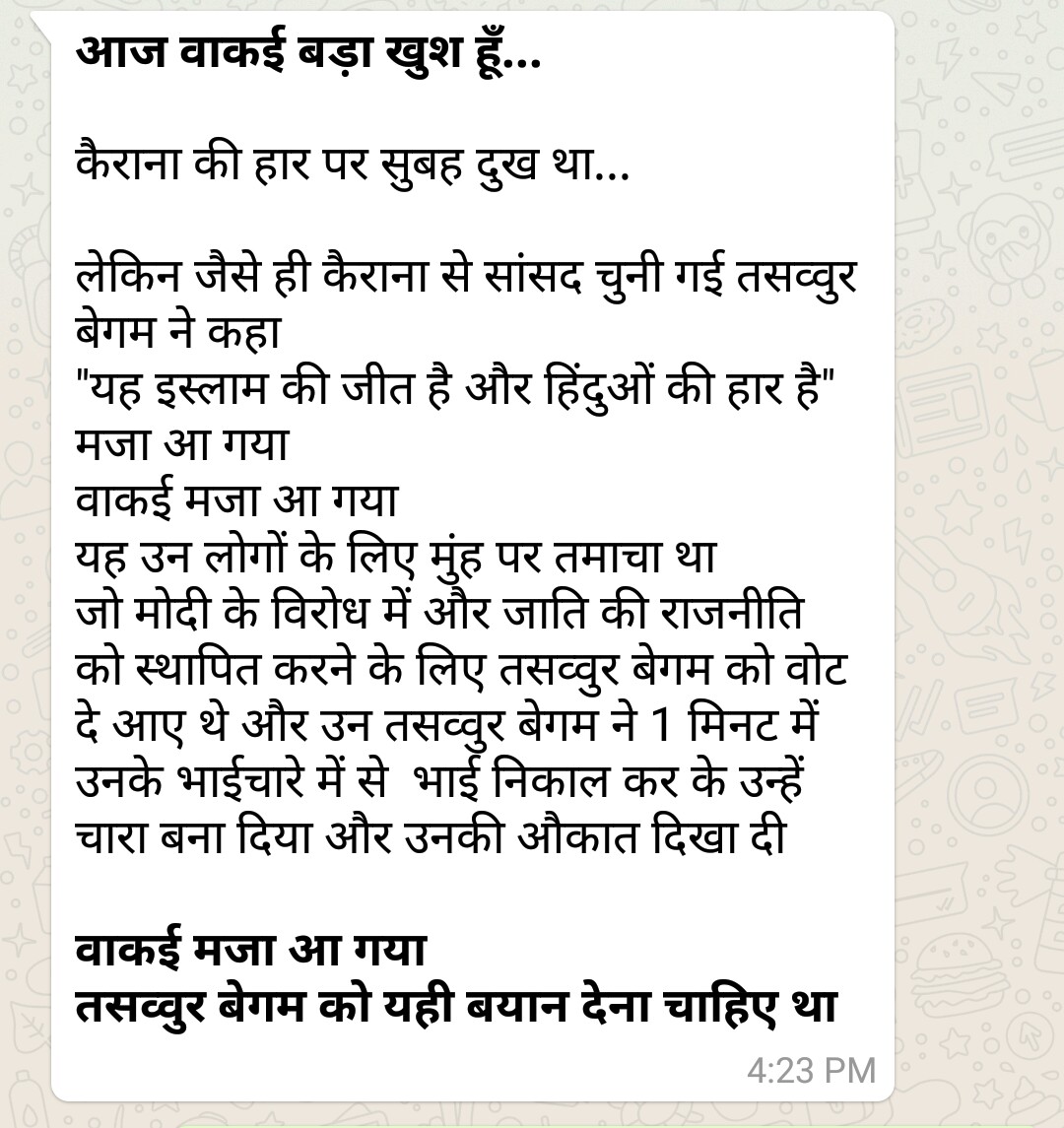 In some of these quotes, Hasan's first name has also been mentioned wrongly. One of the viral messages quote her as tassavur (तसव्वुर). Tassaur means Devil in Urdu.
When we received this viral message, we contacted Kairana's MP Begum Tabassum Hasan to get her reaction.
"I did not say anything. I got to know about it last night that something like this is spreading. I never even thought about it. There is no difference in between Ram and Allah. This all false information being spread by people who wants to destroy communal harmony for their own agenda. If you get information about who did this,Please let me know.

I'm going to file FIR against this fake quote," said Hasan to BOOM
Further she added, "This all is being created and spread only to disturb situation in Kairana. Strict action needs to be taken on people who spread such things."
We also spoke to Rashtriya Lok Dal's UP State Spokesperson Abhishek Chaudhary who said,
"Our party and MP made it very clear that we have nothing to do with this viral quote. This poster has spread on social media by party who is more active on social media. Before our victory BJP has claimed their win and their MLA's and candidates were recalling 2013 riots. On the day of election BJP's social media was appealing people to remember 2013 riots,exodus of Hindus etc. When RLD's victory announced, they lost their cool and started spreading Allah ki jeet and Ram ki har. This was all pre planned. Our MP and national president Jayant Chaudhary on behalf of Party dismiss this quote."
The Kairana bypoll was a bitterly fought election with the entire opposition led by Samajwadi Party, Congress and the Bahujan Samajwadi Party choosing to not field any candidate and backed RLD's 47-year old Tabassum Hasan in a bid to defeat the BJP candidate Mriganka Singh. Her victory is also seen as significant as she is the only Muslim MP from the state of Uttar Pradesh in the 16th Lok Sabha - a state that sends 80 MPs in the 543-member Lok Sabha.
https://www.sharethefacts.co/share/937aa972-0c88-49fb-810d-750123a3647c
If you value our work, we have an ask:
Our journalists work with TruthSeekers like you to publish fact-checks, explainers, ground reports and media literacy content. Much of this work involves using investigative methods and forensic tools. Our work is resource-intensive, and we rely on our readers to fund our work. Support us so we can continue our work of decluttering the information landscape.
BECOME A MEMBER