freedom of expression
Why Did Smriti Irani Ask PTI To Delete Its Tweet? We Are Still Wondering....
It is also interesting that Smriti Irani's admonishment to PTI comes at a time when her party's IT cell has been found on numerous occasions to having used old pictures without context.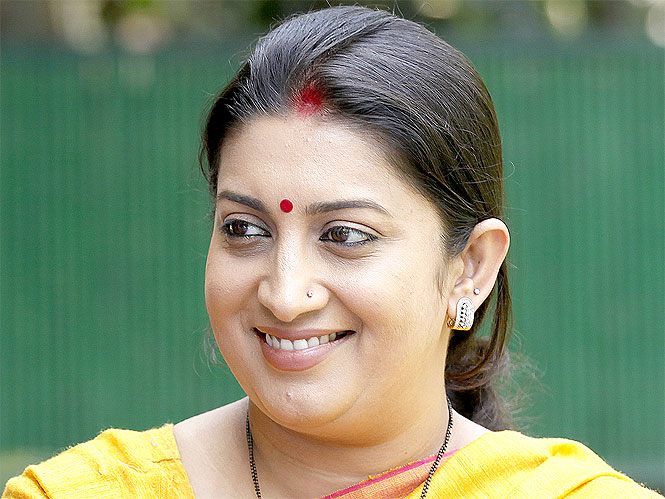 Smriti Irani
Union Information and Broadcasting Minister Smriti Irani's angry tweet on Sunday evening once again got news agency Press Trust Of India to apologise and delete an image posted on Twitter. PTI had posted an image of party workers at Bodhgaya with masks of Prime Minister Narendra Modi and Bihar Chief Minister Nitish Kumar celebrating Friendship Day as part of their newly formed alliance in the state.
This was accompanied by text quoting Nitish Kumar urging the BJP led centre to allocate funds liberally to strengthen the lower judiciary in Bihar. This statement was made at an event in Patna where the Union Minister of Law & Justice Ravi Shankar Prasad was also present.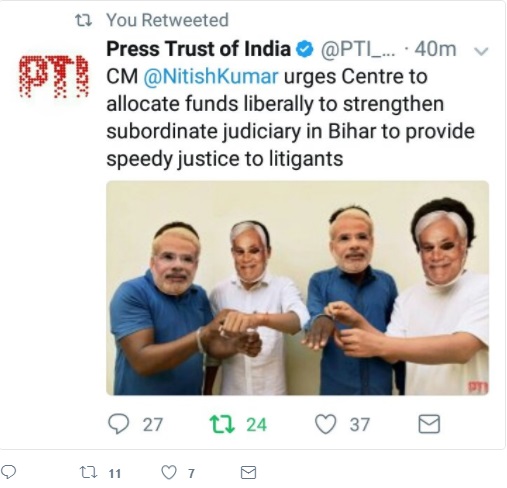 Screenshot of the deleted PTI tweet
A harmless image representing the news of the day and the new bonhomie between once bitter rivals now becoming friends, some would say. But the I&B minister took to Twitter questioning PTI and sought their official position on the matter.
.@PTI_News is this how elected heads will be projected? Is this your official stand ? https://t.co/YrAuxPT6wJ

— Smriti Z Irani (@smritiirani) August 6, 2017
This prompted PTI to immediately delete the tweet and issue an apology.
PTI apologises for hurting sentiments and therefore has withdrawn the picture. @smritiirani

— Press Trust of India (@PTI_News) August 6, 2017
This is not the first time PTI has faced Irani's ire over images attributed to the BJP or issues related to a state ruled by the party. As reported by BOOM on July 28, PTI had to issue an apology after one of its freelance photographers released an image of 2015 Chennai airport flood as Ahmedabad airport. Several national publications picked the image prompting Irani to seek an apology.
But while the fake Ahmedabad airport flood picture was rightly called out by the minister, its a mystery why Irani found the masked images posted on Sunday offensive. It is not the first time that the media has published images of political workers using masks of important leaders. (Check this and this).
At best PTI could have used an actual image of Modi and Kumar in one frame but since no meeting took place between the two on Sunday, the social media team used its creative freedom to post an image with the news text - neither disrespectful nor misleading. By bullying PTI to delete the picture and issue an apology, the I&B minister intruded on the country's premier news agency's editorial freedom to use the best picture they thought represented the story.
Either ways, it also speaks volumes of a towering news agency like PTI who instead of enforcing their editorial freedom deletes the tweet and issues an apology the moment they are cornered by a minister.
Masks as promotional material by political parties are not new. Infact this Hindustan Times article dated ten years back mentions the first use of masks in an election campaign while Narendra Modi was Gujarat chief minister. "A common feature in election campaigns in the United States, this was the first instance of masks being used as part of a promotional strategy in an election in India," reported the Hindustan Times.
It is also interesting that Smriti Irani's admonishment to PTI comes at a time when her party's IT cell has been found on numerous occasions to having used old pictures without context. When called out, they have defended those posts saying the usage of the images were representational even though they never specified at the time of originally using the image.
Rather than interfering in an independent news agency's editorial freedom, the party should focus on training its social media teams on the ethics of sharing images on social media. Check the links below
How BJP And Congress Used A Picture Of A Potholed Road To Target Each Other
Fake Video Goes Viral As Cash Found At Congress Minister D K Shivakumar's Home
Telangana BJP Leader Shares Cow Skinning Pic From Abroad, Says It's India
2002 Gujarat Riots Image Used For 2017 'Save Bengal' Protest
Leave PTI alone. It is not Prasar Bharati.
Do you always want to share the authentic news with your friends?
Subscribed Successfully...
Enter Valid Email Id