Business
Shocking Story: How Fake Ahmedabad Airport Flood Pics Made It To National Dailies
How the drama unfolded at PTI and newspaper offices with old flood pictures labelled as Ahmedabad airport.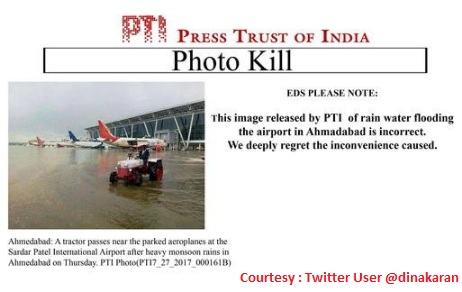 Several large Indian media houses were scrambling on Friday to save face after publishing 2015 Chennai airport images mislabeled by wire news agency Press Trust of India (PTI) alongside a story about parts of Ahmedabad airport that was inundated with rain on Thursday.
The error originated from PTI and was spotted by Twitter users on Thursday when other news outlets carried images apparently showing an air-side view of a waterlogged Sardar Vallabhbhai Patel International Airport, Ahmedabad.
Here @indiatimes uses 2015 Chennai airport flooding images for Ahmedabad Airport flooding. https://t.co/yM66CqOScE https://t.co/28QQpwZpdV

— Raju Das | ৰাজু দাস (@rajudasonline) July 27, 2017
On Friday, Press Trust of India acknowledged the error and said it had terminated the services of the photographer. The agency responded after getting pulled up by Smriti Irani, Information & Broadcasting Minister.
PTI deeply regrets the error and has terminated the services of the concerned photographer; @smritiirani and @shashidigital

— Press Trust of India (@PTI_News) July 28, 2017
BOOM spoke to Ahmedabad Airport Director Manoj Gangal who said the pictures on social media were "fake" and that operations at the airport were running normally. Gangal also added that he was considering filing a police complaint.
Ahmedabad Airport Director Manoj Gangal to BOOM: "Pics running on social media fake. Airport ops running normally.Filing police complaint"

— BOOM FactCheck (@boomlive_in) July 28, 2017
A spokesperson for Jet Airways corroborated his statement that operations at the airport were normal on Thursday.
Prominent news outlets such as The Indian Express, Business Line, IndiaTimes, India Today, AIR News Ahmedabad and private weather forecaster Skymet Weather had used the images. The news outlets subsequently pulled down the images and published advisories explaining the mistake.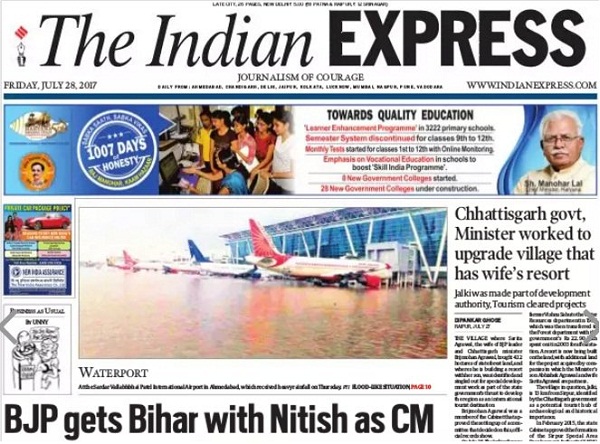 (Screenshot of the front page of the Indian Express on July 28th)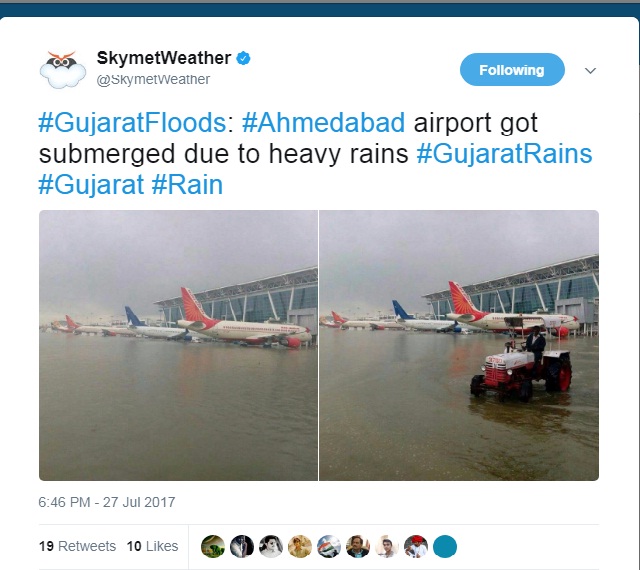 (Screenshot of SkymetWeather's tweet)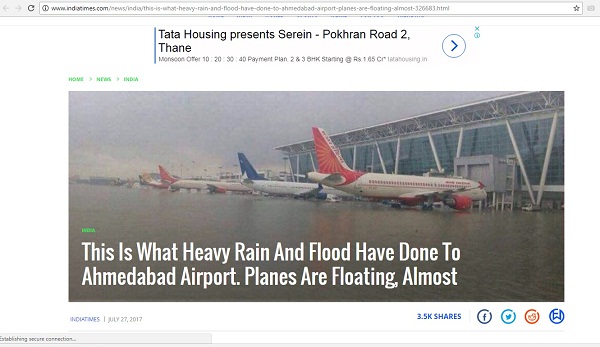 (Screenshot of an IndiaTimes article which featured the old image which was subsequently corrected)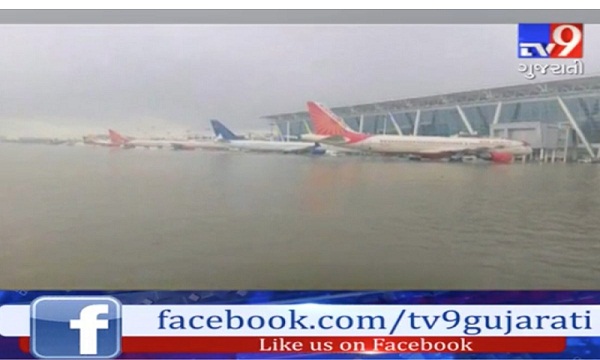 . @ptinewscom pulls out wrong picture that said the picture was of Ahmedabad airport. pic.twitter.com/Vk4WqusvXb

— Dinakaran (@dinakaran) July 28, 2017
(Tweet from Business Line's Internet Editor, Dinakaran Rengachary)
The PTI photo on #ExpressFrontPage is not of Ahmedabad airport. @PTI_News captioned it wrong & is investigating. We deeply regret the error.

— The Indian Express (@IndianExpress) July 28, 2017

(Left: 2017 picture used by national dailies; Right 2015 picture from Chennai)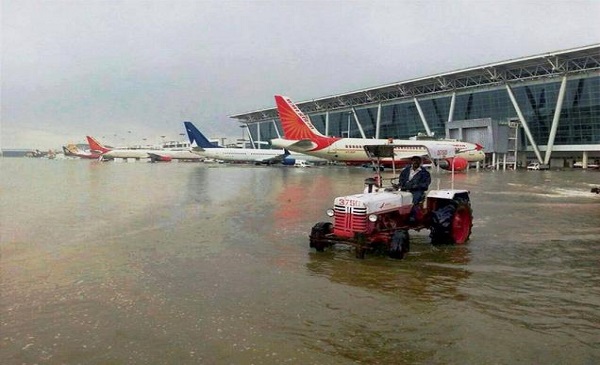 BOOM was unable to find any other instance where the second photo with a man driving an Air India tractor on the runway was used in the past.
We emailed PTI's head office in New Delhi seeking clarity about when and where the photos were taken and are awaiting a response.
It is common practice among news outlets to buy pictures from news agencies such as PTI, Reuters, Agence France-Presse (AFP), Associated Press etc.
" PTI has no staff photographer in Ahmedabad. They only employ freelance photographers for photo requirements. One of the freelance photographers sent this picture to the desk in Delhi," a source familiar with the developments told BOOM. PTI has not responded to BOOM's queries so far.
Despite the fiasco with these two images it is important to note that certain parts of Ahmedabad airport were indeed waterlogged though the water level is said to have receded through the day.
Life has been thrown out of gear in northern and central parts of Gujarat, which have witnessed incessant rainfall since the beginning of the monsoon season last month.
Gujarat: Severe water-logging outside Ahmedabad airport and parts of east Ahmedabad following heavy rain in the city pic.twitter.com/uGcL4LEL6g

— ANI (@ANI_news) July 27, 2017
Do you always want to share the authentic news with your friends?
Subscribed Successfully...
Enter Valid Email Id