WhatsApp Rolls Out 'Suspicious Link' Label In Bid To Crack Down On Spam
Will the new feature cut down spam on WhatsApp? Here's all you need to know about how it works.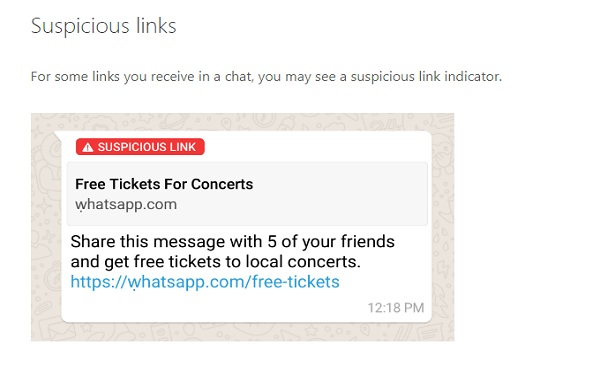 WhatsApp has rolled out a new feature which will flag dubious URLs by displaying a 'suspicious link' label on the message, the latest step in the company's ongoing efforts to crack down on false information on its platform.
The company said the check would be performed automatically on a user's device and reiterated that WhatsApp cannot see contents of the message because of its end-to-end encryption technology. (Read WhatsApp's statement here)
If a link is marked suspicious, a user can tap the link and a pop-up message will appear highlighting the unusual characters within the link. The user can choose to open the link or go back to the chat.
Take for instance the URL https://ẉhatsapp.com/free-tickets
The first character looks like the letter "w" but is instead the character "ẉ", a ploy that might be used by spammers to trick a user to visit a website that wasn't actually related to WhatsApp.
A spokesperson for the company told BOOM that the feature should not be confused with finding fake domains.
Phishing scams that impersonate genuine businesses are a problem in India. In May, a message with a spurious URL "https://www.xn-jetarways-ypb.com" claimed that Jet Airways was giving away two free tickets to every family, to celebrate its 25th anniversary. The airline took to social media to debunk the message. (Read the story here)
BOOM had earlier busted similar messages in the case of Air Asia and Emirates.
#FakeAlert There's a fake link being circulated regarding ticket giveaways for our 25th Anniversary. This is not an official contest/giveaway and we advise caution. Genuine contests & giveaways are hosted only on our verified social media accounts, indicated with a blue tick. pic.twitter.com/NvJrFaq3aL

— Jet Airways (@jetairways) May 23, 2018
The latest feature is part of WhatsApp's efforts to plug the flow of misinformation and disinformation on its platform particularly in India, its largest market with over 200 million monthly active users. Earlier this month, WhatsApp announced that it was limiting the number of contacts a message could be forwarded to five at a time, in an effort to put the brakes on messages from going viral.
At least 24 people have been lynched in India this year in separate incidents fueled by fake messages of child abductors. New Delhi on its part wrote a second letter to WhatsApp last week warning that the company could face legal action if it failed to take effective steps to curb the flow of false information.
"When rumours and fake news get propagated by mischief mongers, the medium used for such propagation cannot evade responsibility and accountability. If they remain mute spectators they are liable to be treated as abettors and thereafter face consequent legal action," the Ministry of Electronics and Information Technology, had said in a letter.
ALSO READ: 5 Things To Know About WhatsApp's 'Forwarded Label' Feature To Fight Fake News
Government's Second Warning To WhatsApp, Threatens Legal Action