Viral Image Of PM Modi With AIIMS Doctors Creates A Stir: A FactCheck
The photograph, a candid moment between the prime minister and a team of doctors was unnecessarily politicized.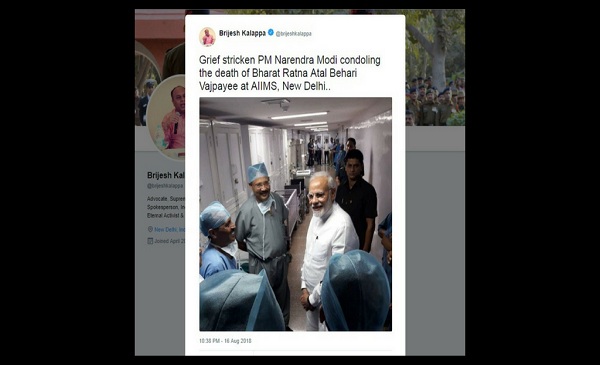 A candid photograph of Prime Minister Narendra Modi speaking to a group of doctors has created a stir online following the death of former Prime Minister Atal Bihari Vajpayee, who was being treated at the All India Institute of Medical Sciences (AIIMS) in New Delhi.
Vajpayee, a stalwart of the Bharatiya Janata Party (BJP), passed away on Thursday August 16, 2018, at the age of 93. He was admitted to AIIMS in June this year.
The picture, which shows a smiling Narendra Modi speaking to doctors who can also been seen smiling, went viral over WhatsApp late Thursday and on social media the following day, with critics of Modi using it to target him.
Caption Please ! #AtalBihariVajpayee #AtalBihariVaajpayee #RIPAtalBihariVajpayee #BJP #NDA pic.twitter.com/DLzhwMVLan

— Suvasit (@Suvasit) August 16, 2018
The photograph, a candid moment between the prime minister and a team of doctors was unnecessarily politicized. Indian National Congress, spokesperson, Brijesh Kalappa also tweeted the photo on August 17 taking a dig at the prime minister.
Grief stricken PM Narendra Modi condoling the death of Bharat Ratna Atal Behari Vajpayee at AIIMS, New Delhi.. pic.twitter.com/FUdNdb1Je2

— Brijesh Kalappa (@brijeshkalappa) August 17, 2018
While others tagged fact-checkers including BOOM and questioned if the photo was recent.
@RahulGandhi this is your politics of love?

If you dont sack him we will know where you stand.@boomlive_in @AltNews @SMHoaxSlayer

We know this is old image from Google reverse search but hope you write article so that no1 fall for trap https://t.co/y3Pzmihd1t

— LALIT SHARMA (@LALITSHARMAHP) August 17, 2018
Rishi Bagree, who has over 97,000 followers and is a vocal supporter of the BJP, insisted the the photo was taken in 2016 in Kerala following a horrific pyrotechnics tragedy as the Puttingal Devi Temple at Paravur, south of Kollam. (Read more about it here)
This picture dates back to April 10, 2016. where Prime Minister Narendra Modi visited Kollam District Hospital to meet the victims of Paravur Puttingal temple accident, in Kerala https://t.co/f7jz5DWnLb

— Rishi Bagree 🇮🇳 (@rishibagree) August 17, 2018
FACT 1
The viral photo is not from Kerala.
Images shot by professional photostock agency Getty Images prove otherwise as the prime minister can be seen wearing a short -sleeve kurta in images from April 2016. (Click here to see Getty's photos)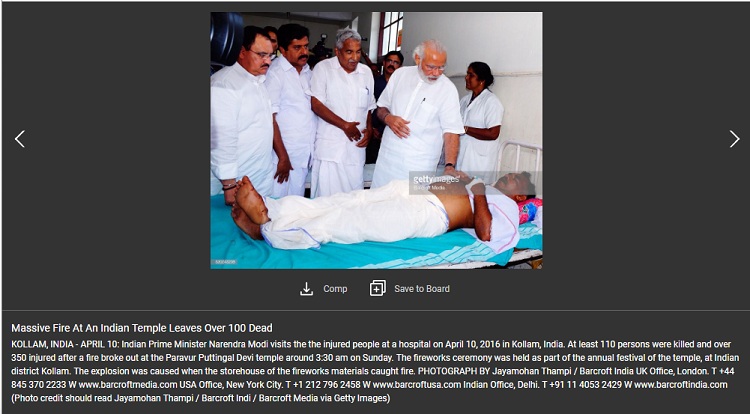 FACT 2
The viral photo of the prime minister with the doctors was indeed taken at AIIMS and taken on August 16, 2018.
A source familiar with AIIMS told BOOM that the doctor wearing the grey scrubs is Dr. Shiv Kumar Choudhary professor and HoD, Cardiothoracic and Vascular Surgery, AIIMS. Dr. Chouhdary did not immediately respond to BOOM's messages when contacted on Friday. A spokesperson for AIIMS was not immediately reachable.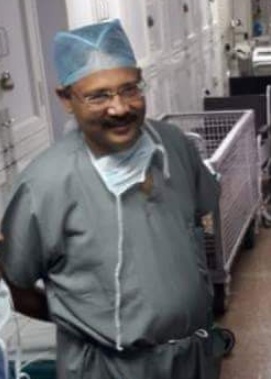 The doctor's identity is corroborated by unrelated social media posts from March that include photos of him.
THE 26th KRISHNA BHARADWAJ MEMORIAL LECTURE 2018 was delivered by Dr. Shiv Choudhary, Head, Dept. of Cardio-Thoracic and Vascular Surgery, AIIMS, Delhi on "Conquering the Invincible: A journey of courage" on Thursday, 08 March, 2018 at 3.00 P.M at JNU. pic.twitter.com/ZDPAygv1Om

— Mamidala Jagadesh Kumar (@mamidala90) March 9, 2018
FACT 3
The prime minister's attire of a full sleeve white kurta along with a black pen tucked on the right hand side of his breast pocket and the two Special Protection Group (SPG) personnel as part of the PM's security detail can also be found in stock images from August 16, 2016. (Click here to view Getty Images from August 16)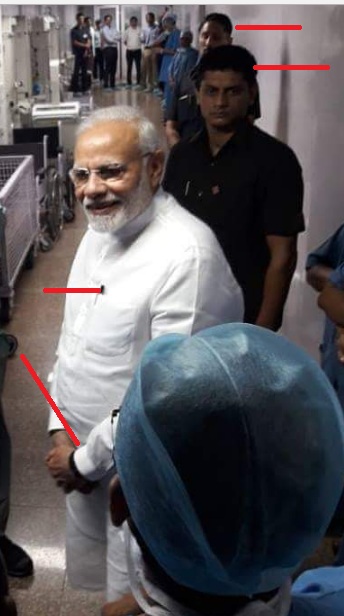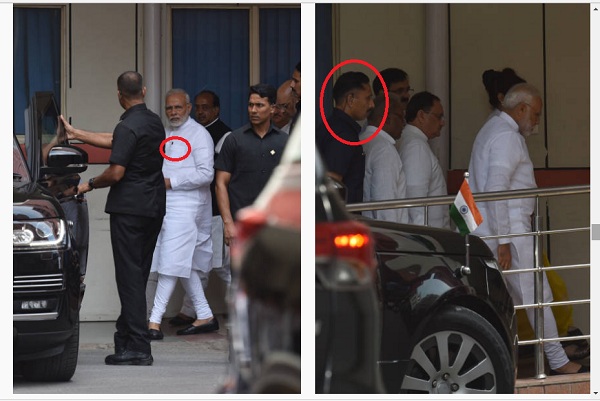 FACT 4
Atal Bihari Vajpayee was alive when the photo was taken. EXIF data or metadata of the photo of the Prime Minister Narendra Modi proves the same.
AIIMS put Atal Bihari Vajpayee's time of death at 5.05 pm on August 16, 2018 in an official statement.
Former PM Atal Bihari Vajpayee dies. The AIIMS statement: pic.twitter.com/GSxfw1E8AH

— Ruhi Tewari (@RuhiTewari) August 16, 2018
BOOM was able to parse meta data of the photo of the prime minister leaving the hospital. Here EXIF data shows the make of camera and settings with which the photo was taken. (Nikon D750,  200 mm lens, aperture F4, shutter speed 1/3200, ISO640) It also shows the exact time the photo was taken 14:42:45 or 2.42 pm in the afternoon. (Click here to view the photo)
Social media sites such as Facebook, Twitter and messaging app WhatsApp strip out metadata of photos on their platform.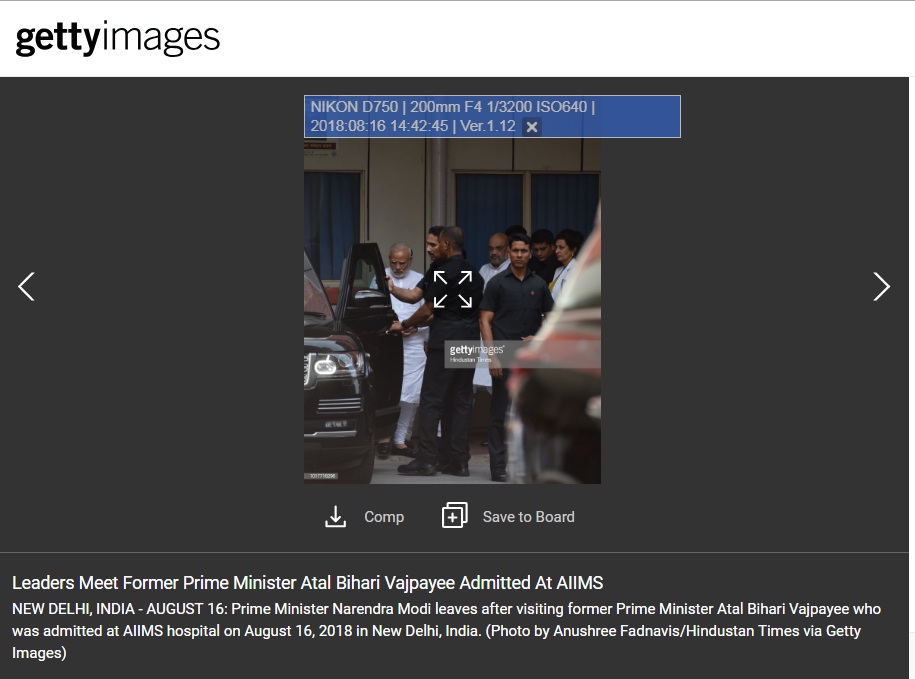 This is also supported by photos tweeted by wires agency ANI at 2.47 pm.
Prime Minister Narendra Modi leaves from AIIMS (All India Institute of Medical Sciences) where former PM #AtalBihariVaajpayee is admitted. He is on life support system. pic.twitter.com/q833ORbHpX

— ANI (@ANI) August 16, 2018
(BOOM is now available across social media platforms. For quality fact check stories, subscribe to our Telegram and WhatsApp channels. You can also follow us on Twitter and Facebook.)
Related Topics:
ABV, AIIMS, Atal Bihari Vajpayee, Atal Bihari Vajpayee's death, BJP, Brijesh Kalappa, Congress, Doctors, factcheck, featured, Narendra Modi, Prime Minister Narendra Modi, Twitter, viral image