Viral Graphic Claiming SC Order Against PM Modi On Rafale Deal Is Fake
The Supreme Court has passed no such order nor has ABP News reported this.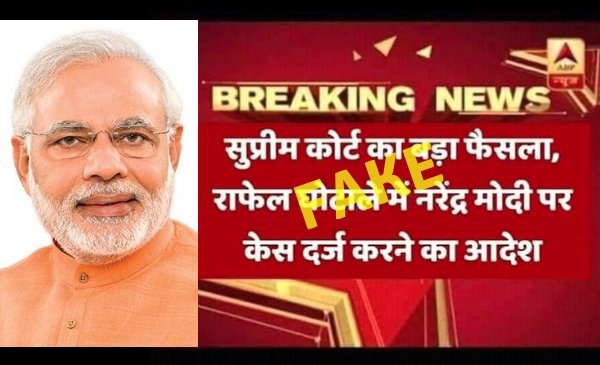 A fake text image attributed to Hindi news channel ABP News has gone viral on social media that claims the Supreme Court has passed an order asking for a case to be filed against Prime Minister Narendra Modi in the Rafale case.
The Supreme Court has passed no such order nor has ABP News reported this.
The Facebook page Rahul Gandhi FC which has over 2 lakh followers shared the post and received over 1000 shares. It says, "BREAKING NEWS सुप्रीम कोर्ट का बड़ा फैसला, राफेल घोटाले में नरेंद्र मोदी पर केस दर्ज करने का आदेश".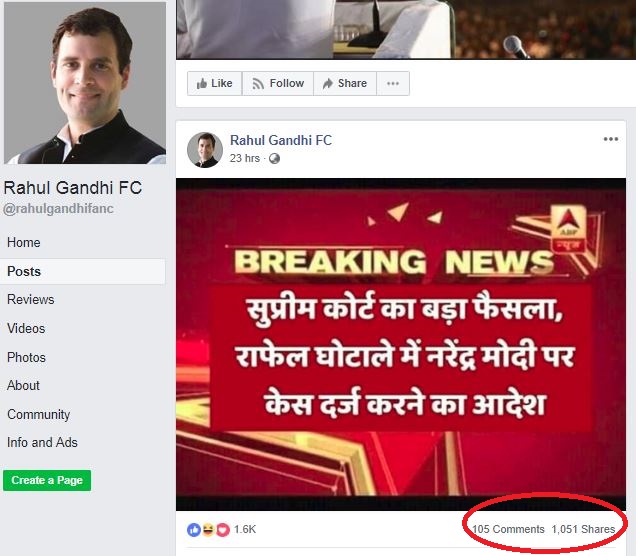 Click here for the post.
BOOM spoke to Rajnish Ahuja, Managing Editor of ABP, who clarified that the graphic is fake. He said, "It is clearly not ABP news font. People use photoshop to create such fake news using our template".
Earlier this month, BOOM debunked a similar graphic which used ABP's template to claim that BJP spokesperson Sambit Patra called protesting farmers 'Gaddar'. (Click here to read the story)
To cross check, BOOM also visited ABP's Youtube channel for its reporting of the Supreme Court order. ABP's video did not have the above graphic and it said, "Master Stroke: SC Seeks Details Of Decision-Making Process Of Rafale Deal From Modi Govt."
The post seems to be an opportunistic one in the context of a recent Supreme Court hearing on the Rafale deal.
On October 10, 2018, the apex court had asked the government to provide details of the steps taken in deciding to procure the 36 Rafale fighter jets from Dassault. The Supreme Court bench comprising of Chief Justice Ranjan Gogoi, Justice S. K. Kaul and Justice K. M. Joseph was hearing the PILs filed by lawyers M. L. Sharma and Vineet Dhanda seeking a notice to the government to reveal the details of the deal.
However, the apex court specified that it did not require the pricing and the equipment details as it concerns national security. Slamming the PILs as 'grossly inadequate', the court clarified that the information sought is solely to satisfy the court.
Claim Review :
ABP News Reports That The Supreme Court Has Passed An Order Asking For A Case To Be Filed Against Prime Minister Narendra Modi In The Rafale Case
Claimed By :
Facebook Page