No, Sambit Patra Did Not Call Protesting Farmers 'Gaddar'
A quote attributed to Sambit Patra calling protesting farmers 'gaddar' is fake.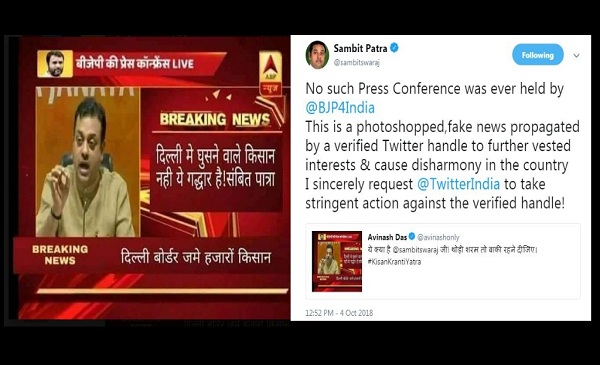 A graphic attributing a fake quote on protesting farmers to Bharatiya Janata Party (BJP)'s National Spokesperson Sambit Patra is being shared on social media.
Sambit Patra took to Twitter to debunk the fake image himself after it was tweeted by filmmaker Avinash Das.
Patra tweeted that no such press conference was held by the BJP and that the image was tweeted to 'further vested interests and cause disharmony in the country.'
No such Press Conference was ever held by @BJP4India

This is a photoshopped,fake news propagated by a verified Twitter handle to further vested interests & cause disharmony in the country

I sincerely request @TwitterIndia to take stringent action against the verified handle! https://t.co/tU0w2SCrpL

— Sambit Patra (@sambitswaraj) October 4, 2018
The graphic showing the logo of Hindi news channel ABP News has been poorly photoshopped and includes Hindi text that roughly translates as, 'Those who are forcefully trying to enter Delhi are not farmers but are (gaddars) traitors'.
The fake image was shared by a Facebook page KTSK Comedy on October 3, 2018.
On magnifying the image it is clear that the picture has been manipulated by adding text.
While the topic band at the top says 'BJP's press conference LIVE' it has a picture of Congress President Rahul Gandhi.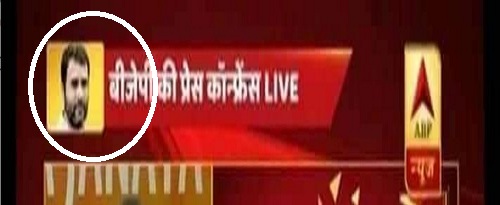 The highly pixelated portions behind the Hindi text shows that the photo has been manipulated.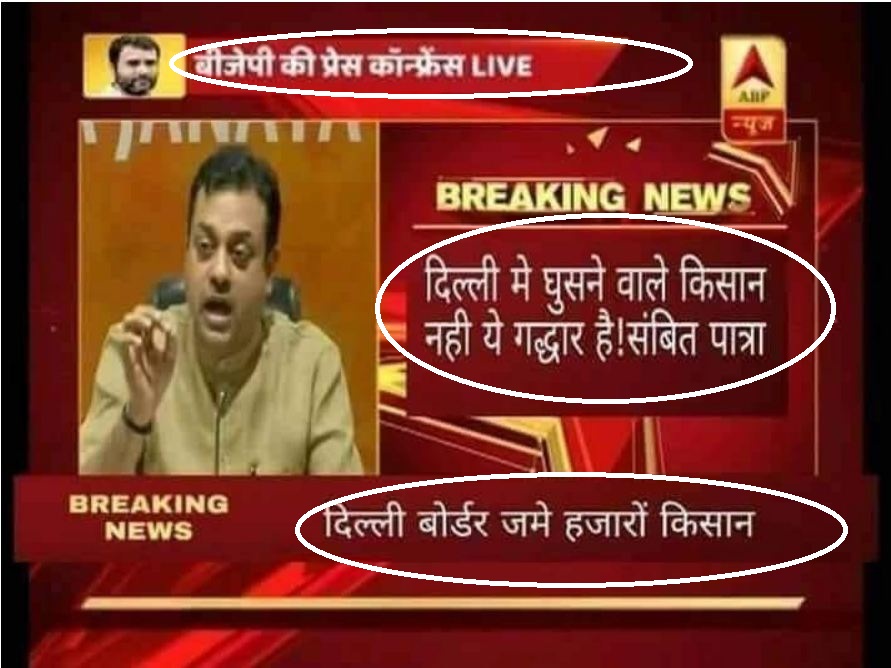 Thousands of farmers who have been marching from September 23rd, were stopped from entering the capital on Tuesday, resulting in violent clashes with police at Ghazipur near the Delhi-Uttar Pradesh border. Police fired tear gas shells and water cannons as protesters tried to break barricades and enter the capital. The protests are part of the "Kisan Kranti Padyatra" to demand loan waivers, subsidized electricity and fuel and pension for farmers over the age of 60. The Bharatiya Kisan Union (BKU) called off the protest after authorities allowed farmers to proceed to Rajghat post-midnight.
Claim Review :
Sambit Patra Calling Protesting Farmers 'Gaddar'
Claimed By :
Filmmaker Avinash Das